11 of the best plant-based carbs for camping trips and vegan camping food ideas to make some tasty meals outside
---
Balanced meals are always important but especially so when you're in the outdoors. And carbohydrates are an important part of that.
Carbs are your main source of energy and they're not all made equal. Refined carbs contain fewer nutrients and may cause your energy levels to crash. Non-refined carbs on the other hand are more nutrient-dense and release their energy slowly. So you can keep running off their fuel for longer.
But not all carbs sources are great for camping trips. You need them to be packable, easy to cook and versatile for camping meals.
In this article, we break down the best carb sources for camping trips and what recipes they are great with.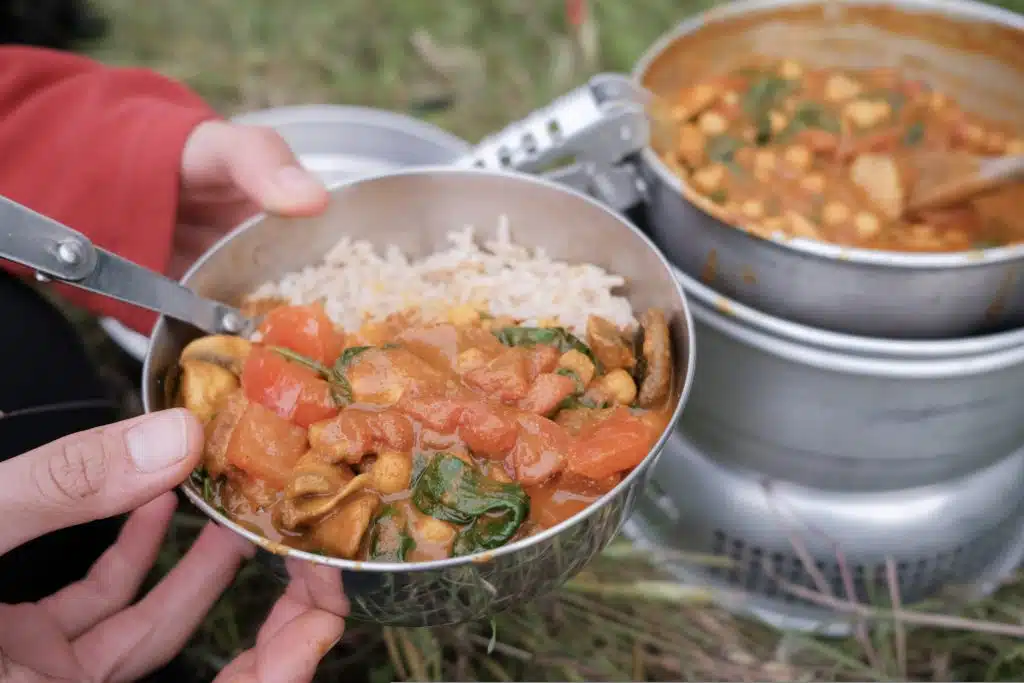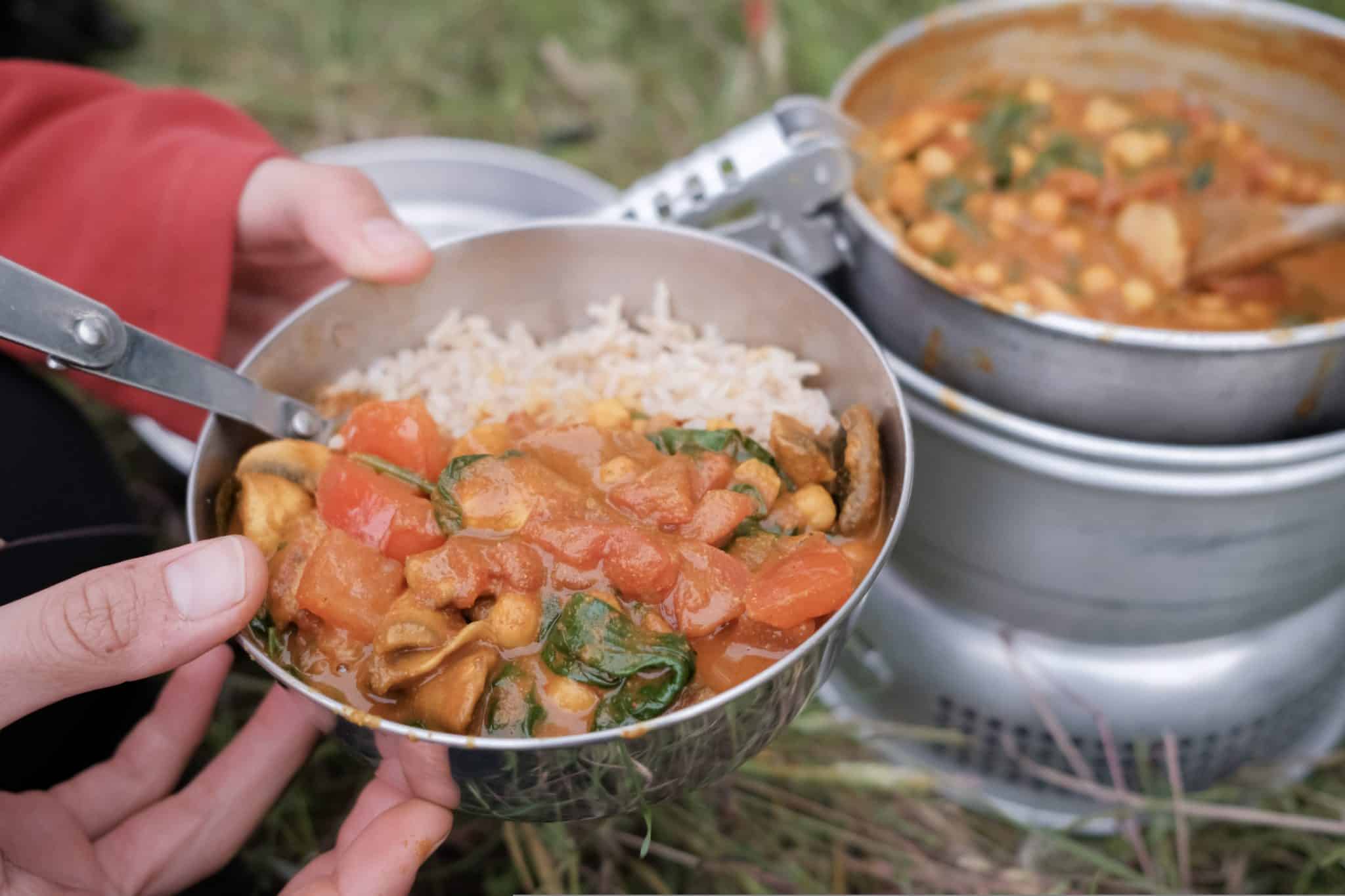 What to Consider When Choosing Vegan Carb Sources for Outdoor Trips
When choosing carbohydrates for camping meals, not just any food will do.
Camping food is cooked on a camp stove or fire outside, in all sorts of conditions. You're also most likely creating food after a mucky day in the hills when your focus is lagging but hunger is at an all-time high. You want food that will replenish your body, be easy to make and taste delicious.
Things to consider when choosing carb sources for your trip:
They need to be healthy and provide slow-release energy for your trip, so non-refined carbohydrates are best for this
Think about how long they take to cook. If you're cooking something that uses a lot of water and takes a while to cook, it will also use a lot of fuel. This could mean you need to resupply more and could be costly depending on your fuel source.
Opt for carb sources that are light to avoid lugging around more weight than you need to.
Choose foods that are non-perishable and can take a bit of a battering in your bags.
Pick vegan carbs that are versatile so they can accompany a variety of meals. You may be limited with what you can pick up on resupplies, so having customisable foods will make cooking a whole lot easier.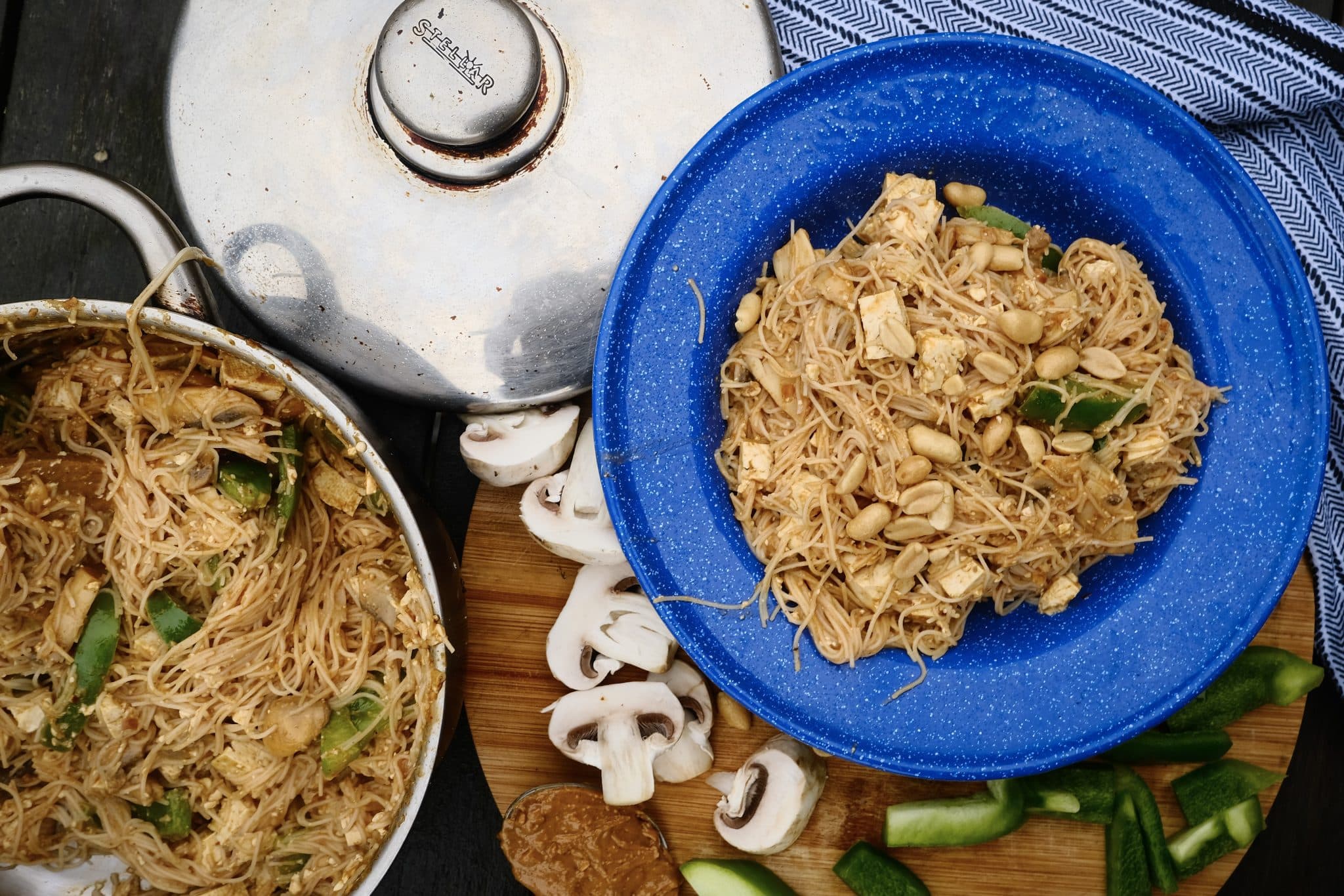 Best Vegan Carbohydrates Sources for Camping and Outdoor Recipe Ideas
Couscous – 23g carbs per 100g
A bit of a box ticker when it comes to plant-based carbs for camping trips. Couscous is really easy to prepare, non-perishable, not too costly and versatile. You can also choose the wholewheat version which is great for slow-release energy. It also provides fibre, protein and B vitamins.
The only possible downside is you may need a separate bowl to prepare it in. We have on occasion just poured the couscous into a pot of dinner if it has a liquid base, like chopped toms and the couscous cooks through. It does leave you with a very different consistency though, compared to preparing it separately.
Our usual way to prepare it is by pouring the amount you want into a bowl, then just cover it with boiling water. Place a lid or tea towel over the top and let it soak in for no less than 5 minutes. To make it super tasty we stir in stock or nutritional yeast for a bit of flavour.
Rice and Wheat Noodles – 25g carbs per 100g
A super lightweight choice if you're trying to keep your pack weight down. Noodles cook really quickly so are a great choice for when you're hungry and trying to preserve fuel.
Wholewheat and brown rice noodles provide more fibre compared to white rice noodles but all are good sources of manganese.
Noodles do take up quite a bit of space so aren't great if you're limited on extra room in your bags.
Our satay noodles recipe is our favourite way to have noodles on camping trips. But they're also great with curries and tried through with some veggies, tofu, chilli and soy sauce.
---
Want more adventure food guides and recipes? Sign up for our newsletter to get our latest posts
---
Rice – 28g carbs per 100g
Rice is pretty cheap and you can find it almost anywhere you go around the world. It's incredibly versatile and comes in many different forms. White rice is the most common but red and brown rice are even more nutritious and are packed with goodness.
The downside is that rice is pretty heavy and takes a while to cook which uses a lot of your time and fuel. For camping trips, we opt for pre-cooked rice sachets as they're a lot simpler. You can eat them as they are, throw into sauces or curries or heat them for about 3 minutes with a little bit of water.
This campfire jambalaya is one of our favourite ways to cook rice on the camp stove but it's also great with our creamy peanut, mushroom and chickpea curry.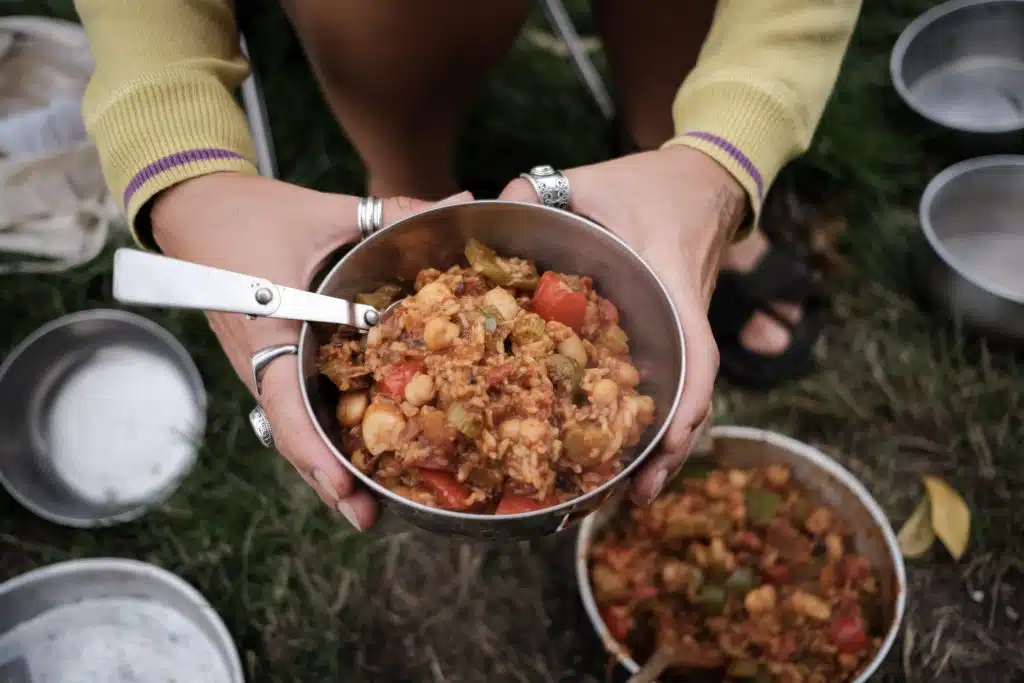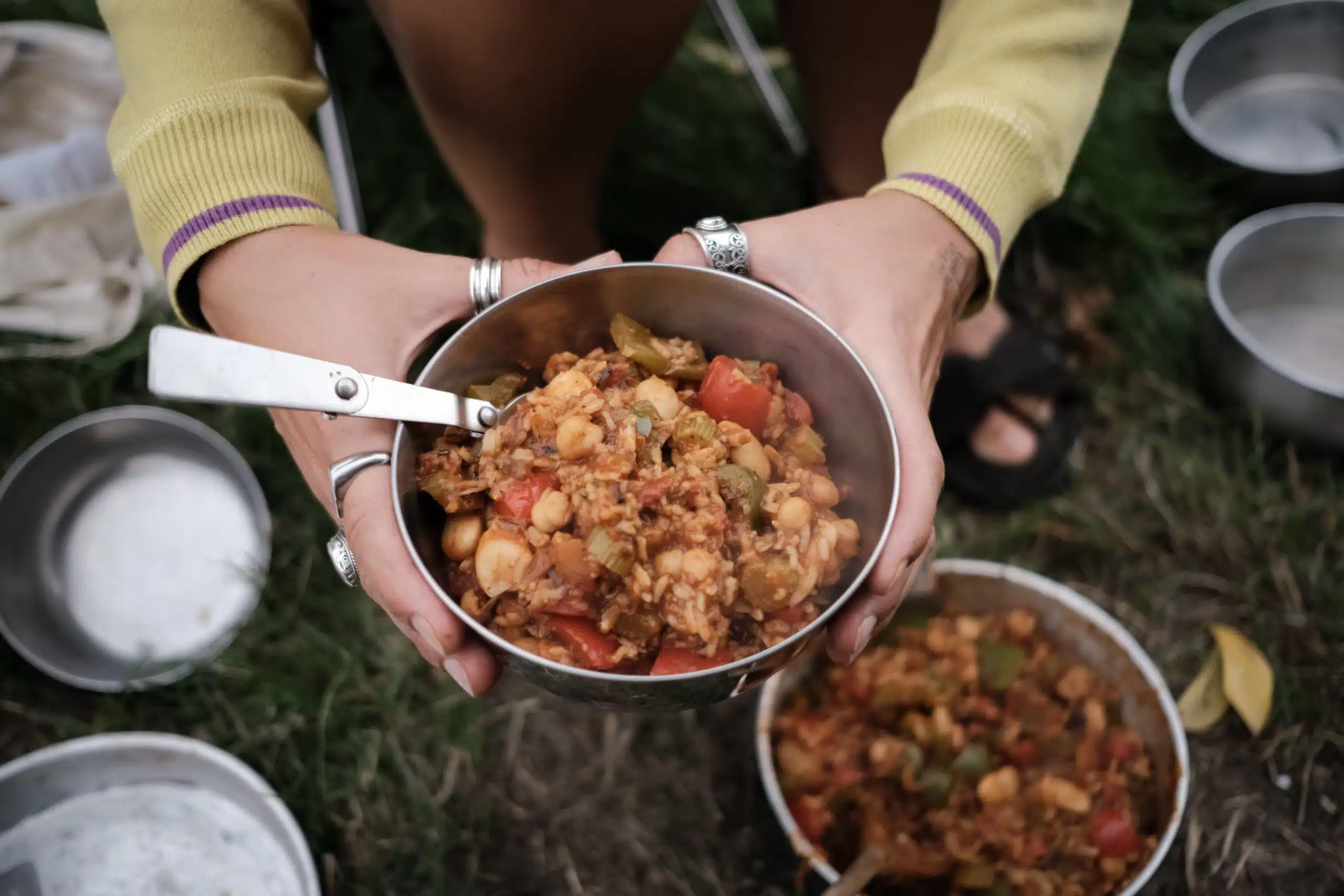 Oats – 68g carbs per 100g
This mighty carbohydrate accompanies us on every trip and with good reason. Oats are pretty great as a source of energy, fibre, vitamins, mineral and antioxidants. They're cheap, versatile and pretty easy to find on the road.
They also pack well as they're non-perishable and can take a battering. Oats are quick to prepare for a super easy camping breakfast that you can customise with dried or fresh fruit.
We often make a porridge mix for trips of oats, seeds, dried fruit and a powder like cinnamon or cacao. Then just add some water and heat for a fuelling breakfast from the tent.
Oats are also great for make-ahead snacks like these cacao bars or energy-crammed flapjacks.
Bulgur Wheat – 76g carbs per 100g
Similarly to couscous bulgur wheat is incredibly versatile but with a little more bite. It's packable and easy to prepare as you can just submerge it in water and cover it to cook. It does however take longer to cook than couscous and can be a little harder to find on the road.
It's a fibre-rich carb that is packed with vitamins and minerals. You can also get wholewheat bulgur wheat which contains even more nutrients.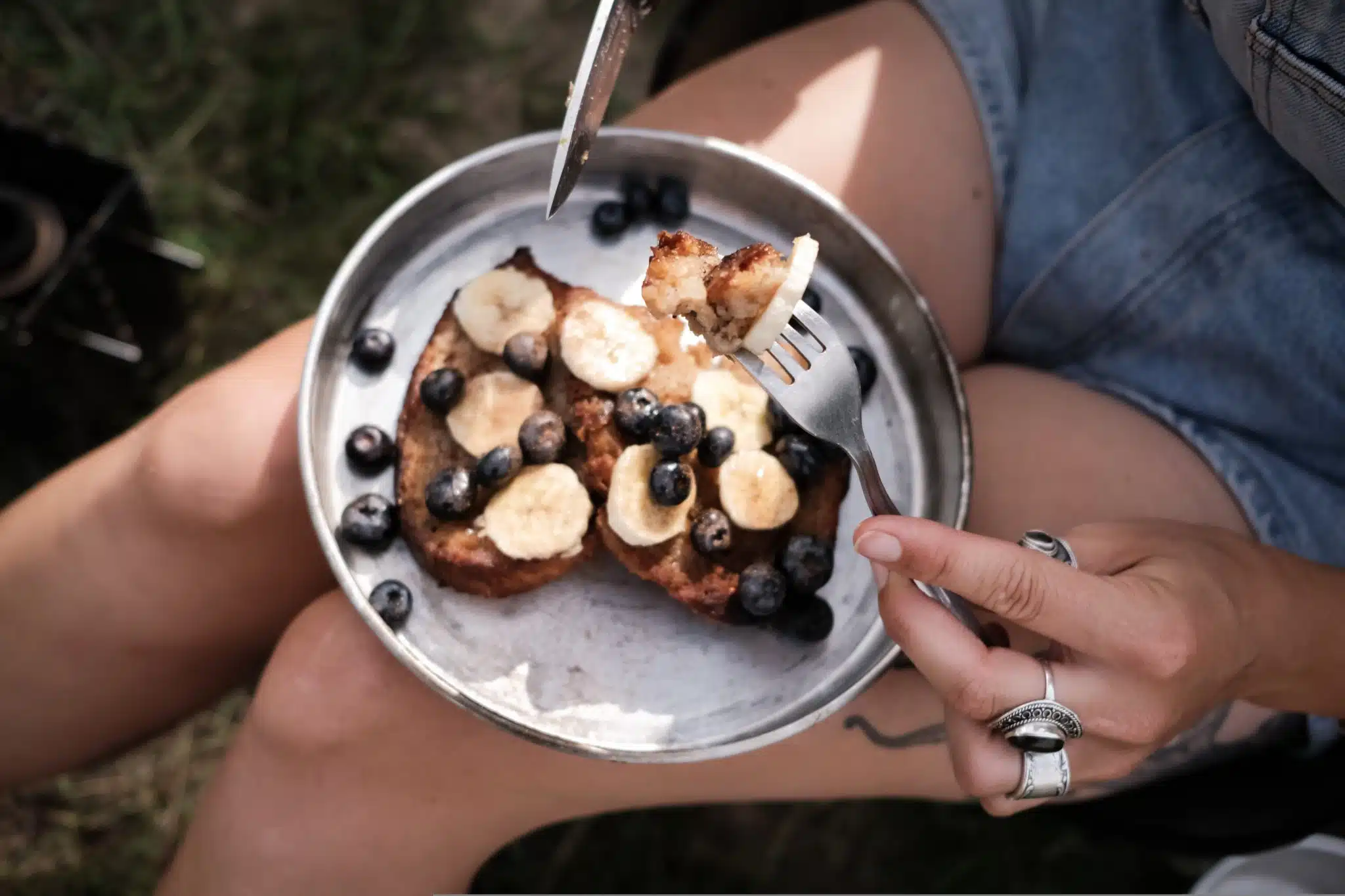 Bread – roughly 56g carbs per 100g
Of course the realm of bread is vast so depending on whether you opt for: white, brown, seeded, rye, etc. the nutritional value will change. But for plant-based camping trips, any form of bread is a good carb source.
Bread is one of those carb sources that can be found all over the world in different forms. It's a great vehicle for topping at breakfast, stuffing with fillings at lunch, or dunking into stews come dinner.
When on the road we'll often have something bread-based for lunch as it can be sweet or savoury, is cheap, light and can take a battering. It doesn't store well for a long time but we'll usually consume it shortly after stocking up with that in mind. Choose whole wheat bread if possible as they contain more nutrients and fibre.
This campfire french toast recipe is a great way to give slightly stale bread a new lease of life or this tofu scramble is a protein-filled meal ideal for crusty bread.
Instant Potato Flakes – 73g crabs per 100g
If you're travelling light, instant potato flakes are a great carb to add to your camping food list. They're super light and easy to prepare as you just add hot water which doesn't even need to be that warm to create a creamy mash substitute.
In terms of nutrients, there aren't many. This definitely isn't one of the healthier carb sources on this list but if you want some energy that is easy to lug around, smash is great for shorter trips. In the long run, you may find your body craves something more substantial.
If however, you have a hankering for camping bangers and mash, instant potato flakes are a speedy and easy alternative to potatoes. The fact that they're so light and pack down easily means they're great for lightweight trips, or to have as a reserve when resupplies are sparse.
Tortilla Wraps – 50g carbs per 100g
Wraps are great for trips as a more portable alternative to bread. They take up less space and can take more of a battering, plus they're lighter making them a great choice for lightweight trips.
As with bread, wholewheat wraps contain more nutrients and they can be sweet or savoury. They're not as easy to find on the road but a pack of 8 lasts a few days, which is longer than a lot of bread.
---
---
Pasta – 25g carbs per 100g
Pasta is a great source of carbohydrates and is so versatile to soak up flavours. Pasta releases its energy slowly, so you'll reap the benefits of a pasta-based meal all through the following day summiting peaks.
The downside is that it's pretty heavy, so is better for car camping or trips where weight isn't as much of a consideration. It also takes a while to cook so it's important to consider this when cooking as it'll need more fuel than some of the other vegan carbs on this list.
Our one-pot lemon pasta dish is our go-to camping pasta recipe as it's tasty and zingy.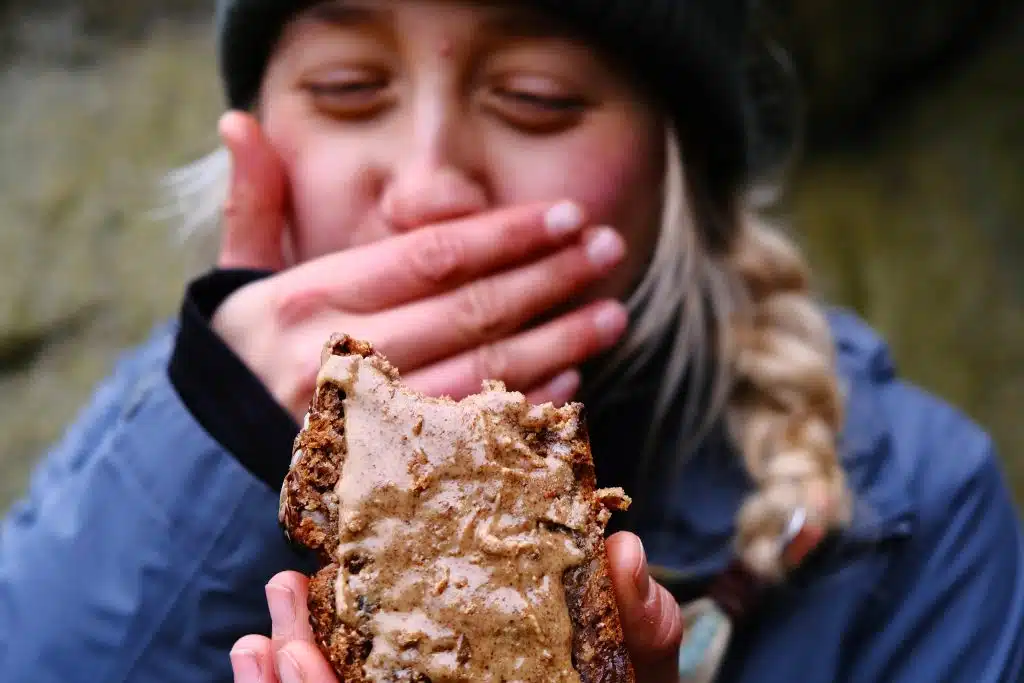 Bananas – 23g carbs per 100g
Bananas are one mighty fruit that are a staple for our outdoor trips. Although they are notorious for bruising easily, they can be an essential part of your camping food shopping list if consumed at the right time.
That right time might be scoffing them down outside the shop you just brought them from, before hopping back in the saddle and pedalling on. They're also great mashed into your breakfast porridge, or in sandwiches along with jam and peanut butter.
Although they may not travel well, they're a great source of fibre, potassium, vitamin C and B6.
Our banana bread recipe is one of our favourite ways to consume bananas, or topped on pancakes in the morning for something a little different.
Crackers – 250g carbs per 100g
Crackers are versatile and easy to find on the road. In most places around the world, we've found some form of cracker to top with sweet or savoury toppings and gobble down for some energy.
Crackers are light and can take a battering as they taste the same even if they're broken. They're just a little harder to spread peanut butter onto. They're a great source of energy and goodness that don't perish easily and are light to carry around.