Delicious and simple vegan tofu scramble recipe for a savoury camp stove breakfast
---
As a kid, I have fond memories of camping and the first feeling of being far from home, immersed in the great outdoors. Sure, at the time my dad was just taking us to the closest coastal towns and national parks but this ignited my passion to explore. I relished the chance to be outside sleeping under the stars but unfortunately couldn't stand my dad's camp stove offerings. 
Now I actually am far from home – camping in mountain ranges and deserted beaches – and I've also learned much better cooking skills than my dad, so it's the perfect recipe!
What better way to get off-grid for and truly immerse yourself in the natural world than camping. There's something really satisfying about rising and falling with the sun, cooking up some tasty grub on your camp stove amongst the dewy morning leaves.
Want to further your comfort zone in the great outdoors? Make plans to get out there with this guide to hiking for beginners or start preparing for your own accessible adventures
In the outdoors simplicity and practicality are key. You don't have the amenities of a fully-functional kitchen and can't carry luxury culinary items but you still want some tasty and nutritious vegan nom. That's what makes this vegan tofu scramble the perfect morning meal! Easy to whip up, ready in a jiffy and doesn't require much seasoning to make it taste truly scrumptious.
When camping, like us, you might also be combining it with a lot of hiking, cycling, climbing etc. Plodding up peaks and scrambling up mountains means you can work up a real appetite and your body will be craving a nourishing meal. Did you know tofu is a complete vegan protein source? This tofu scramble has 8 grams of protein per 100g (40g for the whole dish) and is just what you avid adventurers need to keep your muscles in tip-top shape.
Nutrition aside, it's super simple, and the beauty of camping life is that you don't need much. This tofu scramble can be whipped up on the fire or on a camp stove with just the camping basics:
If you're planning a multi-day trip, you might not be able to have this every morning, carrying 5 blocks of tofu isn't the best space-saving technique (unless you take an extra bag…). If however you're planning a shorter excursion or you're camping in the same spot you can easily store your tofu in a van or at your tent.
Whether you're hiking your local hill or have a adventure excursion on the horizon, you want your snack gam to be on point. We've got you covered with these vegan energy balls, vegan protein bars and this vegan flapjack recipe. You'll of never had such a tasty outdoors trip!
Despite tofu being a solid chunk you won't need to be hauling around a whole spice rack of flavours either. When it comes to your tofu scramble seasoning it's easier than you might think. Minimal baggage with maximum flavour!
To whip up your own cheesy vegan tofu scramble you simply need salt, pepper, garlic granules and nutritional yeast. If you've not discovered the magic of tofu scramble & nutritional yeast yet, prepare to be amazed! Combined the two is a match made in heaven with cheesy, garlic undertones, served perfectly with some campfire bread. Nutritional yeast is also super lightweight, nutritious and tasty, it's the perfect companion for your vegan adventures.
For the nutritional yeast, I recommend buying it and decanting it into a small container to save valuable backpack space.
If you're cooking at home these sustainable kitchen tips will help you become a real ethical eater!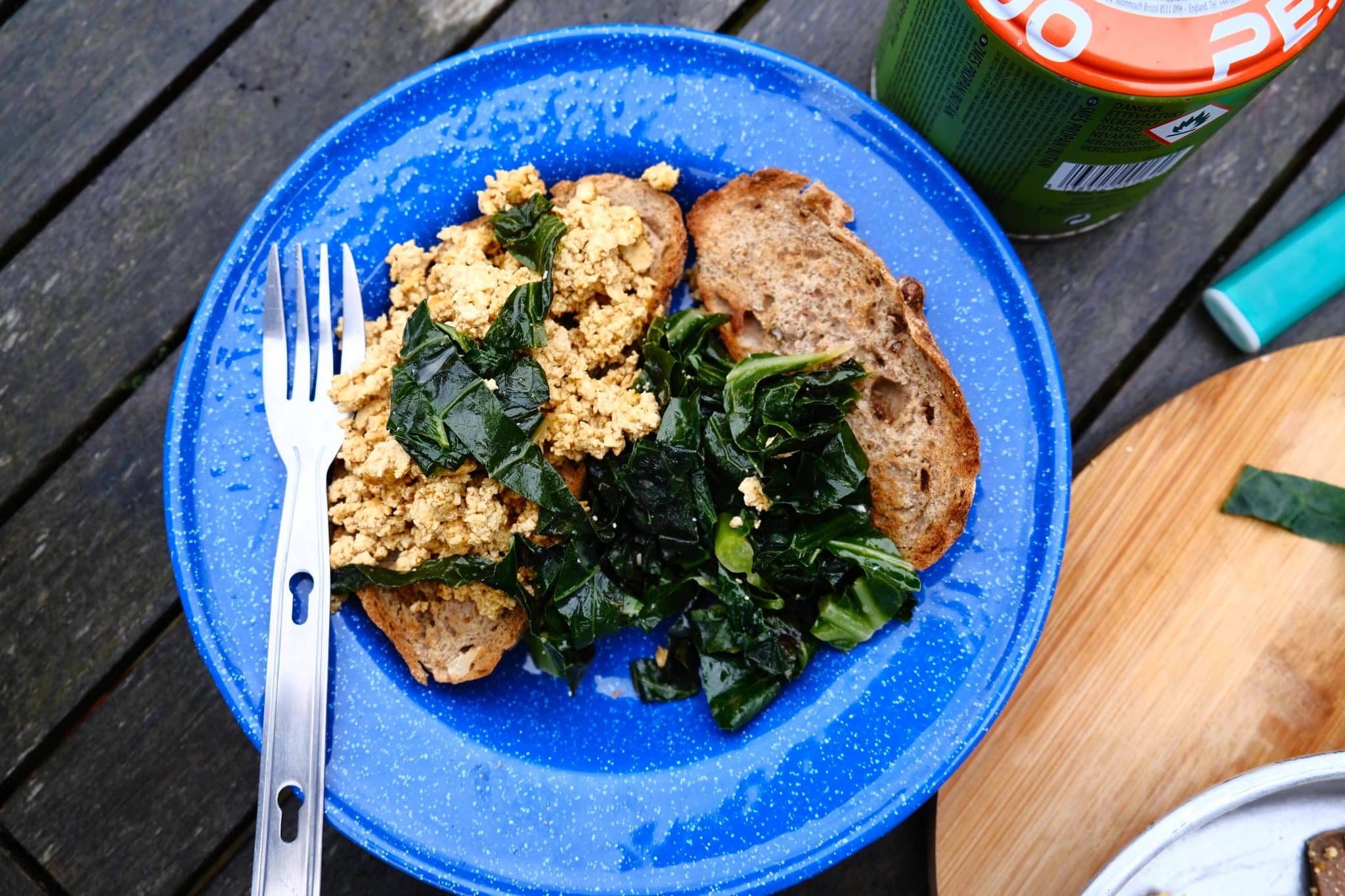 Tofu gets a bit of bad press as being intricate and difficult to master, but this cheap, lazy vegan tofu scramble debunks that myth. Only 7 ingredients are needed and ready in less than 10 minutes. It's also a great alternative to porridge if you fancy something different in the morning. 
For this recipe, we've used spinach and mushrooms which are obviously healthy but more importantly super tasty. Mushrooms are just divine, especially for breakfast. Plus they keep this dish moist (which is where your crusty bread comes in to mop up the juicy goodness:). If however, you have some other leftover veggies, like pepper of courgette etc, these are great thrown in too. We tend to do this at the end of a trip or if some other veggies have been taking a bit of a battering in our rucksacks.
If you're planning a multi-day hike check out this list of what to pack as a backpacking vegan
---
---
Although this is a camp stove recipe don't restrict yourself, you can have the recipe for breakfast at home too. You just might not have as nice scenery to look at…
Let me know what you think of the recipe and whether you make it whilst camping or at home. Drop us a comment below, it's always great to hear what you think!
Tofu Scramble Recipe
Delicious tofu scramble recipe perfect for a camping breakfast or quick meal at home
Ingredients
400

grams

firm tofu

4

tbsp

nutritional yeast

2

tsp

garlic granuels

2

tsp

ground cumin

2

tsp

smoked paprika

salt and pepper to taste

150

grams

sliced mushrooms

– optional

2

large handfuls

sliced greens or spinach

– optional
Instructions
Using a fork or spoon mash the tofu to form a crumbled consistency in the pan.

Heat the tofu on a low-medium heat, then add the optional mushrooms and greens.

Add the nutrirional yeast, garlic granules, ground cumin, smoked paprika, salt and pepper.

Cooke for 7 minutes stirring occasionally.

Serve with crusty bread, in a breakfast wrap or however your heart desires.