13 practical camping cooking tips to make cooking outside as smooth and tasty as possible
---
Cooking and eating outside are one of the biggest joys on outdoor trips. It's the chance to reminisce in the day's exploration, whilst tucking into some wholesome grub with your adventure chum.
Camping cooking is a little different from getting creative in the kitchen at home though. You're cooking outside, with less equipment and most likely a different fuel source.
After a mucky day in the hills, your energy levels may also be lagging. So you want camping cooking to be as easy and scrumptious as possible.
After countless meals, trips and mouthfuls we've become pretty accustomed to cooking on a camp stove. We've put together these tips to help you master camping cooking like a breeze. Whether you're a beginner or want to up your camping culinary skills, these tips will help make meal times simple and delicious.
Make Your Grub Nutritious
If you're heading out for a multi-day trip, getting sweaty and exerting yourself, what you eat is super important. It's the stuff that will be fueling your adventure so it's important to make sure your body is getting all that it needs.
You'll need to make sure meals have a balance of:
If you're just heading out for a night or two, you can get away with living off instant noodles. Long-term however these won't be enough to sustain a long trip, so a little thought for what you munch will help you to feel good in the outdoors.
Oil and Water are Your Friends
It can be hard to dial in temperatures when cooking on a camping stove, so in order to avoid food sticking you may need to use a lot more oil compared to at home. You can also add some water to your pan to stop food from sticking if you can't pack in a bottle of oil for your trip.
Another option is to cook food in something juicy, such as chopped tomatoes or coconut milk. The liquid helps to stop food from sticking and cook quicker.
Pack 2 Pans if You Can
2 pans are great when it comes to outdoor cooking. It gives you the option to prepare two elements at dinner, or keep things separate with one pot being used to cook food and the other to boil water. That way you don't have any burnt bits of dinner in your morning brew.
One of our main reasons for two pots is when wild camping, it isn't always possible to wash up from last night's dinner before breakfast. Having two pots means one can be used to prepare dinner and the other for breakfast until somewhere can be found to do the washing up.
Quick-Cook Ingredients
When it comes to cooking on the camp stove, opting for quick-cook foods will make dinner time a whole lot smoother. Not only will it means less time between you and eating but you'll also save on time, fuel and money. All of which can be precious on outdoor trips.
Choosing ingredients that cook quickly and can be eaten a little al dente will make meals a whole lot easier. Things like:
Pre-cooked tins of pulses
Quick-cook veg that can be al dente: peppers, courgette, green beans, mushrooms
Pre-cooked sachets of grains such as rice or couscous
Bring a Big Spoon for Cooking
You may be thinking " Oh I'll just use my foldable spoon I'll eat with to stir the pot", trust me that you'll so appreciate a bigger spoon or spatula when it comes to cooking.
In order to prepare vegan camping meals properly and stop food from you'll need a utensil long enough to stir your pot and not get lost. It'll make the whole cooking and serving process a lot easier.
Keep Meals Together
If you're on a longer trip, depending on how often you can pick up supplies may vary. If you're carrying multiple meals at a time, keep the elements of each meal together.
Keeping all the lunch stuff together means when it comes to munching, it's easy to access and you don't have to go rummaging right to the bottom of your bags. If there's more than you on your trip, have someone carry lunch and snacks, then someone else dinner to share the load.
Because when it's raining and all you want is a sandwich, the last thing you need is a tiff about where the peanut butter is.
Get a Wind Shield for Cooking on the Camp Stove
It doesn't need to be anything fancy or high-tech, but a very basic windshield will make camping cooking a lot easier. Nowadays you can get stoves that have built-in windshields, a big device that shelters your stove completely or ultrathin aluminium one that wraps around your fuel source.
Pick one that is best for your stove and trip, as it will save time cooking and a whole lot of fuel.
---
Want more adventure food guides and recipes in your life? Sign up for our newsletter to get our latest articles
---
Optimise Your Tent Porch for Cooking in Poor Conditions
It's pretty idyllic to cook outside just as dusk falls around you. But not so much when it's cold and wet.
Make use of your tent porch and bundle up in your tent to hunker down with dinner. It'll keep you warm and stop your dinner from getting soggy.
Cook Safely in Your Tent
With that being said, make sure you're cooking safely from your tent. Tents and camping gear are notoriously flammable so make sure the porch area is clear when it comes to cooking.
Once you have cooked, be sure to air out your tent and waft out the fumes from your stove.
Make Tasty and Easy Recipes
What you make at home may not be ideal when it comes to campfire cooking.
Camping recipes need to be nutritious, simple and tasty. Sure a lot of at-home recipes tick these boxes but cooking on the camp stove is a little different. It can be harder to control your fuel temperature and you don't have the same equipment or patients that you may have with the freedom of a working kitchen.
You need to consider fuel when factoring in how long something will cook, the availability of ingredients and any prep time.
All our adventure recipes and outdoor food guides are created for outdoor cooking. There's tons of inspiration and tips for camp cooking to get creative with meals.
Don't Stray Too Far From What You Know
After a tough day on the trails, the last thing you want is to be concentrating on a new recipe or fiddling about with ingredients you're unfamiliar with.
Stick with recipes you're confident with and try out new ones at home first. That way when it comes to dinner time, you can bash out some tasty grub before the hanger pangs kick in.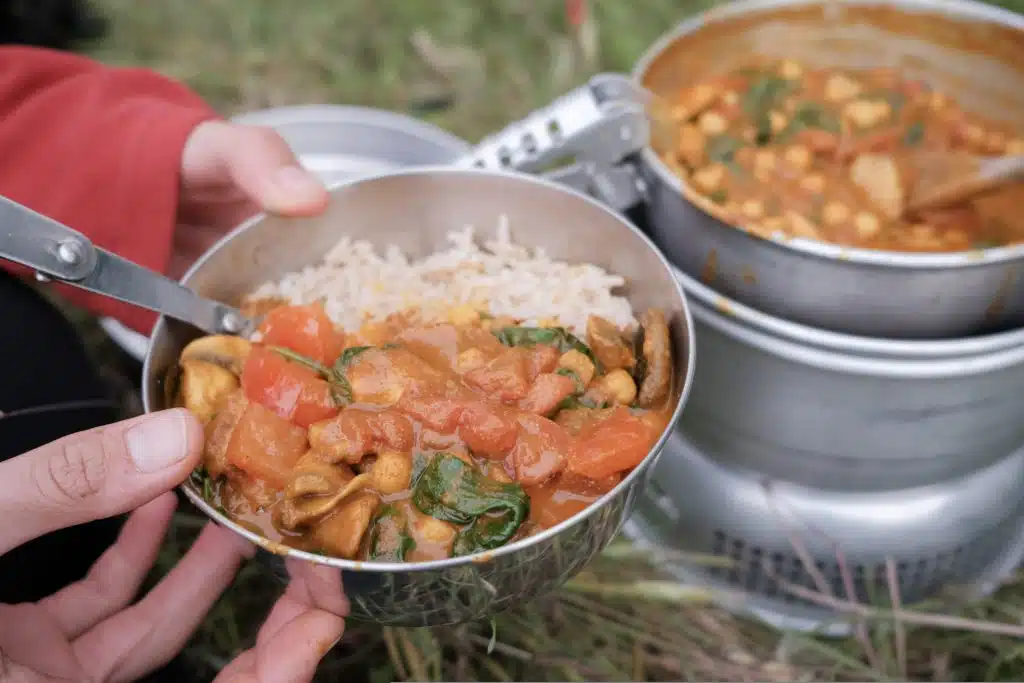 ---
Keep exploring…
The Best Vegan Foods for Backpacking Trips – Lightweight Options
---
Pack Only What You Need
On a multi-day trip, it's surprising how quickly food weight can add up. Packing only what you need will keep the weight in your down and make your trip much more enjoyable.
If you're on a shorter trip, starting from your front door, you can decant foods and take just what you need. For example, making up a porridge mix of oats, seeds and dried fruits will save a lot of hassle and weight of bringing a whole 500-gram bag on a 3-day trip.
Some other camping food tips:
Decant the contents from glass jars into reusable plastic jars or zip-lock bags
Pre-make herb mixes at home so you can throw them into your recipe when cooking
Use zip-lock bags to bring portioned meals or ingredients such as your porridge mix or grains
Consider When You Can Resupply
For longer trips, you may need to think about when you can stock up on more food. This may mean planning meals and rationing out ingredients so you have enough until you can restock.
Trust me it sucks to get to the end of the day and realise there's no chocolate left to nibble.