Easy and wholesome plant-based snacks to keep adventurous folk fuelled in the outdoors
---
There are several elements that go into making a great trip. The location, conditions, company, gear and FOOD! Mealtimes are important but what about the bits in between?
Those bits when you're legs are flailing and you're muscles weary from exertion. The times when you know something tasty will subdue your hangry hiking partner or when you need a boost to keep pedalling up this incline that seems to head into space.
Keeping your energy levels topped up throughout the day will give you the fuel to tackle the adventure at hand, and silence and grumbling tums before the next meal.
Some foods are better for the outdoors than others, as there are certain qualities you need to look out for:
Packable and durable
Lightweight
Doesn't perish easily
Tasty
After countless trips as two hungry adventurers, we've found the best foods for; scoffing mid cycle, attempting to gobble as many calories as possible in a blizzard, a pick me up through a downpour, energy in the heat and for when you need something tasty because you're working darn hard.
These are 24 of the best plant-based snacks for outdoor adventures.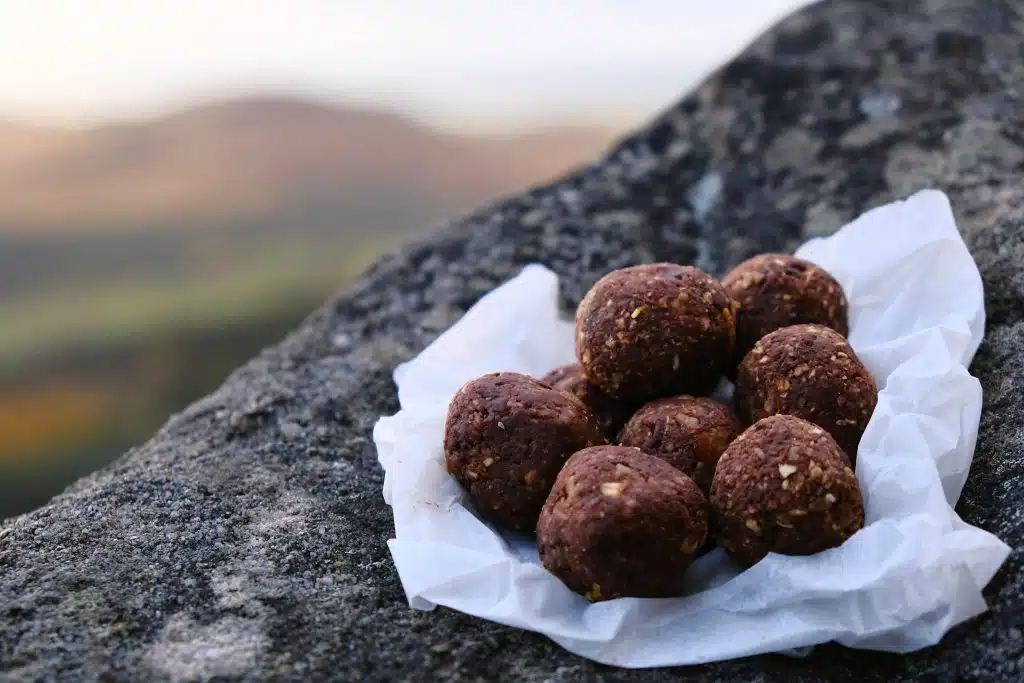 Easy Plant-Based Snacks to Make at Home
Homemade vegan snacks are ace for a whole bunch of reasons. They're often healthier than shop-bought snacks, as they contain only whole ingredients. They're cheaper, you can customise them to suit your taste and they're less wasteful, as you can make them in bulk and ditch the plastic packaging.
You can rustle up a batch of snacks, so when it comes to hitting the hills, you're rearing to go. Making in bulk means you've always got a stash for the next adventure or for an energy boost at home when you need it.
Here are some plant-based snack recipes you can make at home:
Energy balls – delicious squidgy balls of goodness that you can gobble down on the move when you need an injection of energy. These energy balls combine dates, peanut butter and chocolate for a sweet mouthful when you need it. They're ideal as they can take a battering in your bag or pannier and still taste delicious.
They can be stored in the fridge at home for a long life but also last several days shoved into your rucksack, so are ideal for multi-day trips.
Flapjacks – these flapjacks are crammed with energy and a good dose of protein, making them ideal for a more substantial snack. The combination of oats, almonds, peanut butter and raisins make for a tasty mouthful that'll keep you climbing those hills til your next mealtime.
This healthy plant-based snack is another great all-rounder for trips, as it can be tossed on move about and won't perish on longer trips.
Banana bread – a great way to make use of overly ripe bananas and pack in some insanely tasty grub for the trail. This recipe includes oats, seeds and sultanas for slow-release energy that keeps you going all day. It's also a great source of omega-3 and fibre, which will keep your body feeling good.
For long days in the wild, it's even better smothered in peanut butter – just when you thought it couldn't get any tastier!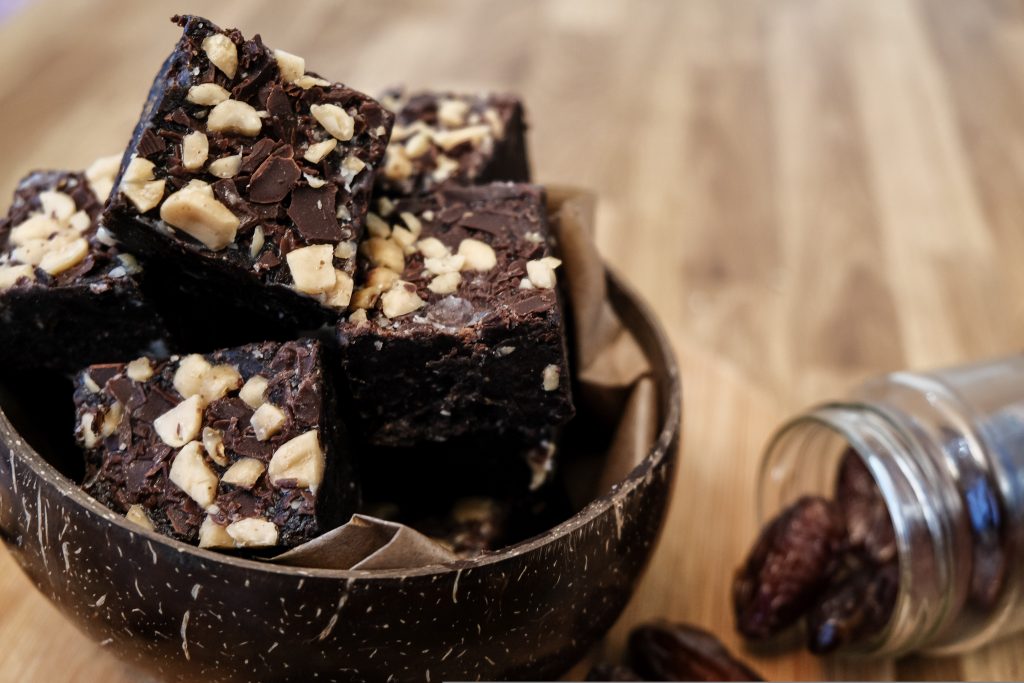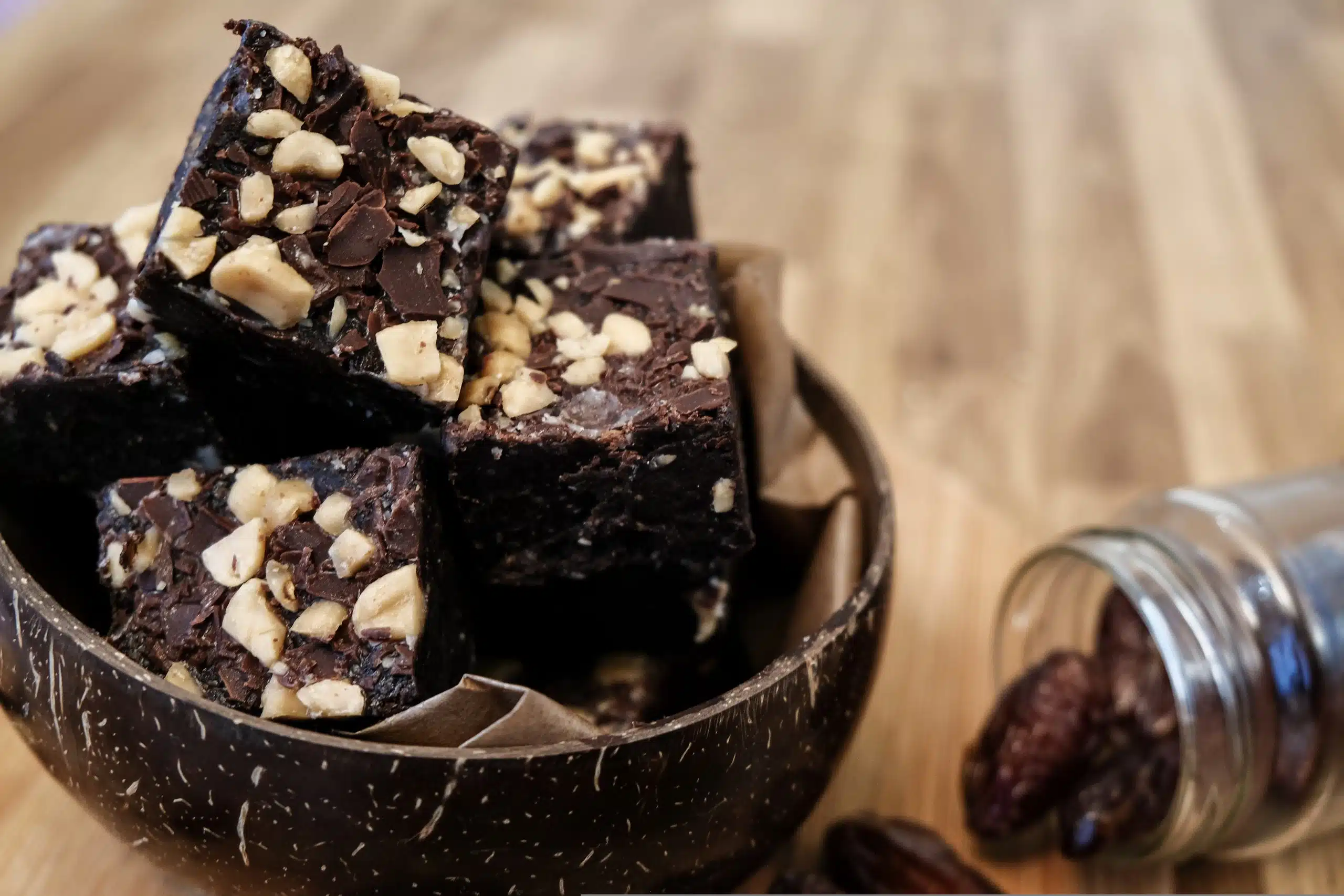 Peanut butter fudge – on those super intense days, calories and nutrition are important to fuel your adventure. Enter this peanut butter fudge. It's dense with energy from the peanut butter and cacao, plus it's insanely tasty.
This is a great recipe as it's no-bake and can be stored in the fridge for up to 4 weeks. Perfect for adventurous lifestyles.
Cacao bars – another no-bake recipe that's minimal fuss with delicious results. These cacao bars are another great option for multi-day trips as you can batch make and fling into your pack when heading out the door.
They're chock-a-block with dates, oats, dedicated coconut, cacao and almonds. Full of nutrients and energy for whatever the day throws at you.
Trail mix – simple and effective, trail mix has been the outdoor fanatics' best friend for years. Nuts and dried fruit are a tasty handful made in heaven. You can mix and match your favourite, nuts, seeds and dried fruit at home. Or you can always buy it when you're on the move.
Fruit leathers – carrying fresh fruit on adventures isn't always possible as it's heavy and perishes easily. These fruit leathers are a great alternative to get some fibre and nutrients without lugging around fresh fruit.
Dehydrated fruit and veg chips – getting a dehydrator is a game-changer if you do a lot of multi-day trips. It allows you to make your own dehydrated fruit at veg at home to pack in for the trail. You can have it as a snack and also add to meals for some added goodness.
Some good things to dehydrate:
Pears
Apples
Banana
Apricots
Beetroot
Carrots
Courgette
Parsnips
---
Feeling peckish for more vegan adventure guides and inspiration? Sign up for our newsletter to get our new articles first
---
High Protein Plant-Based Snacks
Vegan or not, protein is essential when you're exerting yourself in the outdoors. It helps your muscles to recover and repair after a day of exertion. Enabling you to rise from your tent, and tackle the next adventure.
Here are just some high-protein vegan snacks for the outdoors:
Dehydrated hummus – dehydrated hummus is another great plant-based snack idea. Make it at home and then simply add water on the trail, to dip veggie chips into or smoosh onto crackers.
Roasted chickpeas – these salty protein-packed snacks are great for the trail. Roast in oil, salt and your favourite spices, then chuck into a reusable zip-lock bag. A favourite for when you fancy a savoury plant-based snack.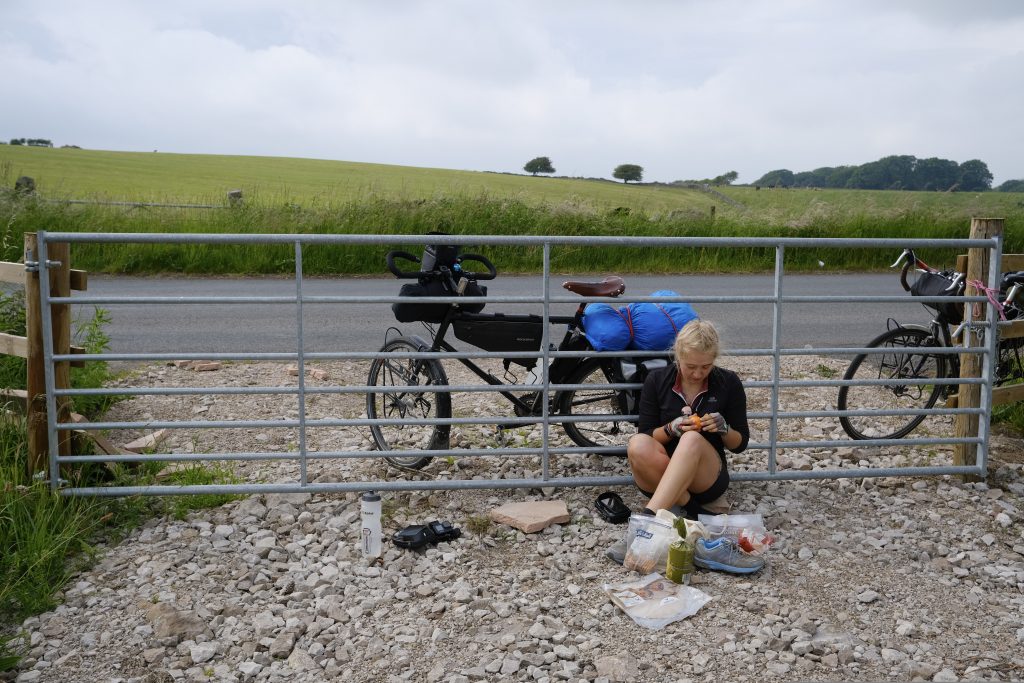 Tofu jerky – whether you make your own or buy from a shop, this stuff is delicious, chewy and a great source of protein. Tofu is also a complete protein so it's a top choice for longer trips.
Nuts – have them on their own, chuck into wraps or on top of meals. Nuts are a great addition to any adventure as they go with sweet or savoury and can be found in some form nearly all over the world.
Top tip: avoid salty nuts throughout the day as they'll massively dehydrate you. Save for the evenings to replace some of those lost electrolytes.
Plant-based protein bars – another one you can make yourself or buy from shops. The world of vegan protein bars is ever-growing as more tasty options become available. Some are better than others but half the fun is in the trial and error of finding a new wacky flavour and giving it a try.
If you want to make your own you just need to include the following, pulse in a food processor and form into bars:
Dried fruit – dates work best as a good base
Nuts or seeds or both!
Nut butter
Sticky sweetener – maple, agave, rice syrup, etc
Additional extras: cacao powder, maca powder, vanilla, or any other natural flavourings
Nut butter – you may not be eating this one on its own (although I have been known to on many occasions), nut butters are a great accompaniment to take with you.
Top plant-based crackers, smear on apples or bananas, dip dates or smother into sandwiches. The possibilities are endless and there isn't much in this world that's not made better with peanut butter.
This list of vegan protein sources has tons of other ideas if you're looking for other foods to get that goodness on trips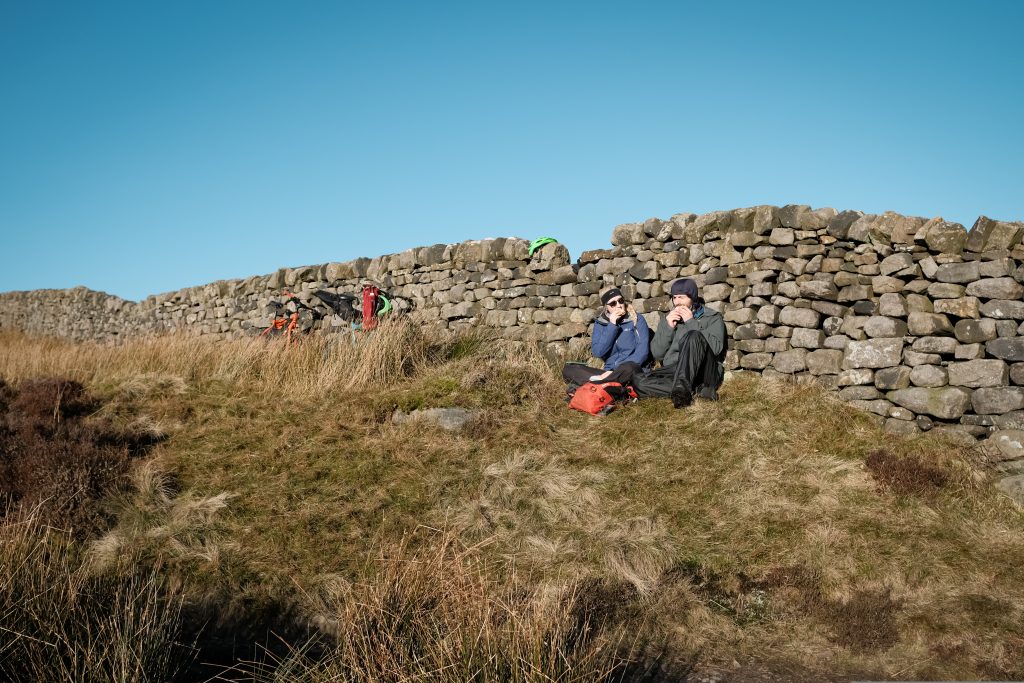 ---
---
Plant-Based Snacks You Can Buy
Whether it's because you're embarking on a spontaneous adventure or you're on a multi-day trip needing to resupply, sometimes you need to buy food on the road. Finding the right vegan snacks is a crucial part of any trip, as not all food will give you the sustenance you need or be packable.
Here are some ideas of the best vegan trail food to find in shops:
Dried fruit – full of nutrients and fibre with none of the water weight. Dried fruit is great for when space and weight are an issue as it's squishable in your bag and deliciously sweet when you need a pick-me-up.
Energy bars – mash together fruit, nuts and some natural flavourings and you've got yourself an energy bar made from nature's goodness. Depending on where you roam, what's on offer may vary. Many are vegan but check the label and look out for dairy and honey.
Some of our favourites include:
Outdoor provisions
Ridiculous from Protein Works
The range of bars and cookies from My Vegan
Body Me protein bars
Trek bars
Cliff bars
Malt loaf – this wonder loaf accompanies us on nearly every trip. It can take a pounding in your bag and is a great vehicle for that classic combo, peanut butter and jam.
Hummus – when you don't have access to the dehydrated version, the real stuff will do. It doesn't pack well and depending on temperatures doesn't travel well. If you're picking up a resupply, however, it's a great addition to top onto bread or dip veggies.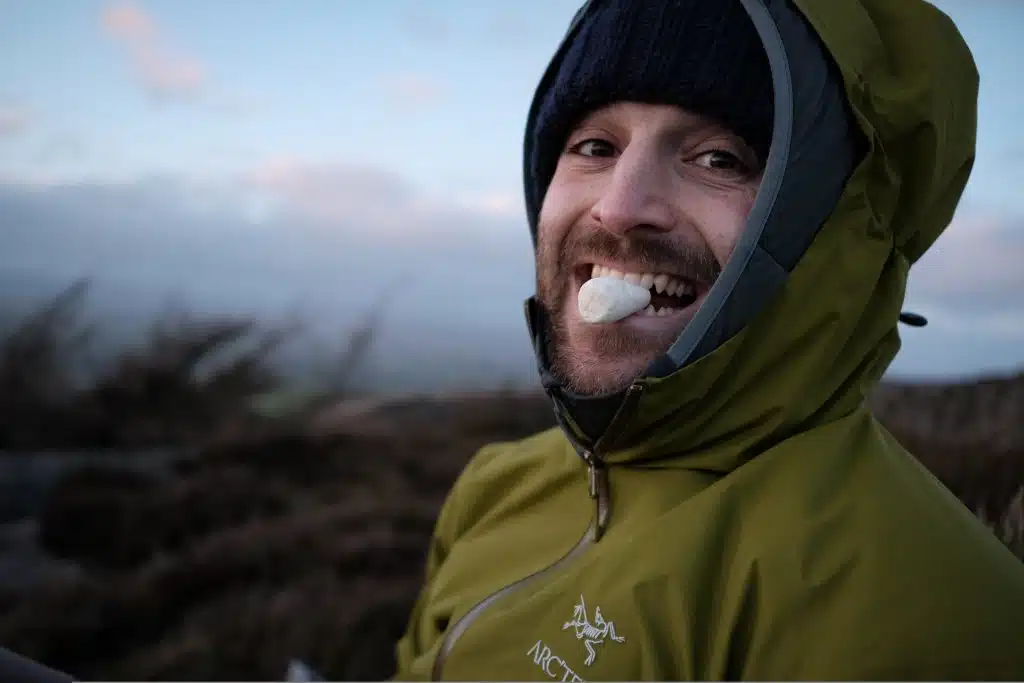 Crackers and toppings – crackers are light and versatile. You can make them sweet or salty and we've found, you'll stumble upon some form of cracker in different parts of the globe. A few topping ideas:
Jam and peanut butter
Hummus and veg chips
Pate and veggies
Peanut butter and fruit
Hummus and seeds
Dates and peanut butter – sweet squishy dates dipped in peanut butter is a stroke of genius and great fuel for when you need a little pick me up. The sugary dates give you an immediate lift, whilst the peanut butter releases energy over time and packs some protein for your weary muscles.
Roasted corn – you can find supermarket own brands or proper corn if you're in need of a salty snack. It's super light, calorie-dense and because the kernels are small and firm, they don't crumble in your pack.
Fresh fruit – for shorter trips or when weight isn't so much of an issue, fresh fruit is great vegan trail food. It's refreshingly juicy and is packed with good stuff.
Bananas are great for energy but don't travel as well as apples. Oranges are great and refreshing but require a lot more faff than a peach. Depending on the season and your type of trip, what's best may change so think about your type of trip and what fruit would be best.
Biscuits – although they won't keep you going for days on end, a cheeky biscuit is a great snack. They're light and readily available as long as you know which ones to look out for. Some accidentally vegan biscuits include:
Gingernuts
Hobnobs
Bourbons
Digestives
Biscoff
Rich tea
Jammy dodgers
Lots of supermarkets have their own vegan sections these days, so you can find specifically vegan options also.
Pastries – a more decadent plant-based snack but ideal when you need some sugar and calories. Some shops have their own ranges of vegan pastries but you can still find accidentally vegan options like doughnuts and pies.