How to find vegan-friendly clothing and equipment for outdoor lifestyles – our top tips!
---
Through the years of running Veggie Vagabonds (and also for our own adventures), we've spent a LOT of time researching outdoor gear. And I mean a lot.
You never want your kit to let you down, so we've always set about finding the best vegan outdoor gear available.
But, when we first made the switch to veganism, there was very little information available to shoppers. This meant you had to get your investigative hat on!
Things are much easier now, however, navigating shops, online stores and clothing labels for truly cruelty-free clothing can still be hard.
In this article we'll share all the steps we take when researching our Veggie Vagabonds recommendations. We'll also share lots of extra tips which can you help find the right thing and help support ethical brands and products.
From vegan hiking boots and insulated jackets to camp clothing and sleeping bags, this article covers it all!
This article may contain affiliate links, they will never cost you more money but helps Veggie Vagabonds keep making content like this – thank you!
The easiest thing is to choose ethical and vegan clothing brands
As we'll explain a bit later in the article, it can be a pretty difficult job finding 100% cruelty-free clothing from regular brands. We'll explain why a bit further down.
Because of this, the simplest and easiest way to guarantee outdoor clothing is vegan, is by going for a vegan clothing brand.
We'll be honest, there's still a way to go but the amount of vegan clothing companies IS growing. Will's Vegan Shoes do some of our favourite vegan footwear (check out our review of the Will's Vegan Hiking Boots or the Will's Vegan Trail Runners) and Save the Duck kitted out Kuntal Joisher for his all-vegan summit of Everest.
We've put together a list of our favourite vegan clothing brands for outdoorsy folk here, which has lots of other options.
Look for vegan clothing resources and guides online
Why do all the research when others have done it already?
For most outdoor equipment, it's quite likely you'll find guides and resources online. Perhaps people have already compiled all the vegan options for certain products into lists?
On our Vegan Outdoor Gear page, you'll find a whole variety of posts, listing vegan climbing shoes, vegan winter clothing, vegan running shoes etc. They will save you heaps of time and give you the info you need to pick the right product.
And we're not the only ones! You'll find heaps of already-compiled info online, from people like PETA, the Vegan Society and many more.
For more outdoor vegan clothing advice and guides, be sure to sign up for our mailing list below!
Ask the vegan community!
If you can't find blogs and websites, chances are like-minded people in the community can help too.
There are heaps of Facebook groups and Reddit pages which are filled with knowledgeable peeps. If you're looking for advice or info on a specific product, this is a good place to look.
The Vegan Subreddit is great but you'll also find more niche groups, like the Vegan Runners Facebook Group.
Have a search, ask a question and you could even make some plant-based adventure pals along the way.
Be aware of the animal-based materials in clothing
Whether you're looking online or in person, it's really useful knowing which materials to avoid. This can help you with label-checking or putting together questions to ask others.
These are some typical animal-based materials you might need to look for:
All types of footwear – look out for leather/suede whilst insulated options might contain down or wool.
Baselayers, hats, socks and scarves – look out for wool and merino wool
Jackets and outer layers – look out for wool, down and potentially leather/suede
Insulated jackets and sleeping bags – look out for down and occasionally fur in the trim or liner of coats.
As you can see, the main culprits are leather, down, wool and fur. Unfortunately, when it comes to clothing labels, these materials might have different branded names or just be slightly trickier to spot.
For more info, best to check the guides below which have loads more info:
*A frustrating note on adhesives and dyes*
Whilst it's often pretty easy to identify the main materials in clothing, the smaller parts are typically the troublemakers.
Things like adhesive/glue and clothing dyes are found in virtually all clothing and are regularly made from animal materials. For individual clothing items, these smaller elements may sporadically change OR their origin might not be known by manufacturers at all. They're also not typically listed on labels. More info further down!
Know helpful labels
Whilst it's not so commonly found in outdoor clothing, vegan certifications can help. The PETA-Approved Stamp and the Vegan Trademark are two that you might see on clothing whilst the Cruelty-Free trademark is often used for cosmetics.
Any products with these certifications are completely safe for ethical adventures!
Use vegan search functions when shopping online
Nowadays, lots of brands and outdoor retailers have search online functions to help you pick animal-free products.
Companies like Merrell, Alpine Trek and REI have completely vegan search functions which will only show you vegan-friendly products.
If a company doesn't have a specific vegan search option, it might let you pick items based on materials. This way, for example, you could pick an insulated jacket with a synthetic filling rather than down. Or, you might be able to pick synthetic hiking boots rather than leather hiking boots.
Contact companies
Not so long ago, the only way to tell if an item was vegan was to call or email the manufacturer. This is extremely time-consuming and can be a frustrating process but it's still sometimes the only option.
Here are some tips for doing this:
Decide on the brand and search their website for a Contact Us or Customer Service page. This will normally give you an email address, chat feature or phone number. The quickest option is normally an online chat, however, they may have to go and check with product specialists. Smaller companies may only have an email or phone option.
With their contact options, it's best to enquire about a specific product and ask whether it's vegan-friendly. If you do not want to use products with ANY animal materials e.g. glues and dyes, it's worth specifically stating this in the email. We've often been told, for example, leather-free hiking boots are vegan, however, on further inspection, the dye or glue is not vegan.
It's also possible to just ask whether the brand has any vegan option with a certain range. For example, you could email and ask whether they offer any vegan-friendly winter boots, vegan baselayers, socks, sleeping bags etc. However, sometimes customer service staff are only able to search for individual items so it's not always possible.
Though it's time consuming, if an item isn't specifically listed as vegan, this is sometimes the only way to find out.
At Veggie Vagabonds, all the products we recommend have been confirmed vegan with manufacturers unless specifically stated already.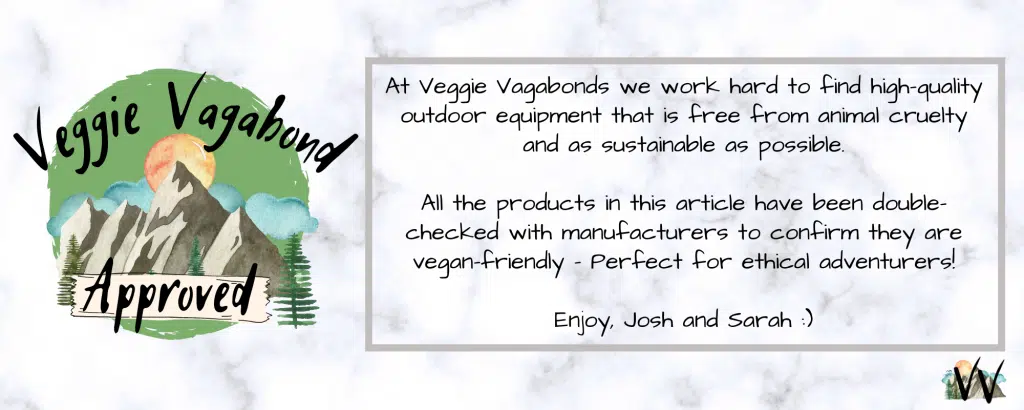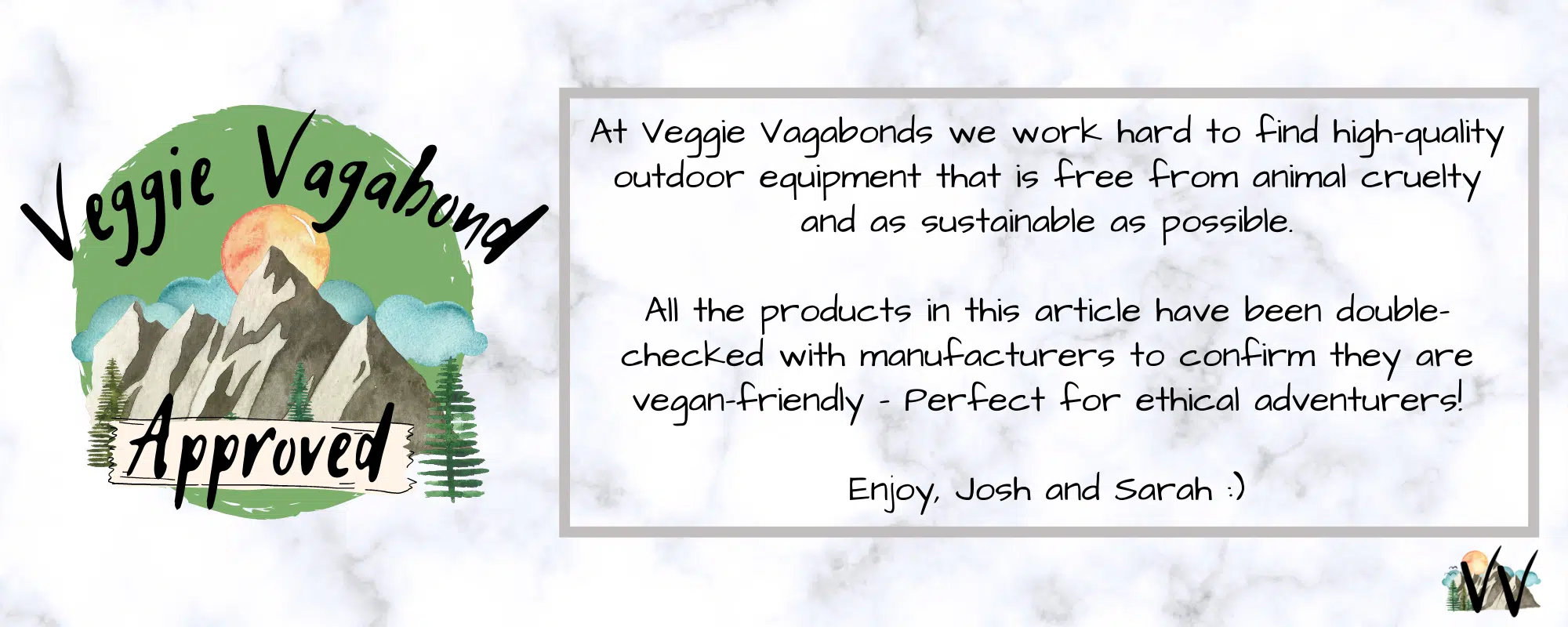 The problems with contacting companies…
If you spend some time contacting outdoor brands or clothing companies, you'll quickly realise that a lot of brands don't actually know what's in their products.
Bigger brands have such huge supply chains and smaller elements, like glue and dye, are regularly changed. This means, quite often, they can't give you a definitive answer.
Labelling something vegan means they are guaranteeing the product materials will remain the same for a period of time. Vegan certifications quite often cost brands a lot too.
Because of this, lots of companies we've spoken to will inform us, though there are no animal materials that they're aware of, it's not something they can confirm.
This must just be larger brands with little ethical regard, right?
Unfortunately, no. Even brands like Patagonia, renowned for their ethical practices, can't confirm things like their glues and dyes.
Frustrating yes, but things are changing. Brands only respond to money, so the best thing we can do is keep requesting vegan outdoor items, inquiring about vegan materials and showing them there's enough demand to ditch the animal materials for good.
And finally, shopping in store
Shopping in-store is great – and often the most sustainable option – and lots of tips above can help.
Nowadays, lots more clothing is being labelled as vegan-friendly. You'll also get lots of in-store specialists who are there to help. Don't be shy of asking for advice and saying what you're looking for.
It is, perhaps, safest to double-check their vegan recommendations online, unless it seems like they really knew what they were looking for.
I hope these vegan tips have helped you find the right clothing and equipment for your adventures. For any more info, just drop a comment below and we'll get back to you!