Our Cotopaxi Trico Hybrid Vest review of this vibrant and sustainable vest made from recycled materials
---
There are some bits of clothing that immediately catch your eye. Virtually every time I see items from Cotopaxi, my brain automatically pings wow, that's cool!
It's hard to miss the mix of vibrant colours and interesting designs but it's also clothing you feel good about wearing. Cotopaxi is super sustainable, and, most interestingly, lots of their clothing has a backstory. But we'll get into that in this article.
I've had the Cotopaxi Trico Hybrid Vest for a few months now and thought I'd share with our readers, because I think it'll be right up your street.
It strikes a really nice balance between outdoor warmth and casual lifestyle clothing. Because of that, I've found myself struggling to take it off.
Keep reading and we'll get into why I'm a big fan.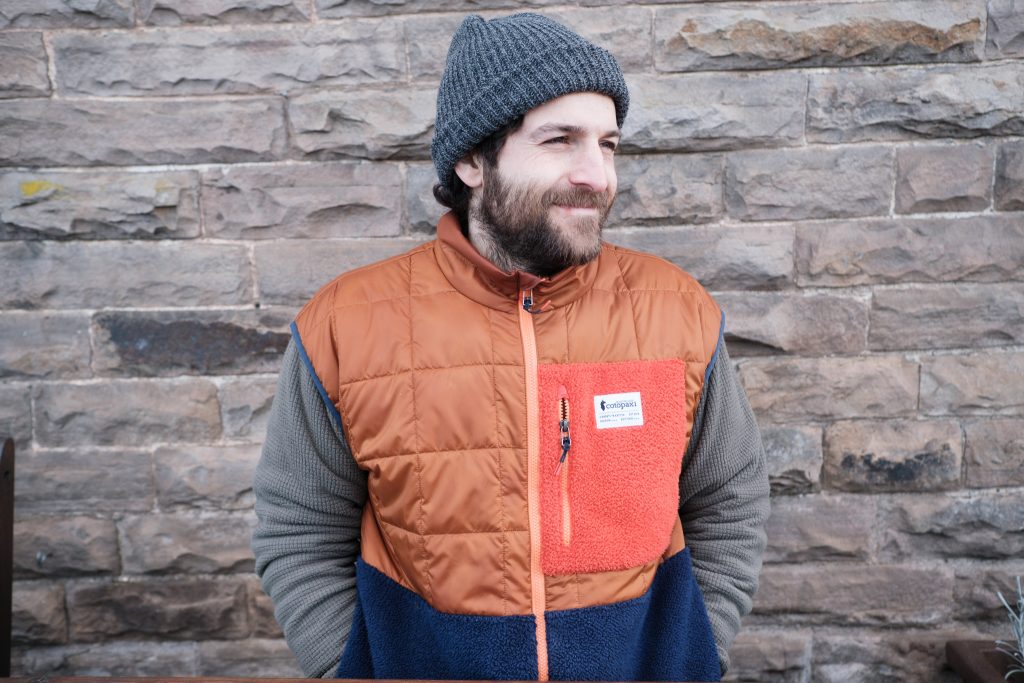 Who are Cotopaxi?
Cotopaxi is a US-based company, renowned for creating funky outdoor lifestyle clothing and having a strong commitment to social and environmental responsibility.
They're a B-Corp brand and use lots of recycled materials. They're actually committing to make all their products made with recycled or repurposed materials by 2025. This means they have lots of 'one off' clothing lines, made from off-cuts, with each individual item being completely unique and individual. They look bloomin' cool!
It's safe to say they're innovators in the ethical outdoor space and do a huge job promoting eco-friendly manufacturing, the circular economy and supporting grass-roots projects too.
All of their gear is very distinctive and once you put a name to their products you'll be able to spot them a mile off.
VEGAN SHTUFFF: Whilst they don't have specific vegan labelling, with such a transparent company, all product materials are very clearly labelled so it's easy to see what's free from animal products.
So that's a little about the company. Now onto the Trico Hybrid Vest!
The Trico Hybrid Vest
I know clothing is subjective but it's hard to argue: this is a very cool-looking jacket.
The Trico Hybrid Vest comes in 4 different colour varieties, all equally bright and unique, with sizes from S to XL. I went for the Mezcal/Maritime colour combo and am a big fan.
A few months in and I've found the Trico Vest is super functional and combines comfort, warmth and sustainability really well. Did I mention it looks cool too!?
I've been using it as a bit of a do-it-all layer for casual adventures coming out of winter and into spring. It's really versatile! I'll dig into the elements I really like below.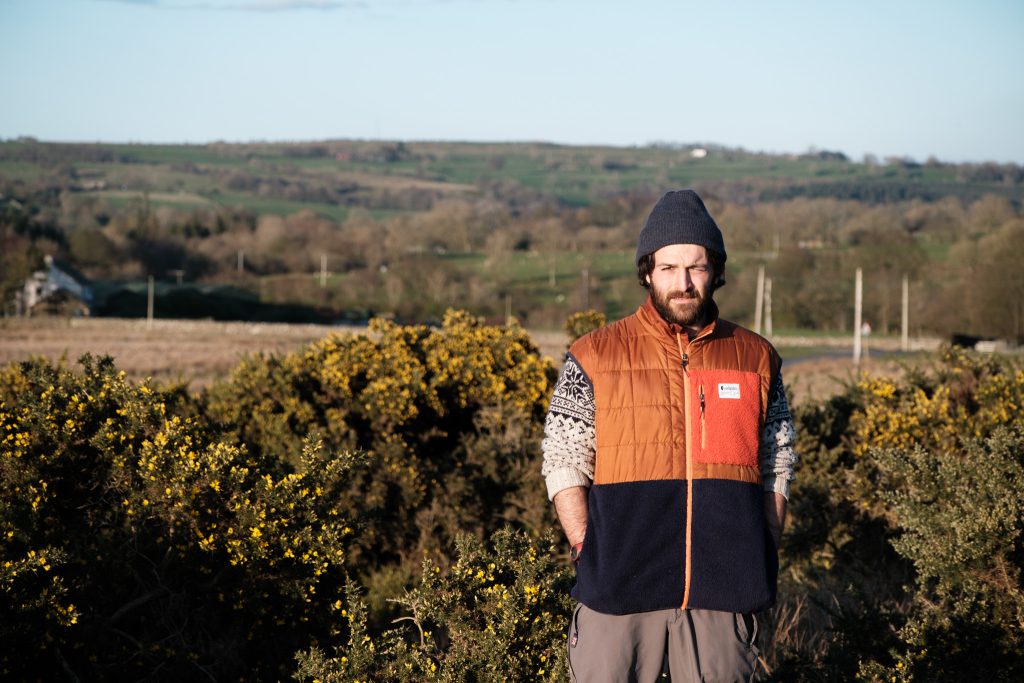 ---
Looking for more ethical adventure fodder in your life? Sign up for our newsletter to get our latest posts
---
Warmth and comfort
I've actually been surprised by how much warmth the jacket kicks out considering its relatively lightweight design.
It has 80gsm of recycled polyester insulation which keeps you nice and toasty. For colder days, it's been a good mid-layer to be worn under a coat and with a fleece underneath. When you're moving around it really holds the warmth. I'd say it's ideal for spring/autumn use, or to keep with you when the temperature drops at night.
I've loved how comfortable it's been. The materials are very soft and snuggly, with enough stretch for you to be active and on the move. I regularly use it whilst chopping wood and it allows all the movement I need. Definitely comfortable enough for all-day wear. And I do, often, wear it all day.
Design & Fit
You can feel it's a well-made vest. The seams and stitching are strong and the materials are of good quality. You feel comfortable bashing it about and it's got a DWR finish to help bead rain.
I love the chest pocket, which is the perfect size for a phone or wallet. There isn't any inner pocket though which I normally do find useful. The side pockets are really big and spacious which I like a lot, however, there aren't zips on them which is sometimes a worry your phone might spill out.
The main zipper is robust and smooth too. It's also got a chin guard which is helpful if you've got a beard like me.
I went for an XL and it comes up as you'd imagine in the UK. It doesn't have a fitted design at all so it can seem pretty puffy around your waist. This size does mean you can layer up underneath comfortably whilst still having room for a waterproof on top. All meaning you can chop and change layers to make it more versatile.
Sustainability & Veganism
The quilted insulation is 100% recycled, made from polyester, Tencal and Lyocell, with the shell and second shell being 100% recycled too.
A portion of your purchase goes towards the Cotopaxi Foundation and, as a B Corp, Cotopaxi is constantly trying to minimise its environmental impact and promote workers' rights. You can read about this more on their website.
There's no vegan labelling which is a shame but they do show all the product materials which is great.
Versatility
Probably my favourite aspect of the vest.
Whilst I wouldn't use it for technical days outdoors, it's perfect for an adventurous lifestyle, to keep you warm on a walk through the hills, to the pub and then to wear around the campfire later on.
If you're active and outside a lot, it will likely fit perfectly into your life. Mine has barely had any time on the coat peg.
Because of the sizing and warmth, you can chop and change different layers depending on the temperatures. And, as it's so comfortable, it's easy to keep on all day.
As I mentioned, it's not a technical piece of gear, so it's not particularly light or compressible. It's best suited to mild temperatures and casual adventures, camping trips, hill walks and fun bike rides. It's also been great living in a rural area and constantly spending short stints outside, chopping wood and grounds maintenance etc.
---
---
Cost
In the UK the vest sells for around £110. In honesty, I do think that's a little expensive but at the same time, I have absolutely loved wearing it and I imagine it'll be one of those jackets I keep for years to come.
Final thoughts
I really love this jacket. Typically, we just use older, more battered outdoor gear which gets relegated to casual adventure use. It's really nice to have a vest that fills that void which is versatile, warm and comfortable.
As I mentioned above, it's also a jacket you feel good about wearing. Cotopaxi is always doing more and more to promote fair labour and sustainable manufacturing techniques which we love.
The colours and design make it individual and stand out. Their gear is actually quite a good conversation starter!
Closing out, if you're looking for a funky fresh layer of warmth which is practical and versatile but also eco-friendly, check out the Trico Vest!
Where to Buy Cotopaxi Trico Hybrid Vest