Looking for a pair of vegan hiking & trail running shoes? The Merrell Agility Peak Flex 2 is a serious contender!
*Unfortunately these shoes are no longer readily available. Check out our Merrell MTL Long Sky review for a brilliant updated version*
---
There's definitely a gap in the market when it comes to outdoors vegan shoes. Despite there being millions of adventure-loving vegans and famous outdoors athletes like Alex Honnold and Robbie Balenger promoting veganism, outdoors companies still don't seem to have cottoned on…
Shoe brands insist on wrapping peoples' feet in leather which means you can find good quality outdoor shoes at an affordable price but they're unlikely to be vegan. You can also find outdoors vegan shoes but they're often poor quality and overpriced. This sucks, but it's not always the case. The Merrell Agility Peak Flex 2 is an outdoors vegan shoe ready for any type of adventure and with a pretty friendly price tag!
Vegan hiking and trail running shoes?
Over the years finding shoes that don't use leather has become much easier, which is great, but the outdoors element makes things much harder. The synthetic or plant-based materials that replace the leather are rarely hard-wearing or breathable – two things important things with outdoors shoes. You'll realise this pretty quickly with sweaty, smelly feet and shoes falling apart after a short, sad life.
On top of this, even after finding shoes which are good quality AND don't use leather they still might not be vegan. Why? Because many leather-free shoes use animal-derived products in the glues and altogether this makes finding 100% vegan shoes a pretty hard job.
For us vegan adventurers (probably you if you're on this page) it causes a real headache, especially as shoes are probably the most important piece of outdoor clothing. You can get by with poor quality socks, t-shirts, hats etc but it's really worth spending a little extra time and money finding the best vegan shoes possible.
The right pair of shoes will stand the test of time and keep you safe regardless of the terrain. Buy the wrong pair and you can find yourself with chaffing, smelly feet and potentially a twisted ankle. Not what you want when you're in the wilderness!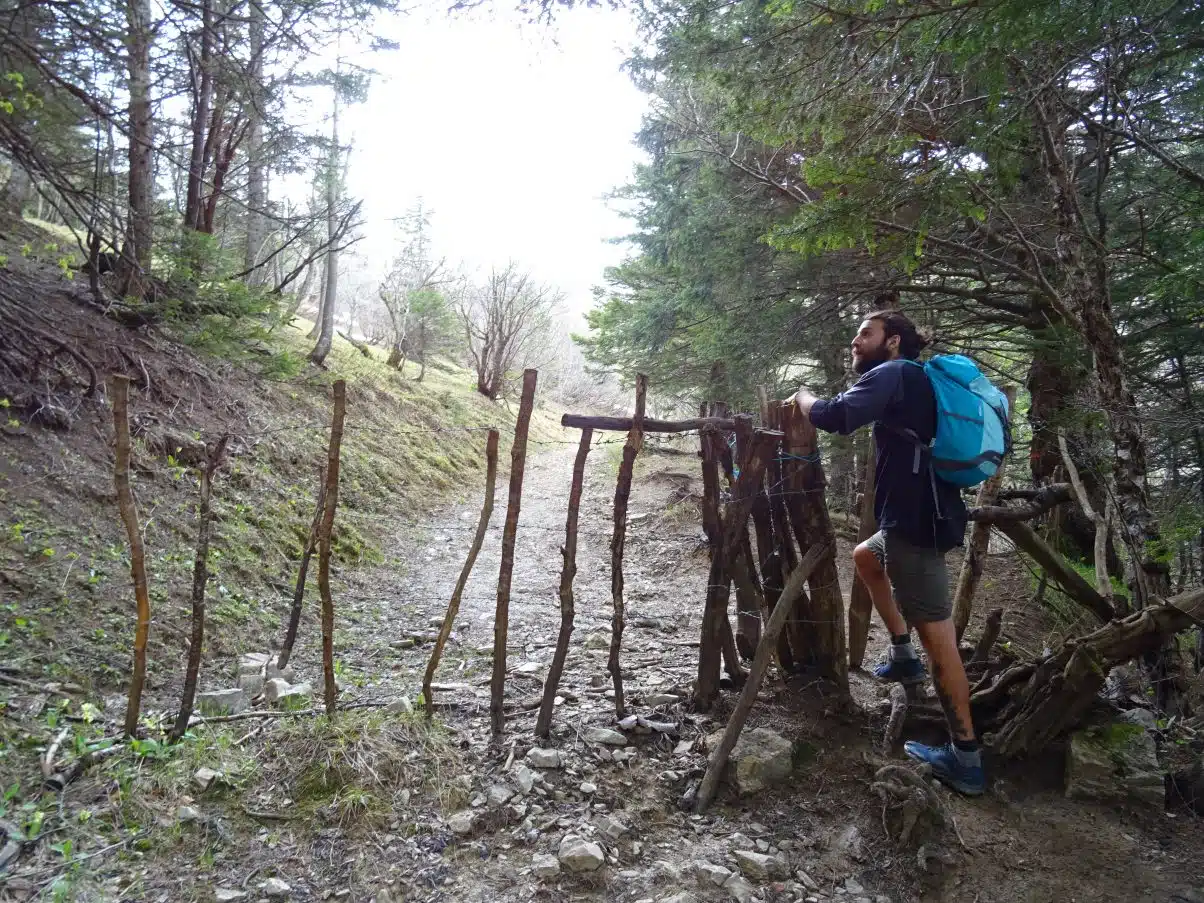 I needed the perfect all-round outdoors vegan shoes!
In February 2019 we started our round-the-world bike tour and needed to find the perfect pair of shoes, ready for a variety of adventures. My previous pair had done me well but were pretty dishevelled after our Three Peaks Challenge by Bike and years of battering.
As I only planned on taking one pair of shoes I needed something lightweight, fit for cycling in a variety of conditions, hiking and running, as well as being comfortable for day-to-day use. I found just the thing, high quality, lightweight and 100% plant-based. I've been wanting to write about these Merrell shoes for quite some time but needed to put them to the test before recommending them online.
After 6 months of use, thousands of miles cycling, hiking in the Alps, scrambling in the Jura mountains and trail running through forests I can safely say the Merrell Agility Peak Flex vegan shoes are bloody ace. Since we left England they haven't been taken off and have impressed through snow, wind, rain, heat and storms. Keep reading to find out why I think they're great…
Important to note: I tested a men's but Merrell Agility peak flex women's are also available – more info below!
If you're wanting to start hiking, our beginner's guide has everything you need to hit the trail confidently and safely!
Merrell Agility Peak Flex – Vegan Hiking & Trail Running Shoes
Merrel
I'm not going to lie, I'm a bit biased, I love Merrell shoes but all for good reason. Whilst I'm not against trying new companies when buying shoes I'd much prefer getting them from somewhere I've used before and trust. After owning a number of Merrel vegan trainers before, they've always been pretty damn awesome, so I knew to expect good things. Not only do they have a huge range of outdoor vegan shoes they're also very good quality, stand the test of time and, I think look pretty cool.
They also come highly recommended by PETA, the Vegan Society and other vegan organisations, as well as making big efforts to use recycled and natural materials. Pretty cool, ey?
Merrell Agility Peak Flex 2 Review
These Merrell running shoes, designed to be lightweight and breathable for running on off-road terrain, though they can be used for a whole lot more. Unlike regular running shoes, the soles have much better grip and keep you feeling stable in bad conditions and surfaces.
Running on off-road trails are a dream and you have great traction and support on dusty or wet rocks and roots. They are aimed for off-road conditions but after road runs of up to 20 miles, they have just as much comfort and support as regular running shoes.
Previously I've been wary of buying GORE-TEX shoes for anything other than winter hiking but these have changed my mind. The GORE-TEX waterproof membrane does keep your feet dry even in heavy rain but still allows a good level of breathability in hot conditions. At the time of writing this, it's 30°c outside and my feet feel nice and airy.
The waterproof membrane makes them quite versatile and although they're not designed for winter conditions they do keep cold moisture from your feet and have better insulation than regular shoes. I've also worn them cycling in -5°c with rain and though my feet were cold It was much better than I could have expected.
Again, not as they were intended, but I've also worn them with gaiters to hike through snow and have been SERIOUSLY impressed by how they did for a lightweight trail runner. If you're going to be underprepared, make sure you're underprepared with good equipment!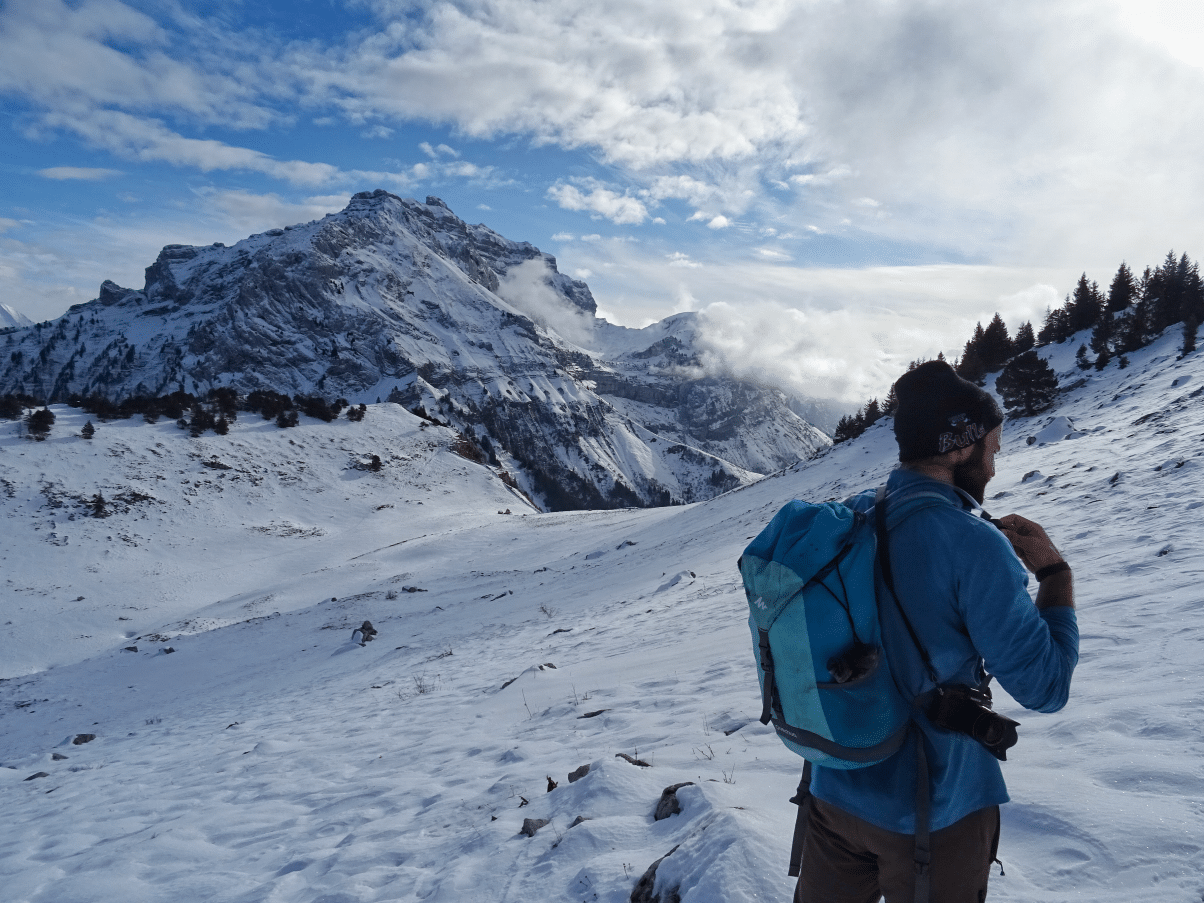 Good outdoor shoes and a great choice for fast hiking
Trail running shoes are fast becoming a go-to choice for hiking thanks to having off-road grip but also being lightweight and breathable. When you think of hiking shoes traditionally people think of bigger, bulkier hiking boots but quite often they're not the best choice. Unless you're using crampons or hiking in serious winter conditions trail running shoes should tick all the boxes, with added comfort and half the weight.
For me, the grippy sole of the Agility Peak Flex has worked a treat on all the hiking trails I've put it through. Despite the low ankle, there's still a good amount of support which gives you almost the comfort of a tradition boot.
For long trails or hot conditions the Agility Peak Flex really shines!
The shoes are MUCH comfier on longer distances, dry quicker and need almost no time to break in. You can literally take them out of the box and go for a multi-day hike without a problem, assuming you get the right size.
Another thing which really sold them for me is the breathability in hot conditions. After a hot, hard day on the trail your feet don't feel overly clammy or overheated, something you'll often find with hiking boots. This also helps avoid some seriously stinky feet!
If you're still not convinced here's a useful article from REI with some more pros and cons of trail running shoes for hiking.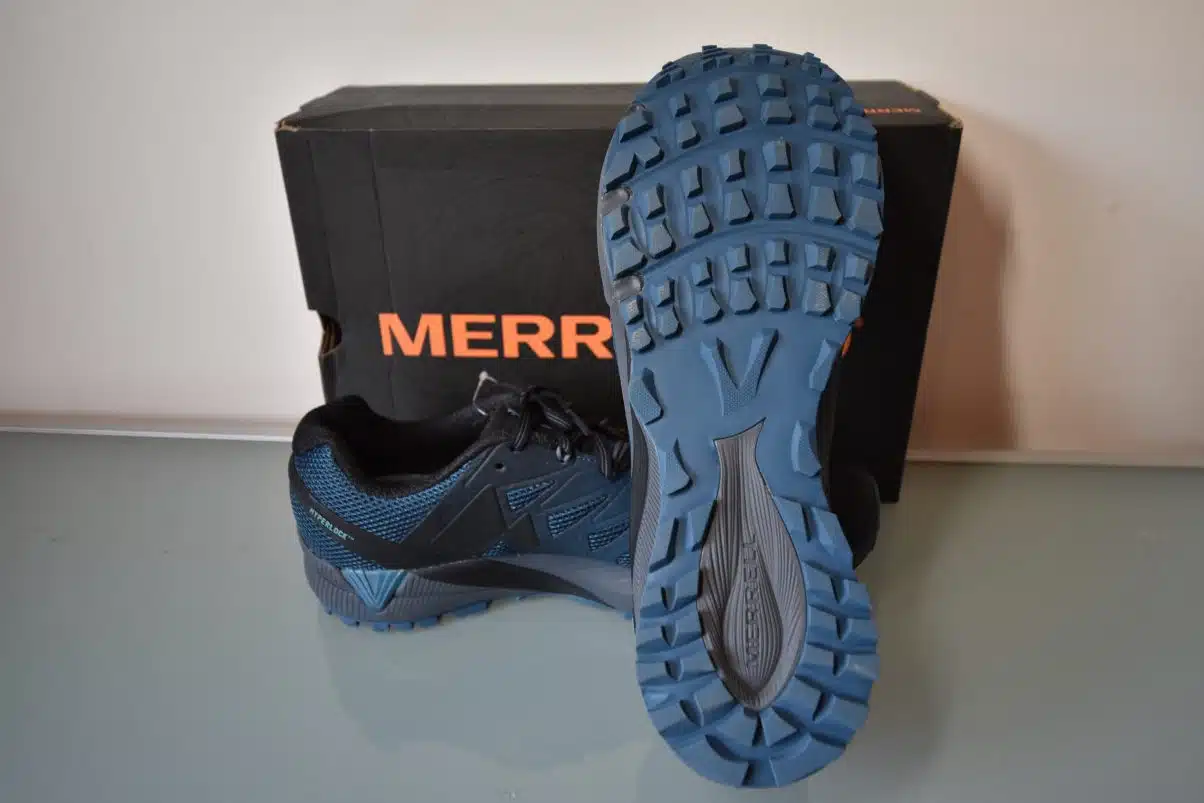 The Agility Peak Flex 2 Specs
• GORE-TEX® waterproof membrane, bonded InvisibleFit construction for lightweight, breathable protection that fits and feels like an unprotected shoe
• Fabric and mesh and synthetic leather upper
• Merrell Omni-Fit lacing system provide a precise glove-like fit
• Hyperlock™ molded TPU heel counter for security
• EVA removable footbed
• FLEXconnect™ dual-directional flex-groove EVA midsole for agility and stability
• Merrell Air Cushion Viz with high rebound EVA foam pod in the heel absorbs shock and adds stability
• Stack Height (heel/toe): 30.95/24.95mm; footbed: 6mm; insole: 0.75mm; midsole: 18/12mm; sole: 1.2mm web, 5mm lug
• Vegan friendly
• Weight: 0lbs 8oz / 240g (1/2 pair)
Information taken from Merrell.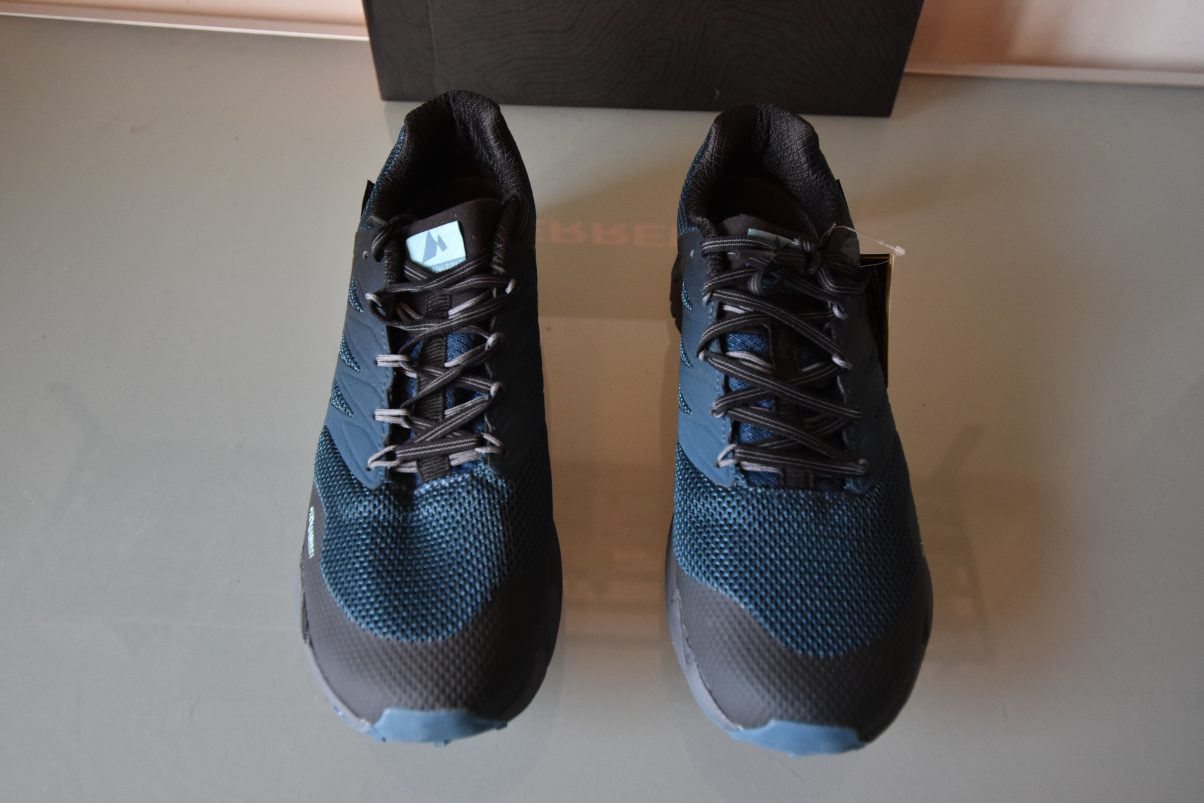 An update after 1 year of heavy adventuring!
Staying true to my word, these shoes have not been taken off for the last year. I've used them for running, hiking, scrambling, climbing approach, cycling and everything in between. Overall I've been blown away by the quality, comfort and longevity of the shoes. They strike the perfect balance between cost, performance and practicality.
Having bought similar Merrell shoes before I know they're likely to last a good few years. These cost me £65 with delivery and I think they're worth every penny. Compared to the rest of the outdoors vegan shoes available you're getting a professional quality outdoors product at a much lower price.
A surprisingly tough cookie!
Despite the light materials the shoe is surprisingly tough and is lasting the test of time. A year's worth of cycling with toe clips isn't showing many signs of wear, the sole has surprisingly little wear and the cushioning is just as comfortable.
The fit is accurate to street sizes and with the lacing system the shoes really hug your feet, helping to avoid chaffing. They don't offer quite as much ankle support as regular hiking boots but it is pretty damn good and gives you confidence running or hiking on any surface.
I think the quality of these shoes really shines through on longer runs/hikes/days. The cushioning takes a lot of impact from your knees and makes gruelling adventures much easier on your body. They're the type of shoe you're not dying to take off when you finally get to your finish point or end of your day.
The Merrell Agility Peak Flex could be the ultimate outdoors vegan shoe…
Overall it's the practicality that has really won me over and why I'm recommending them as an all-round vegan outdoors shoe. You've pretty much got a running shoe, trail trainer and a hiking boot blended into one. Besides the multiple uses, this also saves a huge amount of space, weight and money whilst being more eco-friendly.
For typical outdoor activities like hiking, cycling and running, they're a dream but are still suited to things like assault courses, five-a-side football and dog walks. And, finally, as they're so comfortable it means they also work as a casual shoe. With a big variety of colours, some colourful, others darker, it's something you could easily use for work – what a box ticker!
If you're looking for more of a casual vegan shoe that can be used outdoors then these are perfect!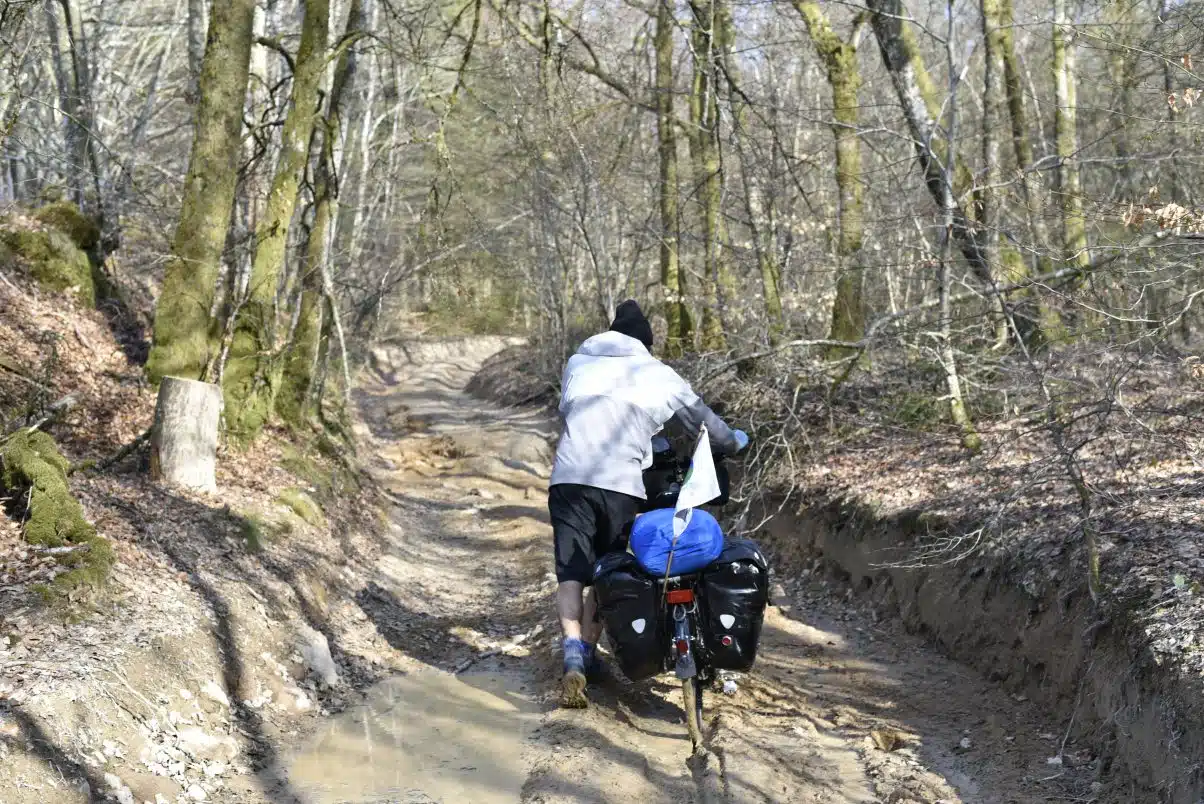 Who should buy them?
This is a great choice of shoe for active travellers thanks to them being so versatile. If you're going on an activity-filled trip and don't want to take multiple pairs of shoes, these guys are all-in-ones. Comfortable enough to wear every day, can take you into the wild, designed to be run in and suitable for a variety of climates and conditions.
For runners and hikers, vegan or not, they're a very popular shoe and are very highly recommended for cross-country and fell running. Personally I think they're great for 3 season hiking and in warmer conditions should be a go-to option.
If you have an active job, like a PE teacher or guide, or you're just looking for a comfortable work shoe.
And to any vegans in search of reliable shoes. As I said it's frustratingly hard to find good quality shoes which are 100% plant-based – here's your answer!
Where to buy the Agility Peak Flex
I originally bought the Agility Peak Flex 2 on Amazon for £65 including delivery. Amazon tends to have the biggest variety of colours, options for men and women and the most competitive prices.
Since writing this, Merrell has also recently released the Agility Peak Flex 3. This newer model has a number of small modifications and changes but most notable does not use the Gore-Tex lining as the Agility Peak Flex 2 does. This may be more or less favourable depending on how you'll be using the shoe.
For more information, colours, sizes, men's and women's options, as well as the Agility Peak Flex 3, take a look on the links below.
Want to check out some other options? Here's our review of the Inov-8 Terraultra G 270 or our Guide to Vegan-Friendly Trail Running Shoes
Merrell Agility Peak Flex – Vegan Hiking & Trail Running Shoes
Have you used these or any other Merrell trail running shoes? Tell us what you think in the comments below!
Keep exploring…
Our England to India Bike Touring Packing List
The Essential Camping Packing List