50 inspiring camping quotes for outdoor lovers and nature wanderers
---
The experience of setting up pitch on a patch of dirt, surrounded by the sounds of bugs and the smells of nature is unlike any other. Choosing a place to lay your head and cooking up some grub and the night draws in and the temperature falls.
Camping is awesome. A chance to REALLY be in nature and explore further. Which is why it's such a source of inspiration and joy.
These camping quotes are inspired by nights under canvas, happy and full after a day in the outdoors. They'll help to keep you motivated through the working day and ignite the fire in your belly to plan your next camping trip.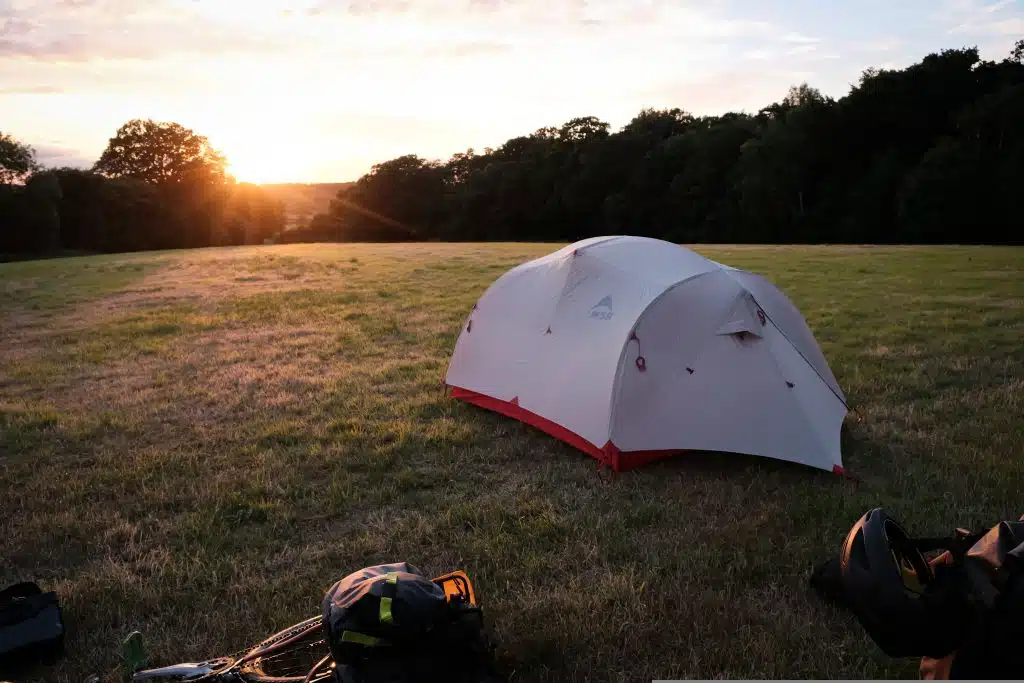 If you're looking for even more adventure fodder to spur on your exploration, you can check out our adventure quotes and feel even more invigorated for the outdoors.
---
"A great many people, and more all the time, live their entire lives without ever once sleeping out under the stars."
– Alan S. Kesselheim
"Camping – because therapy is expensive."
– Anonymous
"Camping is about re-connecting with our primordial selves. Cooking humble food around a campfire, surrounded by family and friends, feels so good because for aeons, that was the definition of life in the tribe. It is woven into our very DNA."
– Anonymous
"If people sat outside and looked at the stars each night, I'll bet they'd live a lot differently."
– Bill Waterson
"To be whole. To be complete. Wildness reminds us what it means to be human, what we are connected to rather than what we are separate from."
– Terry Tempest Williams
"The woods are lovely, dark and deep. But I have promises to keep and miles to go before I sleep."
– Robert Frost
"Camping is where the adventure begins."
– Anonymous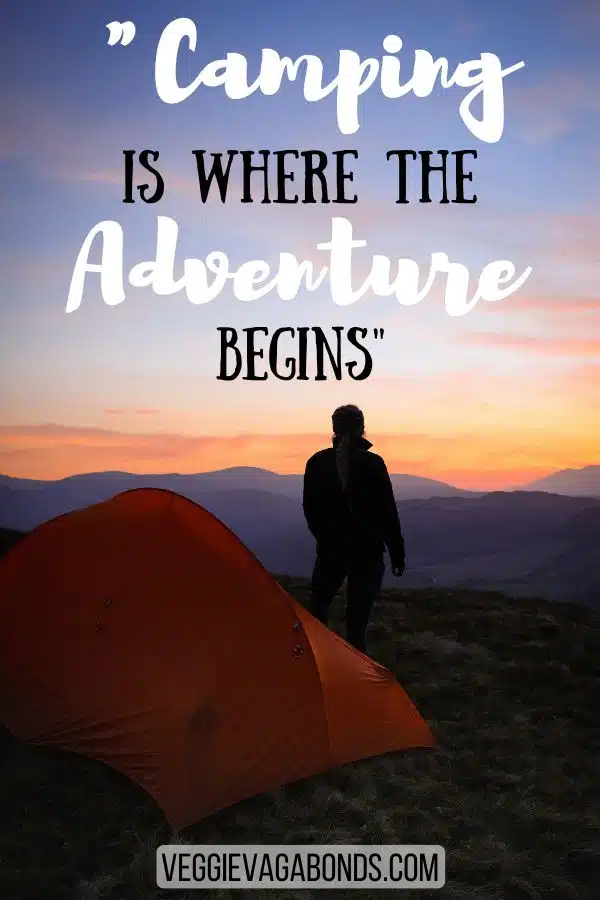 ---
Looking for more adventure fodder and inspiration? Sign up for our newsletter to get our latest posts
---
"Campers have smore fun."
– Anonymous
"Real freedom lies in the wilderness, not in civilisation."
– Charles Lindbergh
"Far from the luxuries of home, camp life forces a slower, more thoughtful approach to living. Mornings are savoured. Coffee is sipped rather than drained. Making meals is less a chore and more an event. An evening stroll replaces the nightly TV hypnosis. In short, for a few fleeting days, we are briefly, blissfully, beautifully human again."
– Mark Keyon
"I went to the woods because I wished to live deliberately, to front only the essential facts of life, and see if I could not learn what it had to teach, and not, when I came to die, discover that I had not lived."
"Money can not buy happiness but it can buy a tent and that's kind of the same thing."
– Anonymous
"Thousands of tired, nerve-shaken, over-civilized people are beginning to find out that going to the mountains is going home; that wildness is a necessity."
– John Muir
"We now no longer camp as for a night, but have settled down on earth and forgotten heaven."
– Henry David Thoreau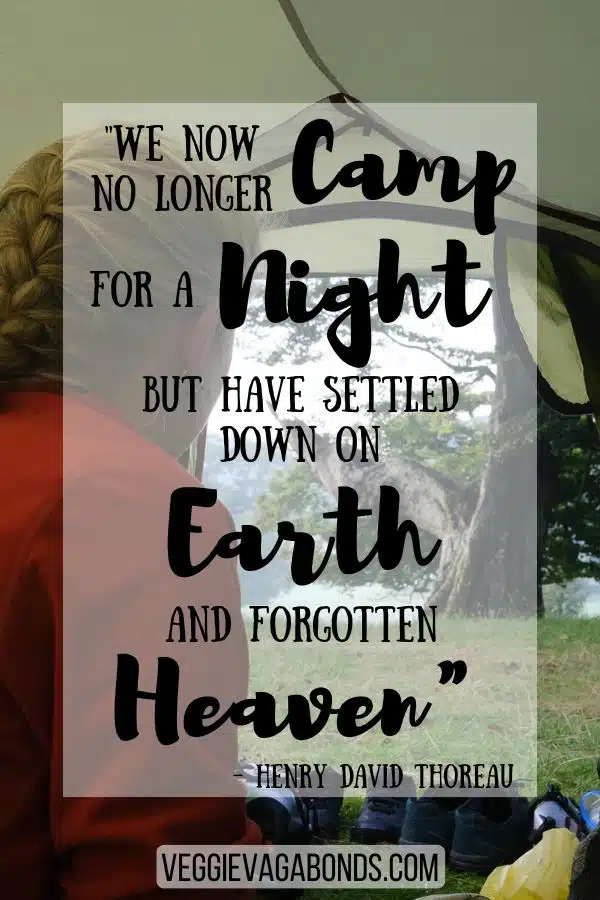 ---
Keep exploring our camping guides for your next trip…
---
"Any meal is a good meal when you're on a good river."
– Edward Abbey
"Going into the woods is going home."
– Anonymous
"Very few things in life can be so exhilarating as a cabin in the middle of the forest and loving life effortlessly while enjoying the smell of freshly ground heaven in your hot cup, in front of a fireplace… Sweet Solitude, you have taught me to live with very little. So very little it turned out to be a luxury."
– Efrat Cybulkiewicz
" It always rains on tents. Rainstorms will travel thousands of miles, against prevailing winds for the opportunity to rain on a tent."
– Dave Barry
"If you can survive camping with someone, you should marry them on the way home."
– Anonymous
"I go to nature to be soothed and healed, and to have my sense put in order."
– John Burroughs
"There's no such thing as a bad camping trip – only unprepared campers."
– Anonymous
"The stars were better company anyway. They were very beautiful, and they almost never snored."
– David Eddings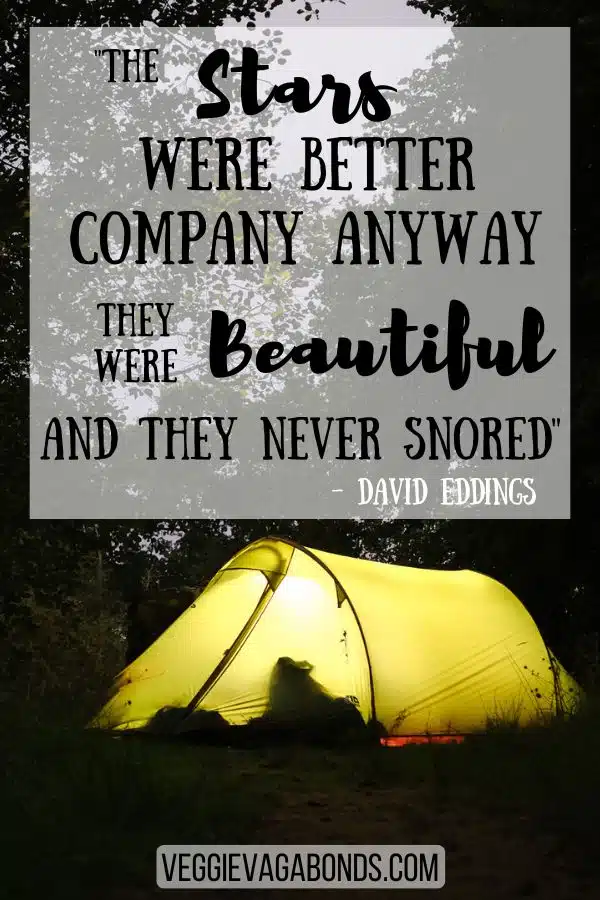 "Whatever form it takes, camping is earthy, soul-enriching and character-building, and there can be few such satisfying moments as having your tent pitched and the smoke rising from your campfire as the golden sun sets on the horizon–even if it's just for a fleeting moment before the rain spoils everything."
– Pippa Middleton
"Home is where you park it."
– Anonymous
"The fire is the main comfort of camp, whether in summer or winter."
– Henry David Thoreau
"Camping is nature's way of promoting the motel business."
– Dave Barry
"Cooking and eating food outdoors makes it taste infinitely better than the same meal prepared and consumed indoors."
– Fennel Hudson
"Roses are red, mud is brown, the woods are better than any night on the town."
– Earl Dibbles Jr.
"Just another coffee drinker with a camping problem".
– Anonymous
"Camping: where you spend a small fortune to live like a homeless person."
– Anonymous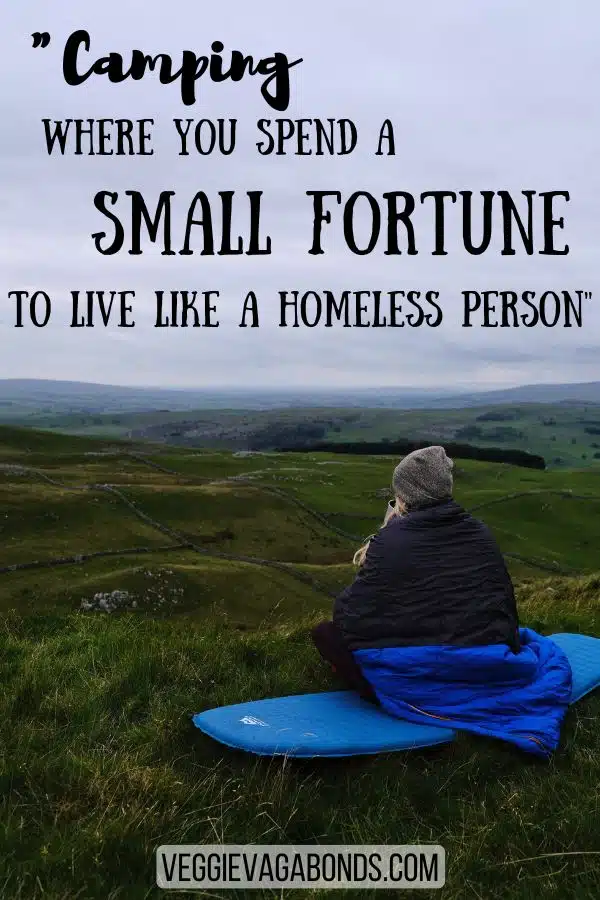 ---
Keep exploring our guides to get kitted out for camping…
---
"Remember, a good marriage is like a campfire. Both grow cold if left unattended."
– H Jackson Brown Jr.
"My wish is to stay always like this, living quietly in a corner of nature."
– Claude Monet
"I do have a retirement plan, I plan on camping."
– Anonymous
"I just want to live in a world of mountains, coffee, campfires, cabins, and golden trees, and run around with a camera and notebook, learning the inner workings of everything real."
– Victoria Erickson
"I Googled my symptoms, turns out I just need to go camping."
– Anonymous
"The wilderness holds answers to questions we have not yet learned to ask."
– Nancy Wynne Newhall
"Some national parks have long waiting lists for camping reservations. When you have to wait a year to sleep next to a tree, something is wrong."
– George Carlin
"Wilderness is not a luxury but a necessity of the human spirit."
– Edward Abbey
"A bad day camping is still better than a good day working."
– Anonymous
"Light a campfire and everyone's a storyteller."
– John Geddes
"Without the intense touch of nature, you can never fully freshen yourself! Go camping and there both your weary mind and your exhausted body will rise like a morning sun!"
– Mehmet Murat Ildan
"Camping: The art of getting closer to nature while getting farther away from the nearest cold beverage, hot shower, and flushing toilet."
– Anonymous
"How is it that one match can start a forest fire, but it takes a whole box of matches to start a campfire?"
– Christy Whitehead
"Camping: where the only thing that runs on batteries is your flashlight."
– Anonymous
"The stars are my roof, the wilderness is my bedroom, and the campfire is my warmth."
– Anonymous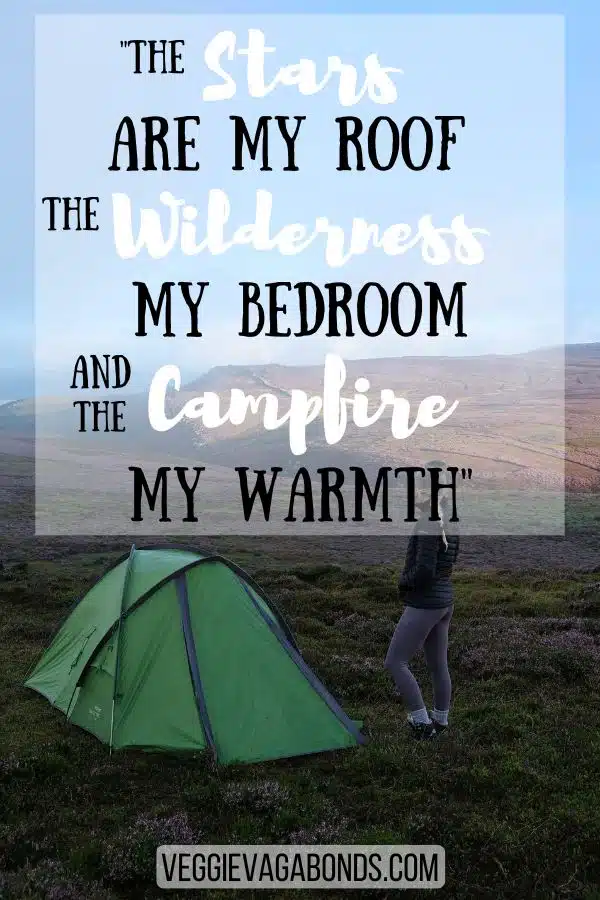 "The glories of a mountain campfire are far greater than any may guess."
– John Muir
"Now I see the secret of making the best person, it is to grow in the open air and to eat and sleep with the earth."
– Walt Whitman
"A campfire is just a nightclub in the mountains."
– Anonymous
"I felt my lungs inflate with the onrush of scenery. Air, mountains, trees, people. I thought: this is what it is to be happy."
– Sylvia Plath
"Time spent among trees is never time wasted."
– Katrina Mayer
"When you get a little dirt in your food whilst camping, it's called 'trail seasoning'."
– Anonymous