Not sure how to choose hiking boots? Don't even know if BOOTS are the right choice? This article has all the answers!
---
Picking the right hiking footwear is a serious decision.
The right ones will have you bounding along trails happy as Larry, the wrong option will have you sat in the dirt applying blister plasters.
Do you go for boots, shoes, trail runners, even sandals? Will they be right for short day hikes, casual overnight camping trips or month-long backpacking epics?
Picking hiking boots doesn't have to be a headache – this guide will help you decide exactly what footwear is best for you!
This article may contain affiliate links, they will never cost you more money but helps Veggie Vagabonds keep making content like this – thank you!
Step No. 1 – What will you be using them for?
To begin with, think about the type of hikes you're used to doing/planning on doing and see which of these categories best fits you:
Short country walks on smooth, low gradient roads or paths
Mountain trails that may be very rough but are single day
Multi-day long hikes on mountain trails with a heavy backpack
Hiking in the cold/hot/wet/snowy weather
Step No. 2 – Different hiking footwear options
Flexible boots or hiking shoes
Suppose your hikes fall under the first scenario: shorter hikes on comfortable terrain. In that case, you're looking for lightweight, flexible boots with a softer sole. Comfort is your priority and you probably won't be carrying much weight. Flexible boots are great for beginner hikers and they're typically quick to break in.
Alternatively, you may even find what you are looking for in low-ankle hiking shoes, which are lighter than the boot and give more freedom at the ankle. These will also be more breathable, making them better for hiking in the summer.
For boots, try and find a pair that's less than 1 kg (you won't likely need the extra protection on flatter trails). For shoes, 800 grams is a good benchmark to keep you light on your feet.
Pros: big variety, affordable, easily broken in, comfortable, often lightweight
Cons: not good for carrying heavy loads or traction on uneven off-road trails
What type of hiking: relatively flat trails and smooth surfaces
Our Recommendation: for these you can be quite flexible, just go for something comfortable and well-fitted
Trail runners
I'll be honest, we've been converts for quite some time. Hiking in trail running shoes gives you the comfort and breathability of running shoes but more of the support and traction from boots. An all-around winner if you want to move fast and with confidence.
Trail running shoes are very light (some down to 400g) but still have good cushioning and traction. They've also got super breathability too. This makes them mega if you're planning on hiking long distances or in hot weather. You can find out more on the hiking boots Vs. trail runner debate here.
Pros: lightweight, comfortable, good traction, breathable, good over long distances
Cons: little ankle protection, not good for carrying heavy loads or cold weather
What type of hiking: fast/long hiking on varied terrain and warmer conditions
For more outdoor resources and adventure inspiration, be sure to sign up for our mailing list below!
Hiking boots or shoes with greater rigidity
Moving up a stage, you've got boots and shoes with a tougher sole and more cushioning. They're good If you're going for day hikes in the mountains or on challenging/technical trails with a mid-weight load. For lightweight backpacking, they'll still do the trick.
The more rigid sole can help you take on tough terrain, with good traction in wet or muddy conditions. Typically, they'll have a comfortable midsole too, and this will help to distribute your body weight through your feet.
You also want to pick a durable shoe that will last bumps and knocks in the mountains, keeping your feet safe and lasting for years of adventures.
If you're not carrying much weight, you might also consider tougher hiking shoes instead of boots for more ankle freedom. But, you will be more exposed to sprains, so if you are prone to sprains or ankle injuries, opt for boots. Nobody wants a sprained ankle to spoil a hiking trip!
Pros: good balance between weight, comfort and durability, they're versatile too
Cons: can take longer to break in, slightly heavier, more expensive
What type of hiking: harder hiking on tough trails, possibly shorter multi-day trips
Trekking/mountain boots with ankle protection
Last but not least, we have the bigguns!
Mountain and trekking boots are mighty durable and best if you will be taking on longer trails with a heavy pack e.g. backpacking.
With a backpack for a multi-day trek, even if you sleep in refuges (which frees you from carrying a tent and cooking equipment), you easily carry 8 to 10 kg on your back. These boots will bear the increased load and protect your ankles from turns with a heavy pack.
The increase in weight and altered centre of gravity from the backpack means ankle support should be a high priority. And yes, in these cases, low-ankle shoes are no longer a good option.
Pros: strong ankle support, tough insole for comfort, durable, good protection from elements
Cons: heavier, expensive, longer to break in, less variety and versatility.
What type of hiking: long, hard backpacking routes, winter hiking and high-mountain adventures.
Our recommendation: Inov-8 Roclite Pro 400 GTX – AWESOME! – check out our review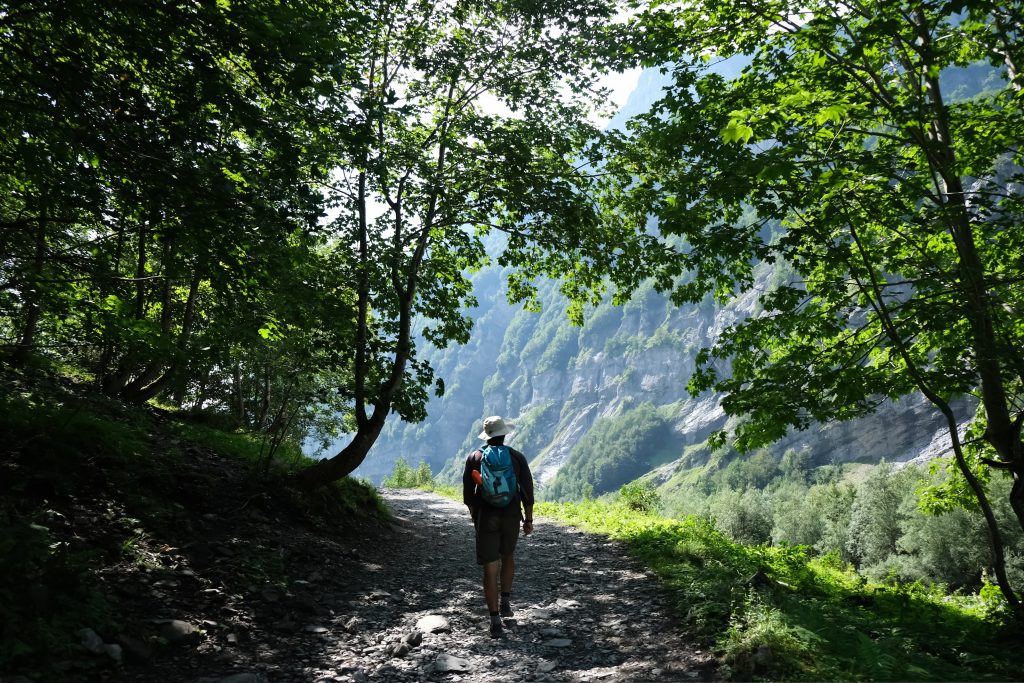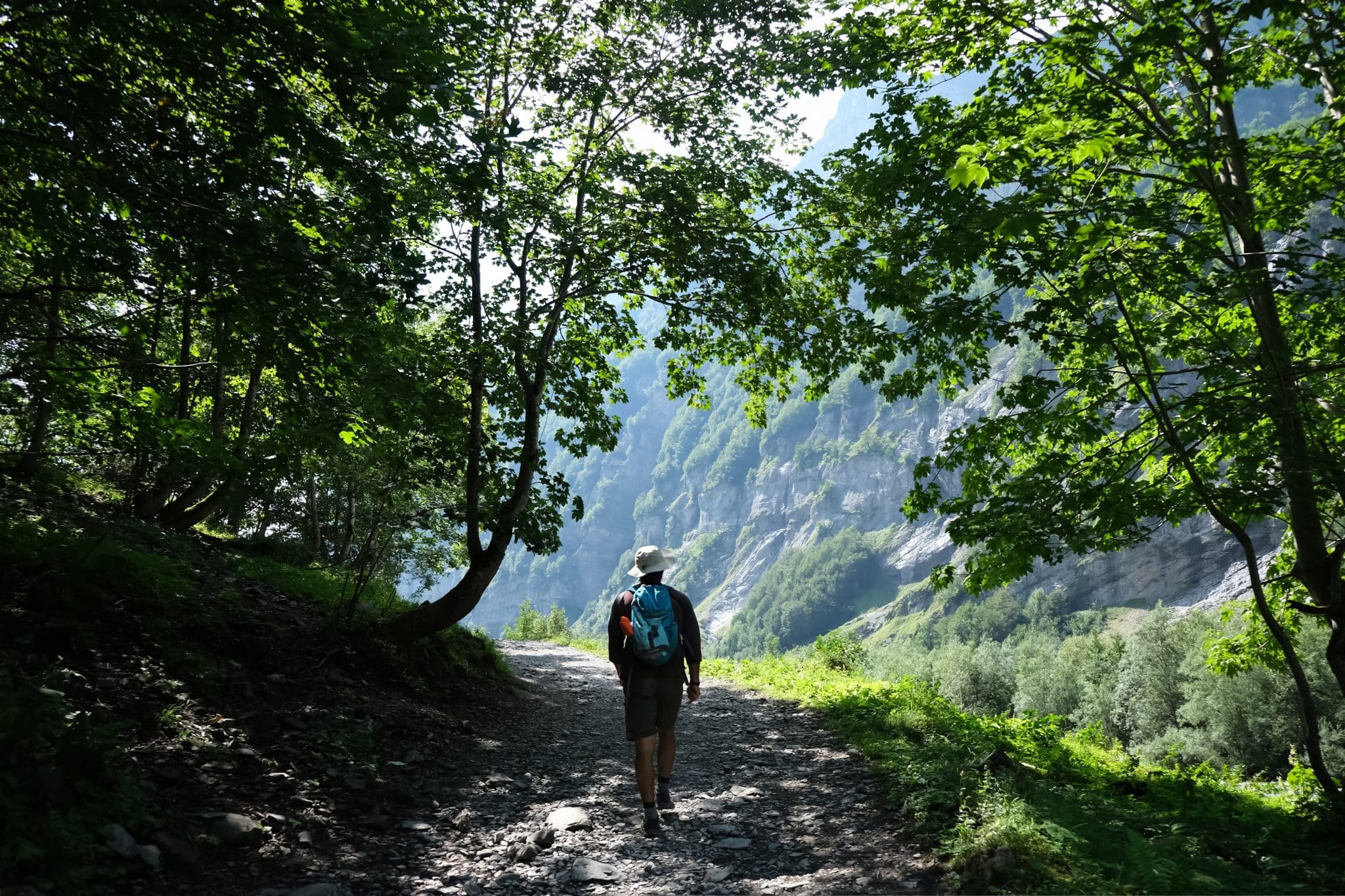 Step 3. Extra Considerations
Waterproofing and weather conditions
If you're hiking in hot regions, pick a lighter boot or shoes with more ventilation.
For long backpacking routes in hot conditions, you need to strike a personal balance between comfort, ankle-support and breathability.
If it's going to be seriously hot but on straight-forward trails, you could even consider hiking sandals.
For cold weather hiking, it's best to go for high-ankle boots which will keep your feet better insulated. Opt against highly-ventilated or mesh shoes.
If you're going anywhere near snow, go for waterproof hiking boots or even snow boots.
Re.waterproofness. If you walk only in summer, in a climate where there is little rain, perhaps this aspect does not worry you too much. But if your goals also include exploring mountain trails in winter, where you can get rain and snow, waterproof boots are a must.
But what makes a boot waterproof?
Today, the answer is almost always the same: Gore-Tex or similar materials. Gore-Tex is a Teflon membrane, which is microperforated. The membrane's pores are so small that raindrops cannot enter but are large enough for water vapour from perspiration to pass through.
In other words, in practice, you don't get wet feet because the rain can't get in, and you don't get your feet soaked with sweat because it can get out through the pores of the membrane.
BUT, no matter the quality, you will have to do some boot waterproofing from time to time.
What size to buy
After identifying the type of boot you want, choose two or three different models to compare, preferably from different brands. You'll notice that some boots have a wider shape than others; some are wider at the front, with a toe box that gives more freedom to those with "square" feet, others are more tapered.
Narrow vs. wide feet: some companies are better for certain feet. Merrell and Lowa have great hiking boots for wide feet, whilst La Sportiva and Scarpa are better suited to narrow feet.
Men's vs. women's: some brands have specifically designed hiking boots for men and women. Typically, men's are higher volume, with a larger toe box and more volume across the top. Don't worry so much about sex, just go for the right fit.
Choose the boots that fit the shape of your foot best, rather than looks or brands etc. And, if you're in a store, don't get tempted to try too many models on. After changing boots many times, you'll start to lose the sensitivity to understand which ones fit best.
The final step is the micro-adjustment, that is, choosing the right size. Once you have selected the model, try on two or three boots sizes until they feel good. And always wear the boots on both feet, as one foot is usually slightly larger than the other.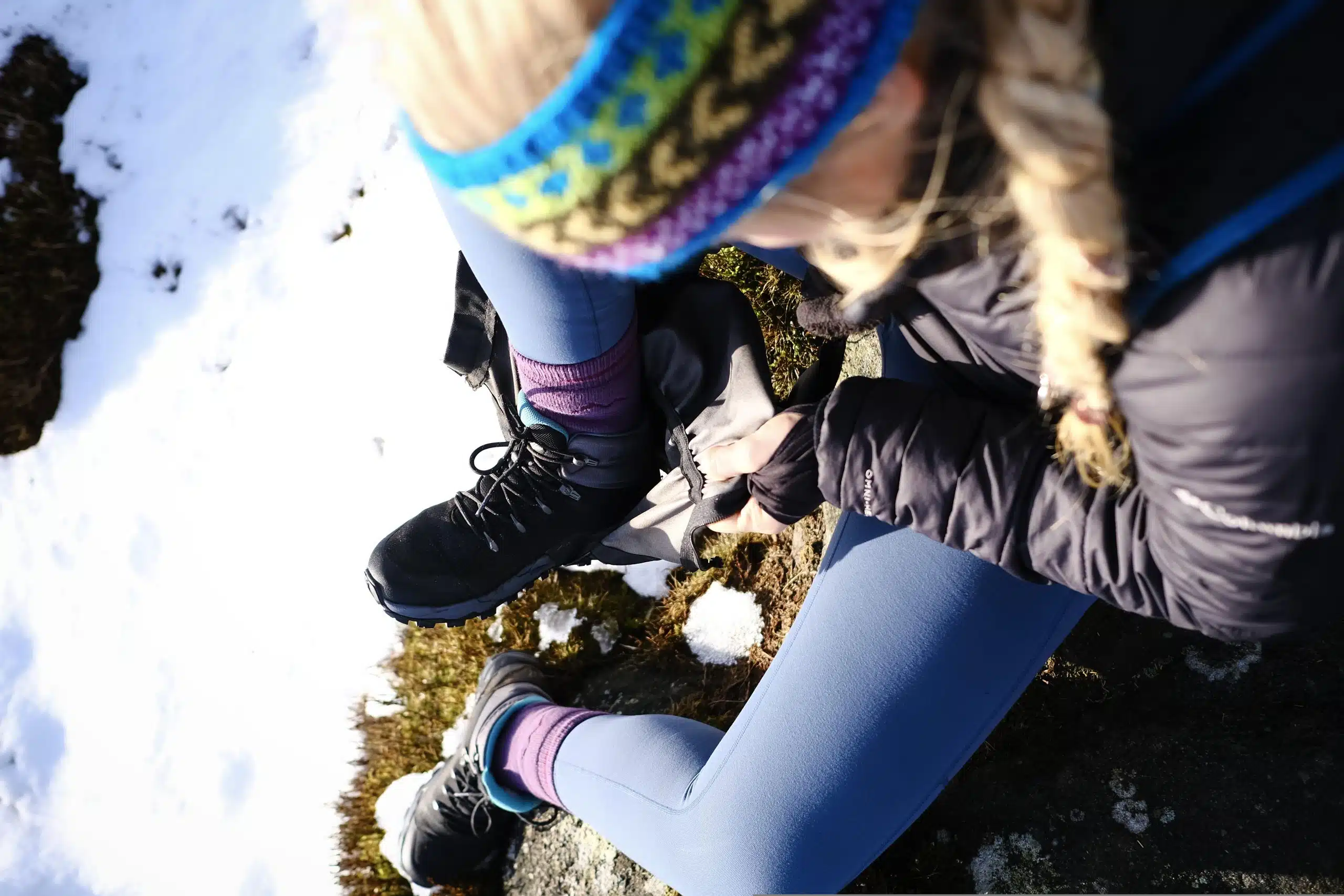 Your budget
Our advice: make your hiking footwear a high priority in your outdoor gear.
They're an important bit of kit so it's better saving on other items and picking hiking boots that are just right. See it as an adventure investment.
Outdoor brands and retailers have good annual sales so it might be worth you holding out for the right pair to drop in price!
Want to compare models or ready to buy?
Big outdoor retailers make it nice and easy, categorising hiking footwear into your different wants and need. Taking a scroll through is the easiest way to compare styles, check out reviews and weigh up specs.
Take a look on the links below:
Need any more help choosing hiking boots? Give us a shout in the comments!