Our honest Rumpl Nanoloft review after 2 years of using this recycled puffy blanket on outdoor trips
---
The Nanoloft Puffy Balnket is Rumpl's first every synthetic blanet designed to rival the warmth of down. It's made from 100% post-consumer recycled plastic, designed to keep you warm outdoors or at home.
The nanoloft blanket is draws on the technology of sleeping bags to make a blanket that's designed to be warm and packable for whatever you get up to outside.
After two years of testing, we've put together a review of how it's held up acorss the seasons and a whole bunch of uses.
This product was sent to us to review by the manufacturer but the thoughts and opinions are completely our own. This article may also contain affiliate links.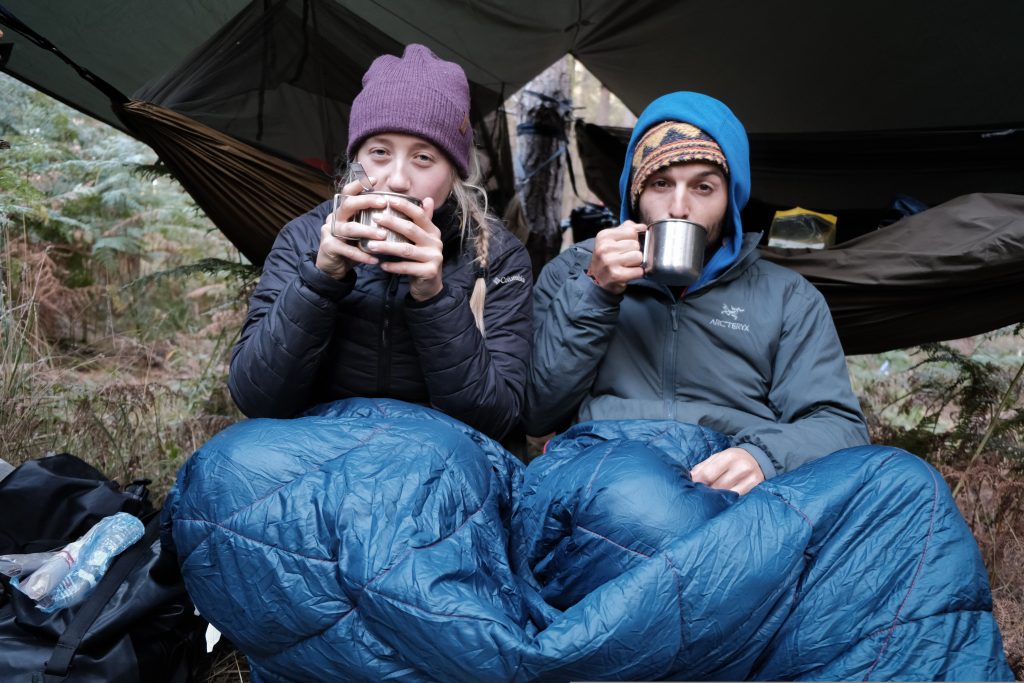 Who are Rumpl?
Rumpl is a new and fairly new and small company, that started making blankets after an idea was born in the back of a chilly van. They decided to redesign the typical blanket drawing on the innovation of sleeping bags and outdoor gear.
They're a company that's passionate about protecting the environment, with its core line only using 100% post-consumer recycled materials and donating 1% of its profits to the planet. They're also B-Corporation and offset 100% of their company's carbon footprint.
They make blankets designed for adventurous times to keep you warm. They also make stuffable pillowcases, mats and a few other bits designed for the outdoors.
What Does the Rumpl Nanoloft Puffy Blanket Say on the Box?
The nanoloft puffy blanket is Rumpl's synthetic down alternative blanket. The nanoloft insulation is made from 100% post-consumer recycled polyester and manufactured into small circular clusters, designed to mimic down and trap in warmth.
It has a DWR (durable water repellant) finish that is stain and water-resistant. It also comes with a water-resistant stuff sack, making it easy to pack and carry on trips. The blanket is also machine washable, which is pretty handy for those mucky adventures.
It comes in three sizes: travel W 96cm x H 132cm, 1-person W 132cm x 190cm, and 2-person W 213cm x 203cm.
The 1-person size had clips so it can be worn as a cape and all three have corner loops so they can be staked or hung.
Taking inspiration from the insulating properties of sleeping bags, Rumple blankets are designed to keep you warm on outdoor adventures or at home.
I'll be taking a look at the 1-person nanoloft blanket in this review:
Weight – 816 grams
Size – flat – W 132cm x 190cm, packed – 15cm x 35 cm
Cape clip – yes
Materials – 100% post-consumer recycled polyester shell and insulation
Insulation – NanoLoft®
Machine washable – yes
Weatherproofing – water resistant
Corner loops – yes
Warranty – 1 year
---
Looking for more sustainable gear reviews and ethical outdoor guides? Sign up for our newsletter to get our latest posts
How I Tested the Rumple Nanoloft 1-Person
I've used the nanoloft blanket throughout the seasons over a 2 year period. It's been attached to my bike or flung into a rucksack for multi-day trips.
I've used it hammock and tent camping as an under quilt or an extra layer on top of my sleeping bag. I've used it as a blanket when sitting outside tucking into a camp stove feast and with the cape function to go hands-free. I've also used it inside on the sofa and as an extra layer on my bed in winter.
I have used it predominantly as a 1-person blanket, however, I have found it's just about big enough to act as an extra layer on top of J and I in our sleeping bags, or on the bed at home when we've been chilly. We've also used it over both of us when sitting out and found the 1-person to be again just big enough to cover us both to be comfortable but it doesn't provide the same warmth and coverage it would for 1 person.
Rumpl Nanoloft Blanket Review
Warmth 4/5
One of the most important properties of an insulated blanket is how warm it is. The nanoloft technology is used for just this reason, as it mimics down with its tiny circular insulation stuffed inside the stitched panels of the blanket.
It has added that much-needed warmth when just my sleeping bag hasn't been up to it alone. It's also been a cosy extra layer when sitting out munching dinner on camping trips.
As it's a blanket it does allow heat to escape when sitting out. I've found it to be best used on tops of warm base layers to keep in the heat.
Packability 3/5
The stuff sack is really great for packing the blanket away and it fits inside easily. The stuff sack is a generous size, so you don't have to wrestle with it to get it back in.
The long and thin design of the stuff sack means it can easily fit in a rucksack, handlebar bag, tail bag or bike pannier. The roll top and clip mean it's easily secured and also act as a handle to carry it.
It is fairly large and dense when packed. Compared to a 2-season 1-person sleeping bag it's a similar size and on the heavier side. As it's a blanket, without the same ability to zip up and trap in heat as a sleeping bag, it's pretty big and heavy.
I've found that once it's in its case it can be condensed further, however not by much so it's not ideal for lightweight trips. It is a welcomed bit of comfort for colder trips and when weight or space isn't so tight.
Versatility & Practicality 4.5/5
When it comes to its uses, the nanoloft puffy blanket is pretty versatile. I've found it useful across the seasons, outdoors and at home. It isn't warm enough to replace a sleeping bag in the cooler months but this isn't its intended use.
It is however warm enough to replace your sleeping bag in the shoulder seasons and it's a lot more comfortable as you don't feel contained as you sometimes can in a sleeping bag. You can toss and turn and position your body more freely as you would under a usual blanket or duvet.
The cape clip allows it to hang over your shoulder hands-free, which is handy for cooking and eating.
The corner loops also allow it to be staked to the ground or hung. But I've found it can get pretty mucky when laid on the ground and prone to scuffs. For this reason I avoid doing it to keep it clean to use in the tent at night.
I've found it to be incredibly versatile for cooler trips and a welcomed extra layer. However, its uses are limited when it's milder and I find it too bulky to warrant bringing over a 2-season sleeping bag.
Durability 4/5
The DWR finish of the nanopuff blanket makes it stain and water-resistant to increase its longevity.
I've used it on countless trips and have found the stain-resistant technology lives up to the hype. It's difficult to get mucky unless staking to the ground in wet mud, then some does hang about. I have the navy blue puffy blanket which helps to avoid any noticeable stains too. Some of the more vibrant patterns may show the dirt more.
The fact it's machine washable is a big plus as it can easily be washed. In the two years I've had mine, I've only washed it once and it still looks fresh with very few signs of wear.
---
---
Green and Vegan 4/5
As a company, Rumpl get top marks for its sustainable initiatives. As I mentioned they make their products with the environment in mind, donating 1% of their profit to environmental causes and are B-Corp.
The nanopuff blanket is made from post-consumer recycled plastic with the 1-person blanket being made from 50 and the 2-person one from 96 recycled plastic bottles.