The Cambridge to Ely cycle route: a stunning 25-mile ride taking you from the heart of Cambridge University colleges, through nature reserves and to Ely Cathedral
---
If you're looking for the perfect day trip in the UK then the Cambridge to Ely cycle route will be just up your street. Throughout the journey you're immersed in nature and wildlife, meandering through beautiful meadows, following rivers, crossing wetlands and exploring wildlife reserves.
The easy to navigate route begins right in the heart of Cambridge and takes you to the historic centre of Ely with some cracking potential stopping points in between. With well-maintained roads and barely a car in sight, make this a day cycle suitable for any experience or families.
We regularly used the Cambridge to Ely cycle route as part of training for our Three Peaks charity challenge in 2018. We know it like the back of our hand and highly recommend it to anyone looking for an enjoyable one-day cycle route with impressive scenery.
In this guide, you'll find everything you need to know to plan your Cambridge to Ely cycle route including a detailed route guide, useful details and a packing list!
This article may contain affiliate links, they will never cost you more money but helps Veggie Vagabonds keep making content like this – thank you!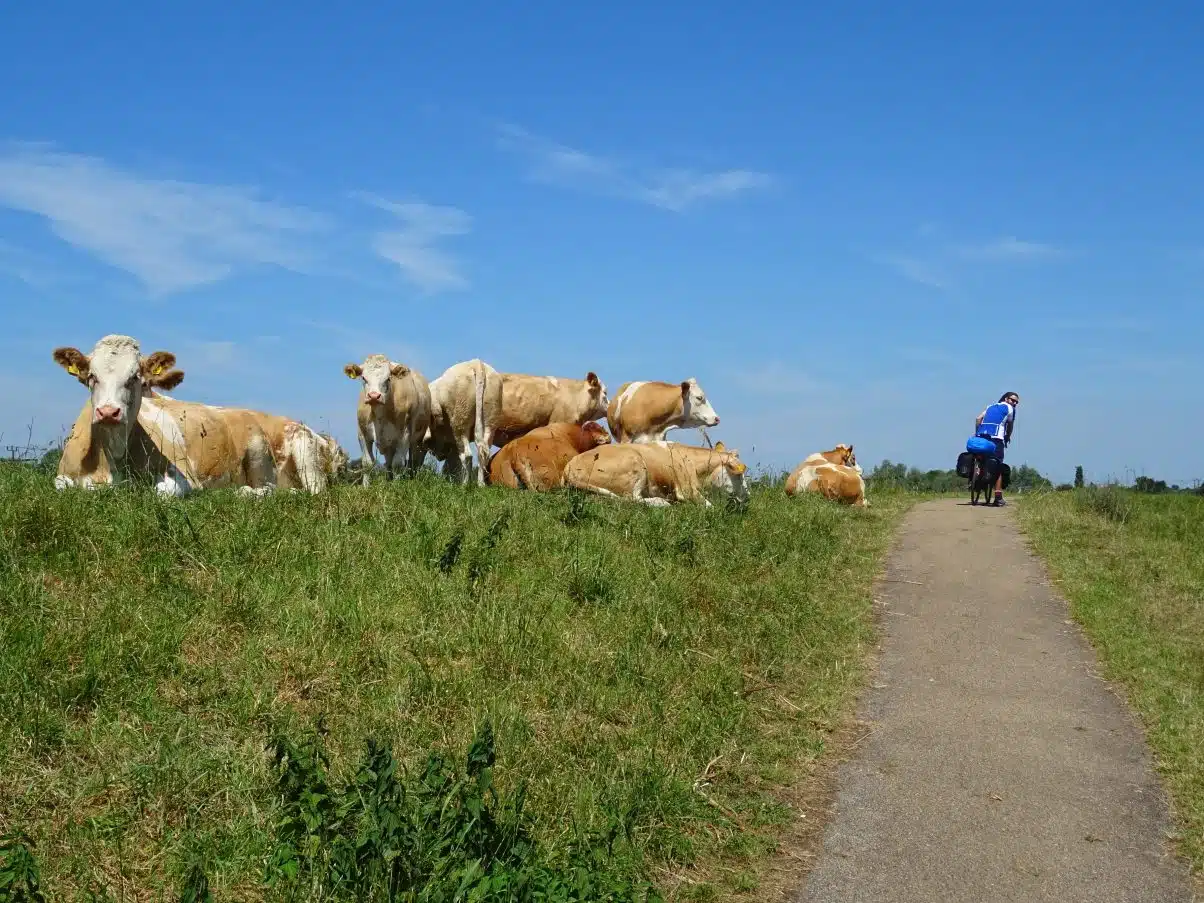 Why the Cambridge to Ely Cycle Route?
This route is great if you want to spend an active day outside and forget about city life. You'll love the Cambridge to Ely cycle route because within 15 minutes you're in the countryside, the scenery is incredible and it's very easy to navigate.
On one end of the route you have the world-famous Cambridge University buildings and on the other the majestic Ely Cathedral and the marina. In between, you pass through quaint villages and famous protected nature reserves where you can spot rare birds, wild horses and highland cows as you cycle.
The whole trail follows National Cycle Routes which means the roads are in good condition and you have clear signposts pointing you in the right direction (most of the time).
The cycling in Cambridgeshire is very flat and 24 miles from Cambridge to Ely can be completed in 2-3 hours at a comfortable pace. Adding in the return journey makes it a beautiful 50-mile cycle over the space of a day, with some great lunch or picnic spots along the way.
If you go during the week you're quite likely to have the whole place to yourself besides a few dog walkers or bird watchers. This means it's also suitable for cyclists wanting to put there head down and get some serious speed. We use it for cycle training and it's been perfect – we've got our time down to just over an hour!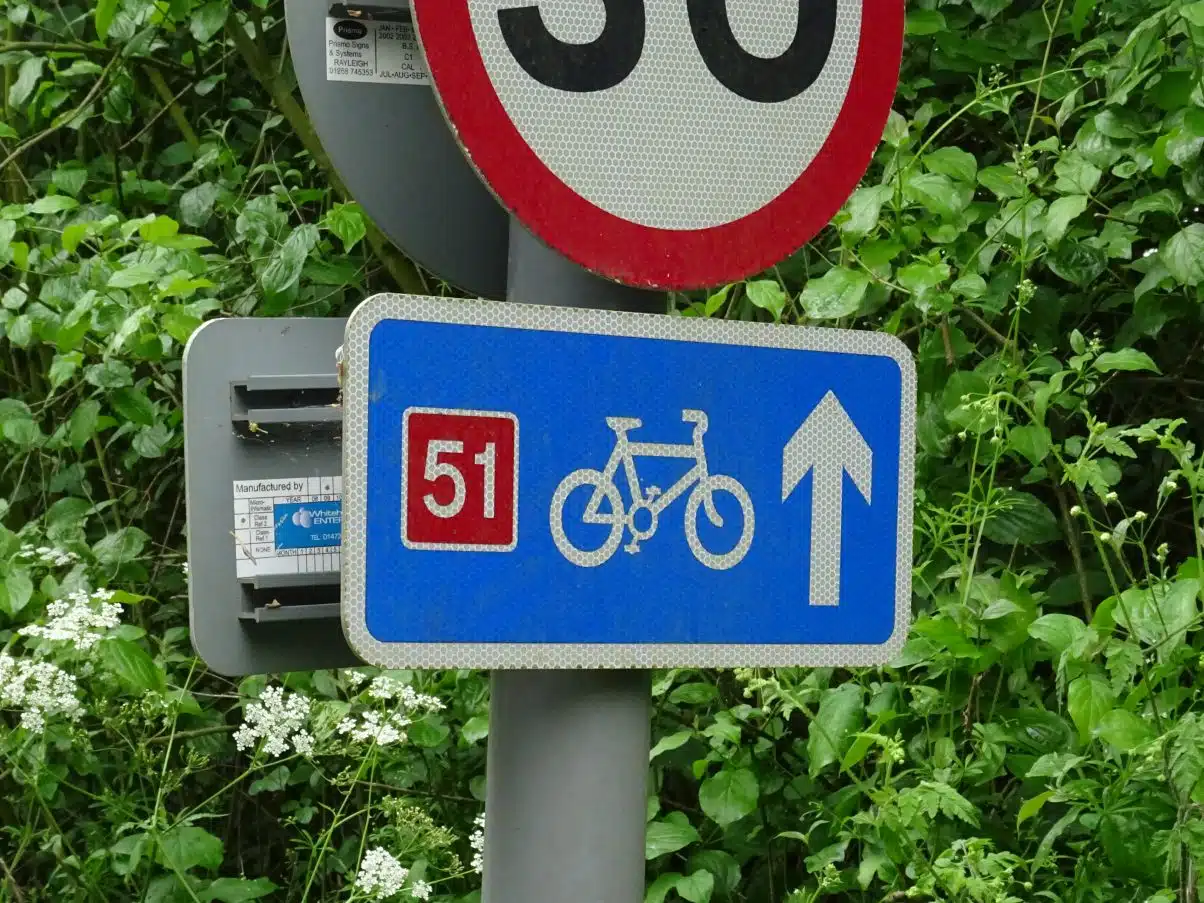 Cambridge to Ely Cycling Info
How long will it take? 5-7 hours. If you're planning longer lunch stops or to visit explore areas along the way then plan for the day.
What are the conditions like? Mostly paved or gravel tracks and besides a few bridges and crossings it's perfectly flat.
Is it easy to navigate? Quite easy but a GPS backup is a good idea
When to go? The route is accessible throughout the year.
Who is it suitable for? Everyone. If you're wanting a shorter cycle you could cycle to Ely and then look at trains to Cambridge.
The route is also great for keen cyclists wanting to push themselves. If 50 miles isn't enough then just continue along National Cycle Route 11 which goes all the way to King's Lynn (110 miles return). Because the route to Ely is along quiet country lanes you can also maintain a good speed and use it for speed training rather than longer distances.
You'll find plenty of shops in the centre of Cambridge and Ely to pick up snacks and Wicken Fen also has a cafe. Cambridge and Ely also have a number of bike shops if you need to pick up anything extra.
If you're planning this as part of a bigger trip, you might want to check out our guide to adventure planning!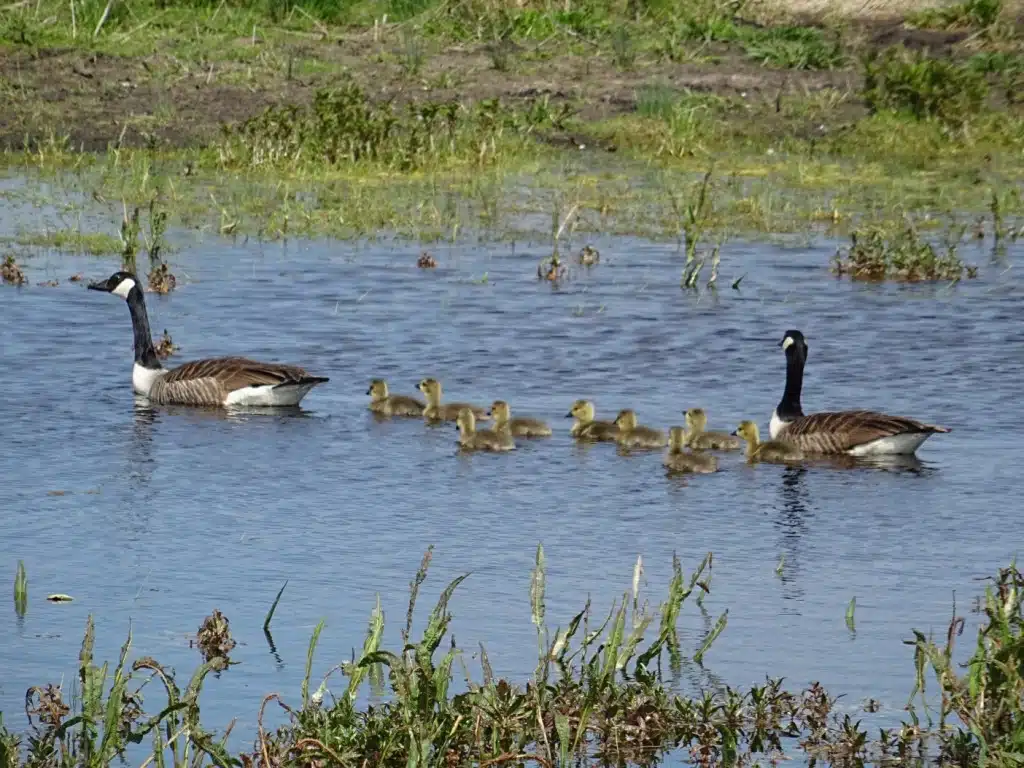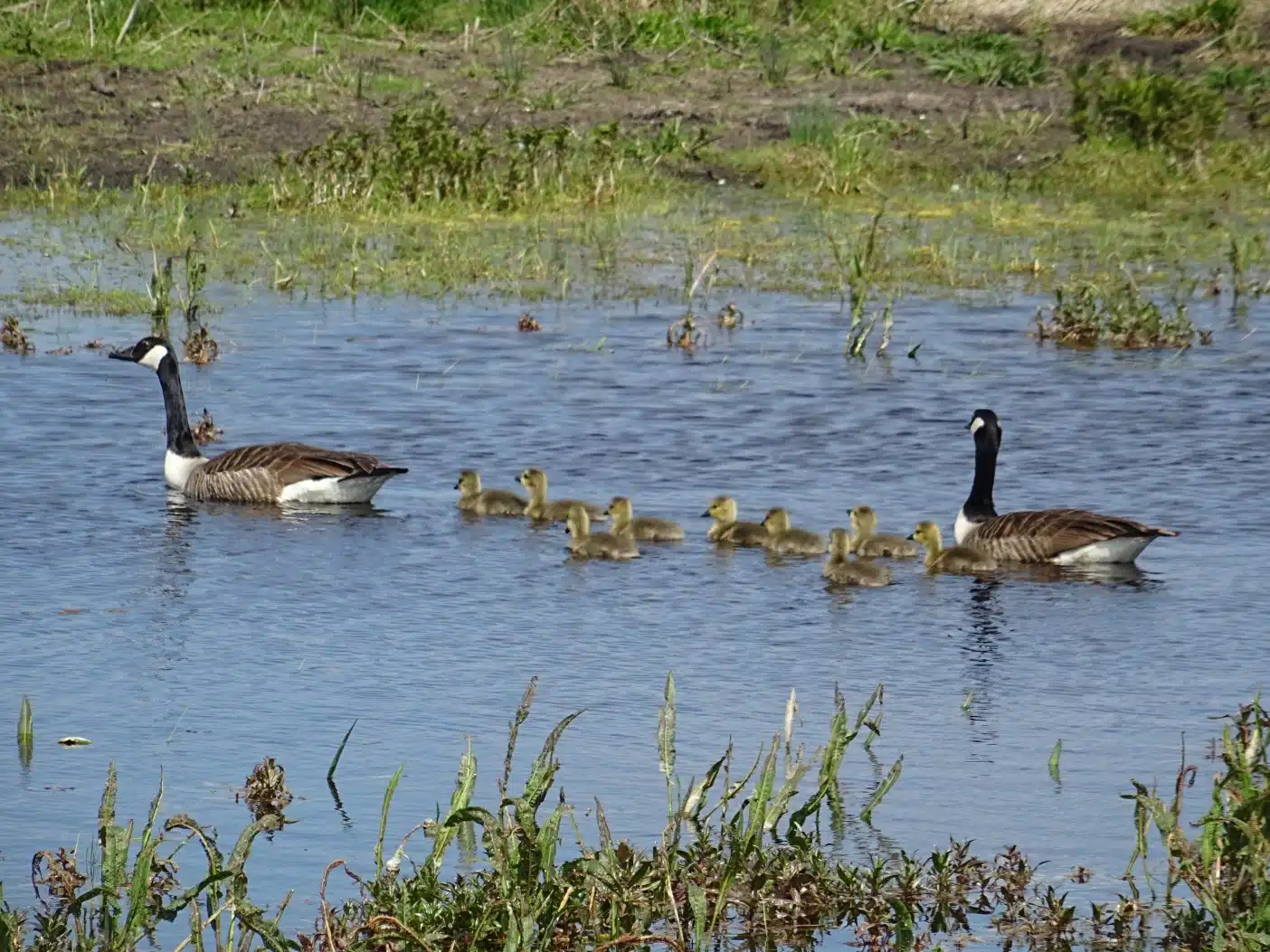 What to Take With You
Bike – Most of the route is in very good condition however there are a few bumpy, gravel sections near Wicken Fen and towards Ely. Any bike will be manageable but you'll be more comfortable on a bike with thicker tyres. A good touring bike would be a solid option.
GPS – The cycle routes are well signposted but it's still a good idea to have at least a GPS app on your phone. You can use things like Guru Maps, Maps.Me or even Google Maps.
Comfortable cycling clothes – There is very little shelter along the route so make sure you take a waterproof layer if rain is a possibility. Looking to buy bike gear online? Wiggle is a good UK avenue for all things bike related.
Plenty of water and enough food – We'd recommend whipping up some of our energy balls or vegan flapjacks. The only points to refill fresh water are in Cambridge, Wicken Fen and Ely, so make sure you take enough.
Bike tools – there are bike shops in Ely and Cambridge but it's a good idea to bring a pump, puncture repair kit and a bike tool – just in case.
Suntan lotion and any other personal items
Check out our bike touring packing list for more details!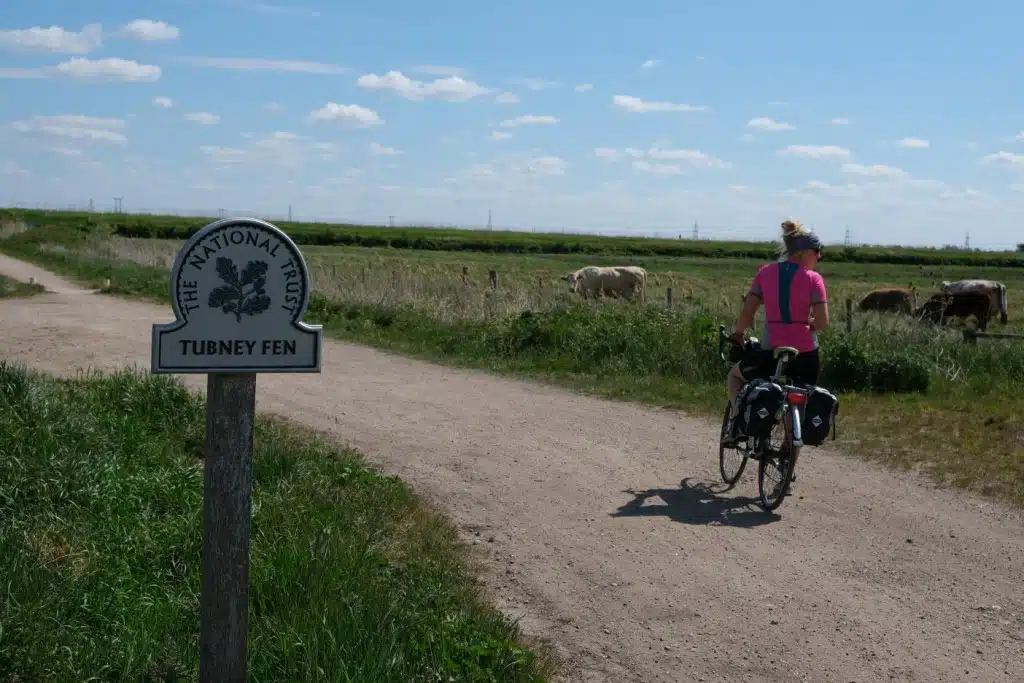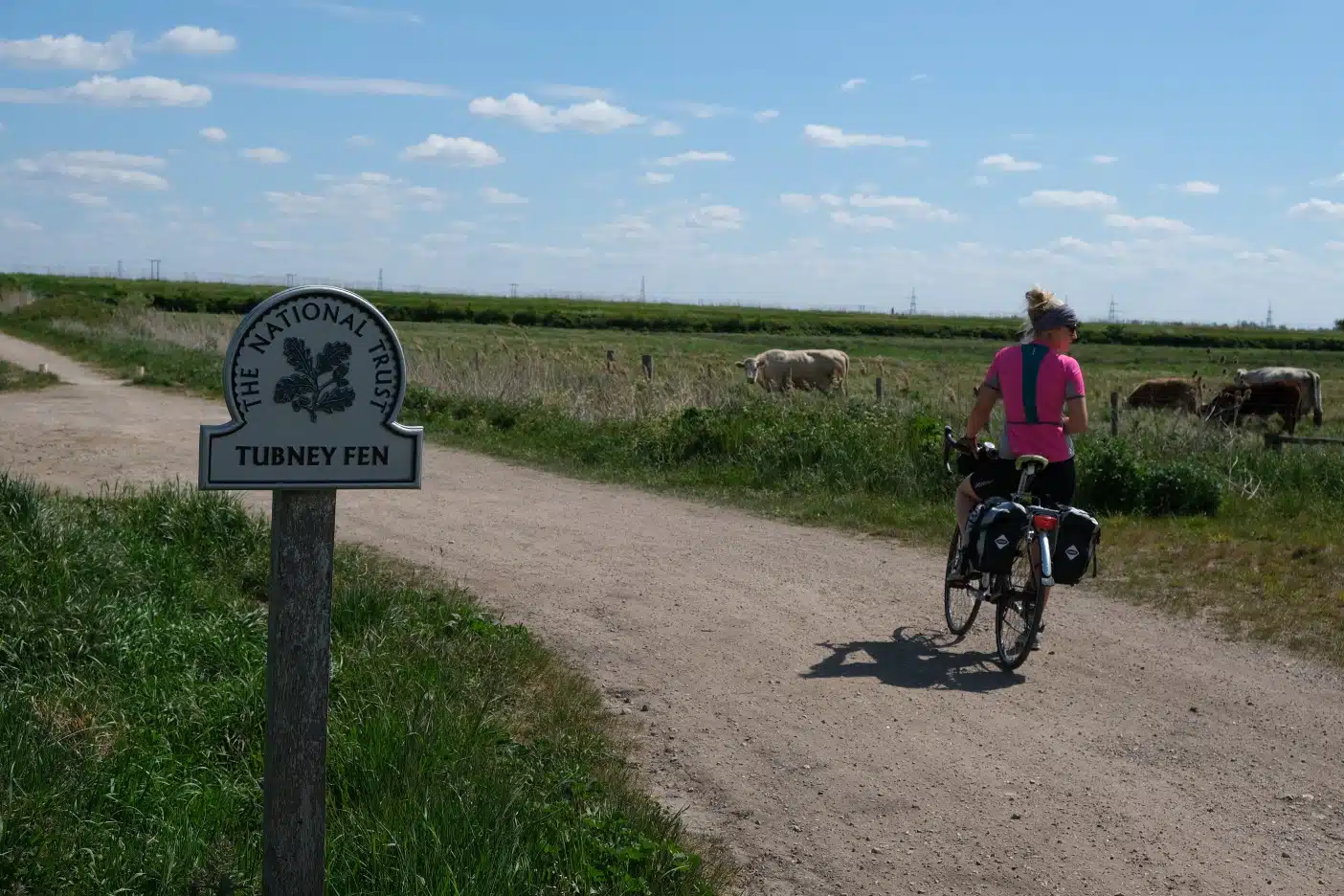 The Route
The majority of this ride follows National Cycle Route 11 and 51. Though it is well signposted, make sure you switch routes at the right point otherwise Ely will not be your finishing point!
NCR 11 is a long cycle route but for this journey it's a good idea to join it outside King's College, Cambridge. Cycling in Cambridge is very relaxing and it's also close to the Tourist Information and parking which might be useful to visitors. If you want to make the route longer, just start the route at a different point along the NCR 11.
Click here to check out a map of the ride!
Step 1. The journey starts outside the front of King's College Cambridge on King's Parade. You can join NCR 11 from here, and if signposts are not immediately visible, if standing on King's Parade and looking at King's College, follow the road along to the left.
Follow the blue NCR 11 signposts along the Cambridge bike lanes, through the city centre and join the River Cam. Follow along the same side of the river which will join NCR 51.
Important: when NCR 11 meets NCR 51 it will cross over the river. DO NOT follow NCR 11 and cross, instead, continue straight on the same side of the river and then follow the blue NCR 51 signposts.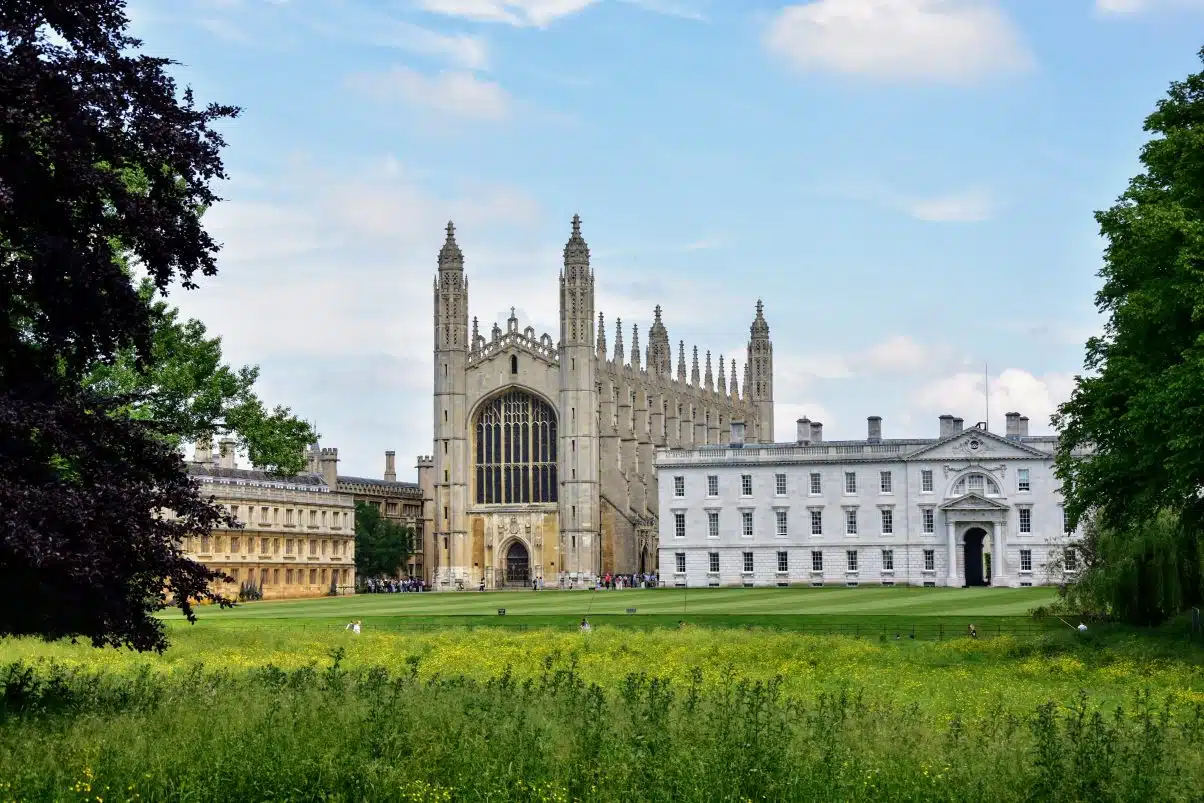 Step 2. The route leaves east of the city and within 5 miles make your way to the sleepy village of Stow-cum-Quy and then Bottishsham. At this point, you take the turn to Anglesey Abbey, a beautiful stately home set in immaculate grounds – if you've got the time it's definitely worth the pitstop!
From here you leave to the east of the city and within 5 miles make your way to the sleepy village of Stow-cum-Quy. At the end of the village, you cycle past Anglesey Abbey, a beautiful stately home set in immaculate grounds. If you're wanting to take your time then Anglesey Abbey is definitely worth the stop and sees many visitors each year.
From Anglesey Abbey, you then rejoin the NCR 11 which gradually takes you towards White Fen and Adventurers' Fen. By this point, you've waved goodbye to cars and roads and are following idyllic country lanes, travelling beside river streams and listening to the birds in the trees – you'll quickly feel a million miles away.
There are a few river crossings with beautiful views over the water and one footbridge with a cycle rail. This is actually pretty hard with 30 kg of cycle touring gear but you definitely won't need this much luggage for a day trip!
Looking for more UK cycle routes? What about the Hebridean Way?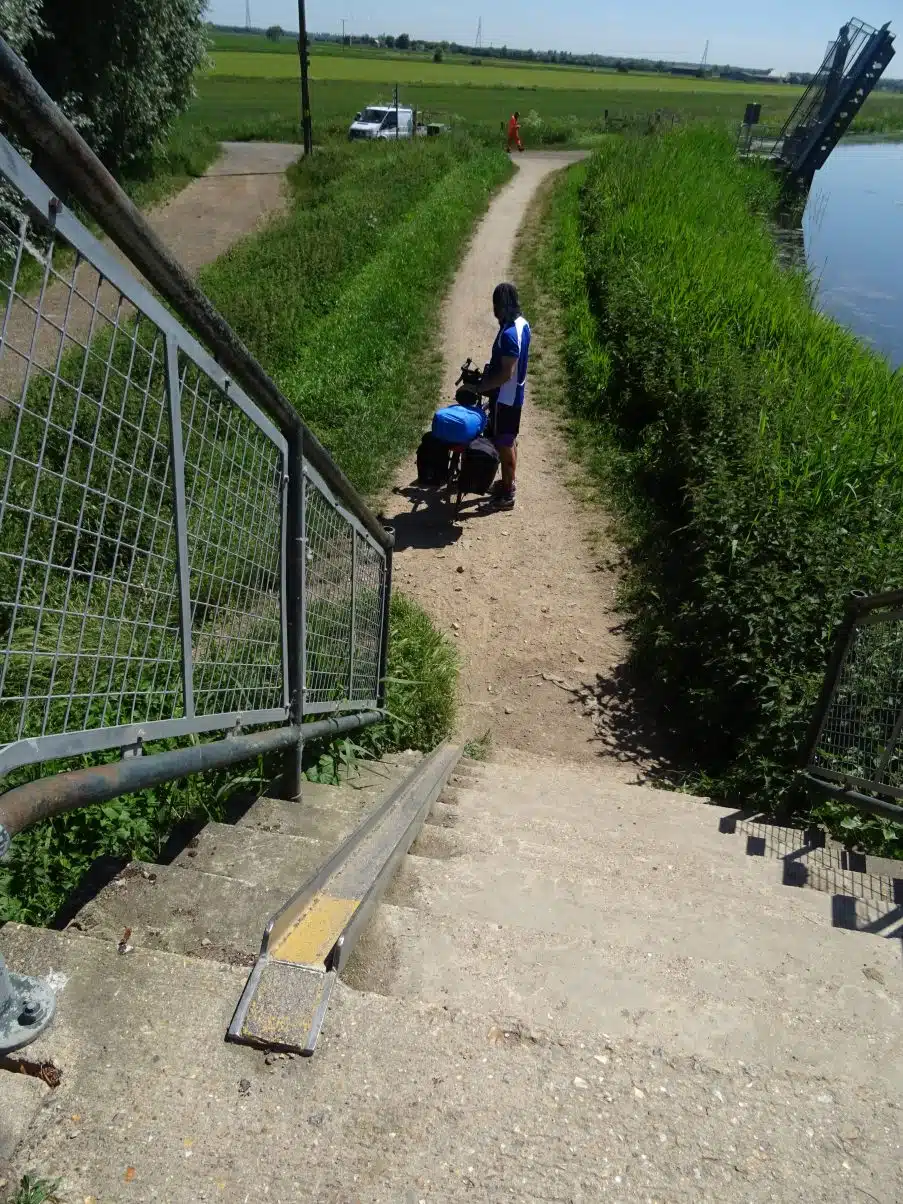 Step 3. The hard work definitely pays off and from here you're cycling towards the enchanting Wicken Fen is a hugely important wetland with more than 9000 species of animals and incredible scenery. You're surrounded by plants, birds, dragonflies, and horses as you cycle through on the well-maintained roads. You'll even get a chance to see some of the highland cattle and konic ponies grazing on the fields beside you.
Wicken Fen is roughly 15 miles from Cambridge and is another potential stopping point before Ely. There's a visitors' centre and cafe along with boat tours, butterfly walks, hiking routes and camping possibilities. As one of Europe's premier bird nesting sites, it's a great place for bird watching and wildlife spotting in one of the nearby hides.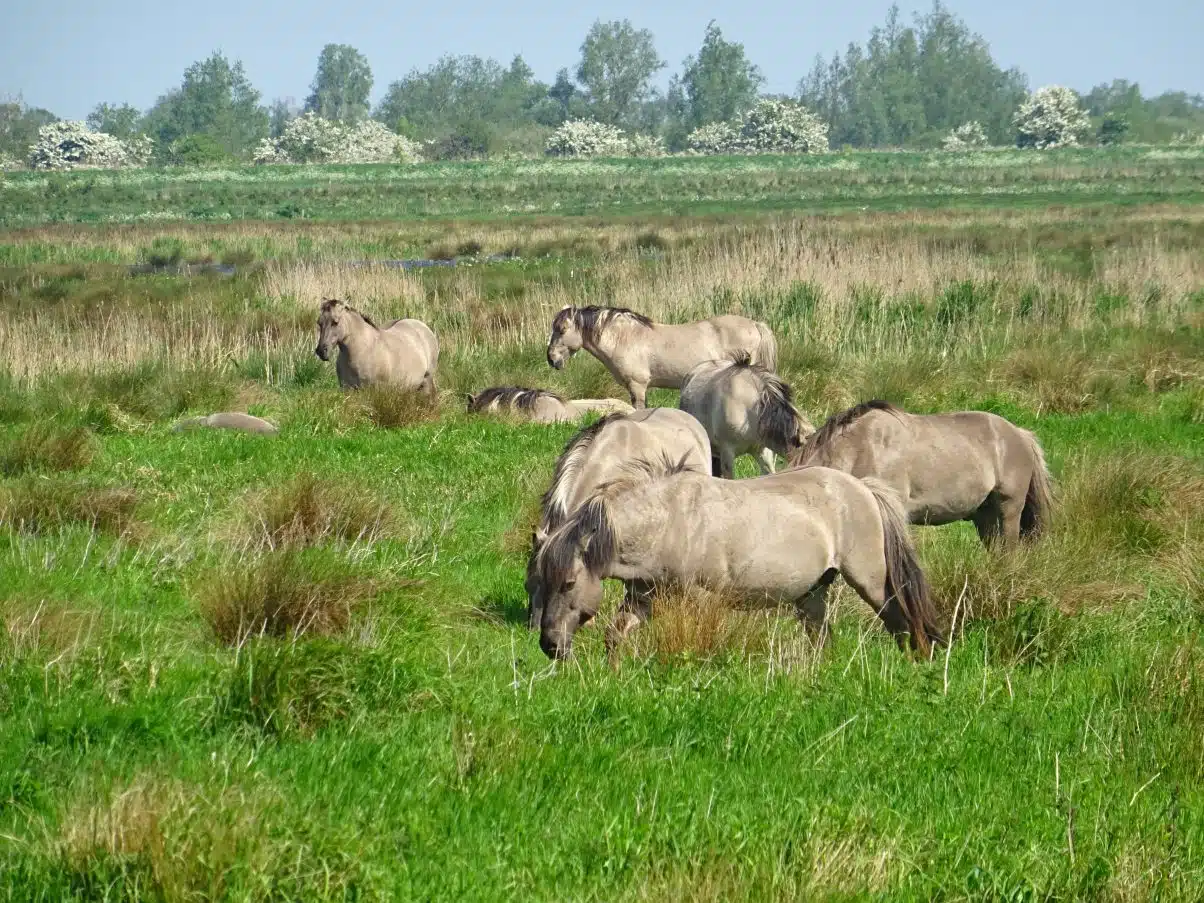 Step 4. Cycling further along you join up with the Great River Ouse and follow its waters for another 8 miles towards Ely. Once you reach the city it's just one road crossing before joining back up with the river all the way to Ely Marina. This is a cracking ending to the route as you'll be cycling past traditional riverboats and barges with plenty of pubs and cafes overlooking the waters.
Ely is well signposted so you can make your way from the waterfront to the centre which is less than a mile away. There's a Waitrose in the centre, where you can buy some grub for lunch and choose to either eat by the riverside or in front of the impressive Ely Cathedral or Oliver Cromwell's house.
Finishing the cycle route: If you don't fancy the cycle back from Ely to Cambridge then the Ely train station is close by for a quicker way home. The train journey takes around 20 minutes and you can take your bike on most of the trains, but best to check before to be safe.
A beautiful national cycle path, undeniably relaxing and starting and finishing at two famous historical sites. With two great stopping points along the way, you can make it as easy as you like.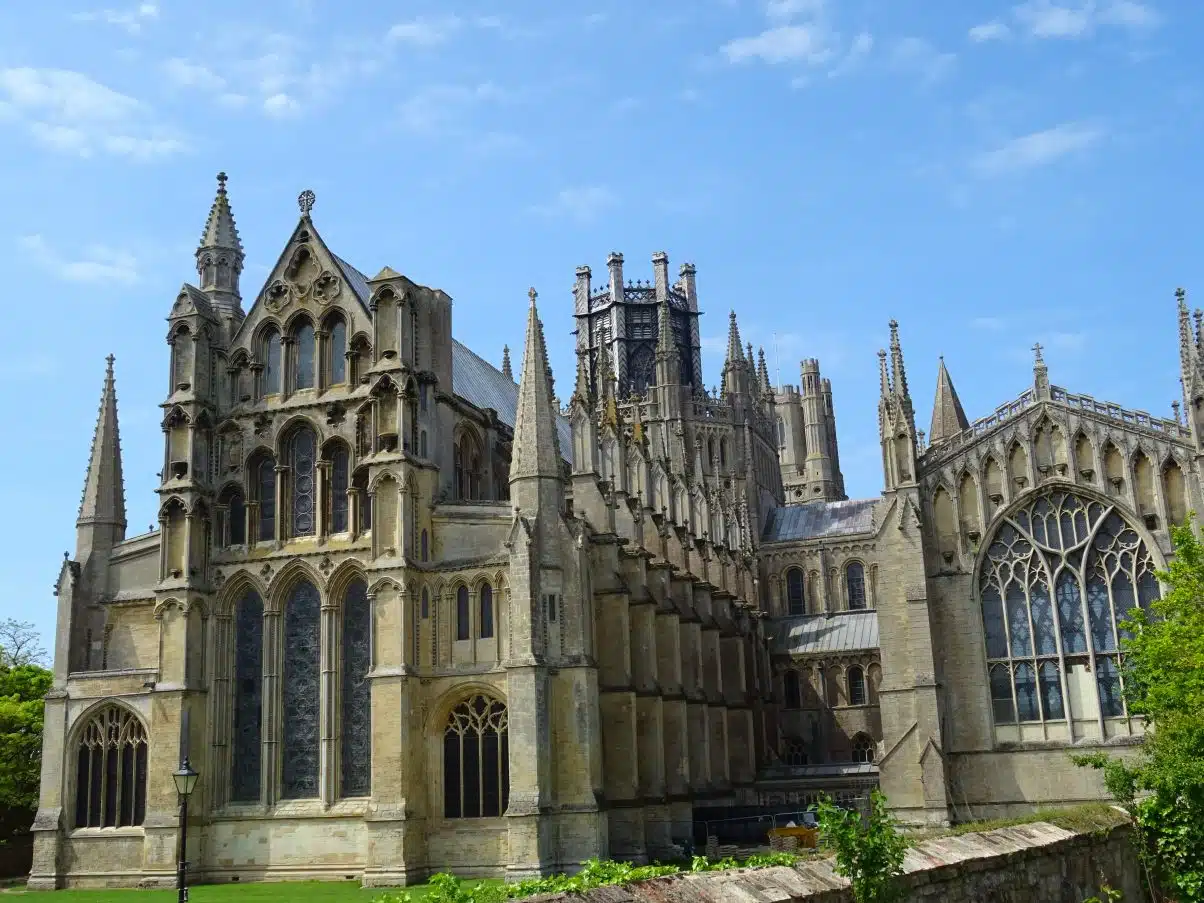 We love the Cambridge to Ely cycle route because it's the perfect place to unwind and cycle through unspoiled parts of the UK. We're sure you'll dig this route too as it's suitable for everyone and really is beautiful. It's incredible to have almost the whole route away from roads and traffic and with two excellent potential stopping points, you can make it as easy as you like. With such flat roads and the National Cycle Way travelling all the way to King's Lynn it's also ideal for experienced riders looking for a longer cycle too. On top of it all you have the bonus of starting and finishing at two amazing cities; Cambridge and Ely.
Have you done the Cambridge to Ely cycle route or have another favourite cycle route in the UK? Tell us in the comments box!
The Cambridge to Ely Cycle Route
Keep exploring…