9 of the best vegan high-protein hiking snacks to power your adventures outside
---
Vegan protein sources can sometimes become a hot topic for adventurous folk. But despite the debate, it's actually pretty easy to find high-protein vegan hiking snacks.
Protein is an essential part of your diet, especially in the outdoors as it repairs your muscles from the day's adventuring, readying you for another day of hills. The average adult needs between 45 – 55 grams of protein a day. So having a good stash of high-protein hiking snacks on hand is a great way to make sure you're getting your daily dose.
These 9 plant-based snacks are all not only full of protein but are good sources of energy and nutrients to help fuel your adventures. Plus they're super tasty and trail-hardy!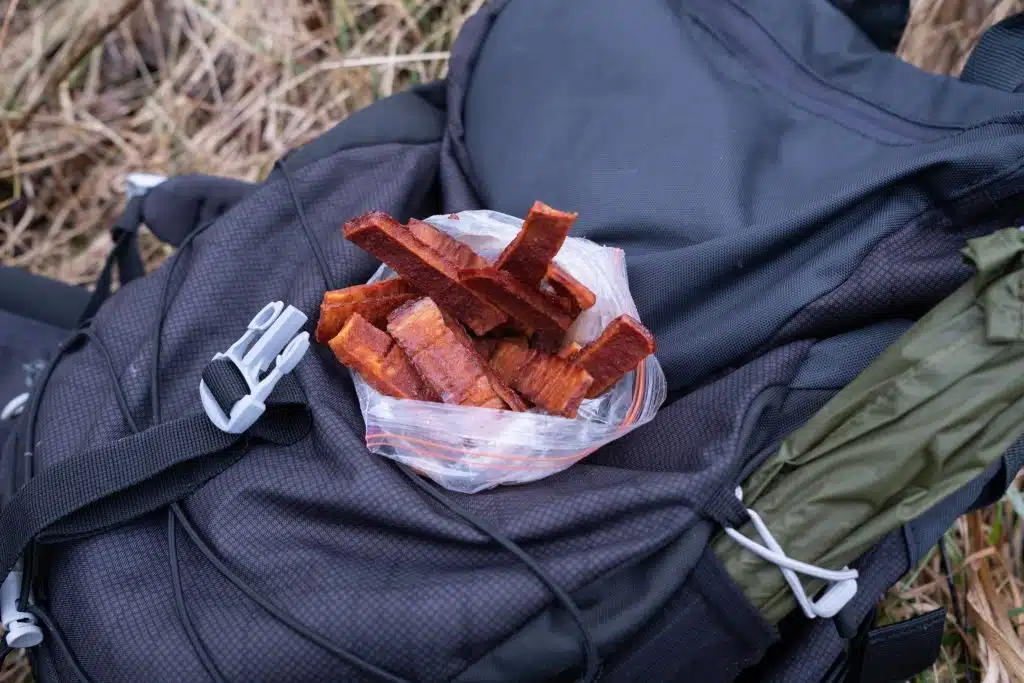 15 grams of protein per 100 grams
When it comes to a lightweight protein-rich snack, this tofu jerky recipe is just the ticket. It's spicy and salty to satisfy that itch for something savoury.
Tofu is also a complete protein, which means it contains all nine essential amino acids that our body can't produce on its own. This really helps nourish your muscles after a day of exertion outdoors.
You can opt for shop-bought tofu jerky but I have found it hard to come by. Making your own means you have it on hand when you fancy a snack. It's also healthier as homemade vegan jerky doesn't contain any preservatives or colourings that shop-bought options may have.
I love this recipe as it's super easy, you just flavour the tofu and leave it to dehydrate in a dehydrator. It also keeps for days so is ideal for multi-day backpacking trips, when you want a lightweight protein snack on hand.
Nuts
20 grams of protein per 100 grams
A broad category I know as nuts come in all shapes sizes and flavours, all of which make an ideal hiking snack packed with protein. Nuts are so versatile and can be eaten on their own, alongside some dried fruit or baked into recipes for the trail.
Wherever you roam in the world you're bound to find some form of nuts. What's available can change all over the globe but peanuts always seem to make an appearance and are often the cheaper option.
Nuts are a great snack to have at the ready, in your pocket to gobble down on the move or make a trail mix for a little sweetness with each mouthful. You can also chuck them into your lunch wrap or sprinkle them on your camp stove dinner for some added protein and texture. Altogether, they're never a bad addition to your adventure food shopping list.
---
Want more adventure food guides in your life? Sign up for our newsletter to get our latest posts
---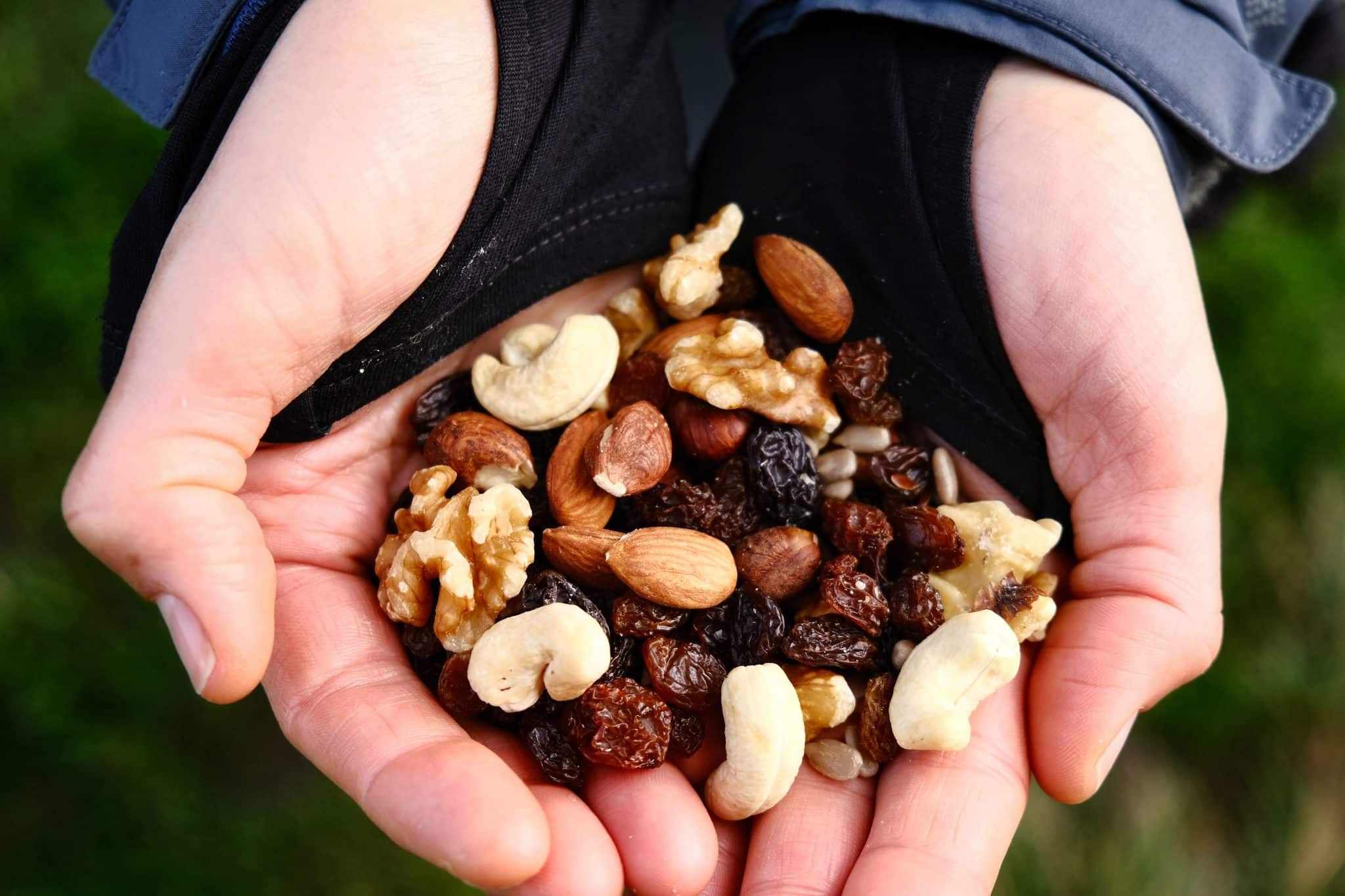 Energy Balls
81 grams per 100 grams
Energy balls are one of the champions of vegan hiking snacks as they're a bit of a box ticker. They're crammed with protein, energy and nutrients to replenish your body whilst hiking.
Energy balls are usually an amalgamation of;
Dates
Nuts
Oats
Seeds
Protein powder
And extras such as dark chocolate, sticky sweetener, seasoning etc.
You can buy energy balls but I again have found them harder to come by and often not as nutrient-dense. Making your own is pretty easy and our no-bake energy ball recipe is super tasty. I like to whizz up a big batch to have on hand for hikes or when I need an energy boost at home.
11 grams of protein per 100 grams (when rehydrated with water)
Another great snack that is a winner for trips to add some protein and flavour. This tasty recipe means you get all the joy of hummus with none of the faff.
Shop-brought hummus, although tasty and full of protein, perishes easily and can be quite salty. It's also pretty heavy meaning it's not a great choice for longer trips.
Making your own dehydrated hummus is healthier as you can omit the salt and preservatives shop-brought options have. Plus it's a fraction of the weight and size as all the water is sucked out in the dehydration process. You can then simply add water and mix when you're on the trail to enjoy a delicious, creamy hummus.
It's great added to sandwiches or used as a dip for veggies and crackers.
6 grams of protein per slice
This scrumptious peanut butter fudge is one of our favourite vegan hiking snack recipes. It's rich and dense with flavours of cacao, coconut and peanut butter.
It's sweet and flavourful making it ideal for those moments when you need a sugar boost for the miles ahead. The recipe uses only 7 ingredients and is no-bake so it's simple to whip up before trips. They also keep in the fridge for up to 4 weeks – great if you're tight on time and want snacks on hand for hikes.
If you're looking for a high-calorie hiking snack, this is a good option with 308 calories per slice, just what you want for those hikes that require you to dig deep.
Roasted Chickpeas
18 grams of protein per 100 grams
These little balls of crispy, salty goodness are a delicious way to get some protein outdoors. Whip up a batch before your hike to gobble down on the trail and on the move.
Simply drain a tin of chickpeas and toss in oil, salt and some seasoning. Then bake for 20 minutes at 180 °C. For the seasoning, you can use curry powder, chill and garlic or mix it up to suit your taste.
Then you can keep them in a reusable zip lock bag to munch whilst exploring. Again they're also a great addition to lunch wraps or sprinkled on dinner for some added protein and texture.
---
---
Nut Butters
25 grams of protein per 100 grams
Much like nuts, nut butters are incredibly versatile and although not typically a snack on their own they are the ideal accompaniment to get some protein on hikes (though no judgment here if you are spooning straight from the jar, as we have been known to do on some real hungry occasions!).
Our ultimate flapjack recipe is a scrummy one to make that marries that perfect combo of banana and peanut butter, plus almonds and sultanas for an added dose of nutrients and protein.
Nut butters are also great smothered straight on banana bread or dates for tons of energy. Peanut butter is the most commonly found nut butter and tends to be the cheapest but as long as you opt for natural versions without added preservatives and stabilisers, you're getting a creamy tasty snack loaded with protein.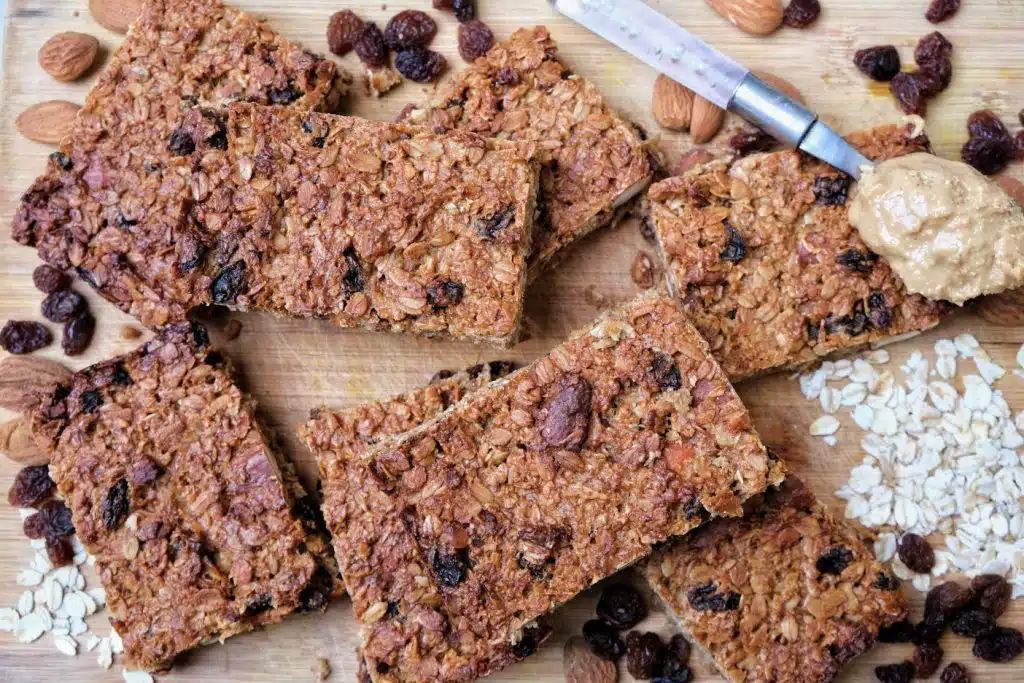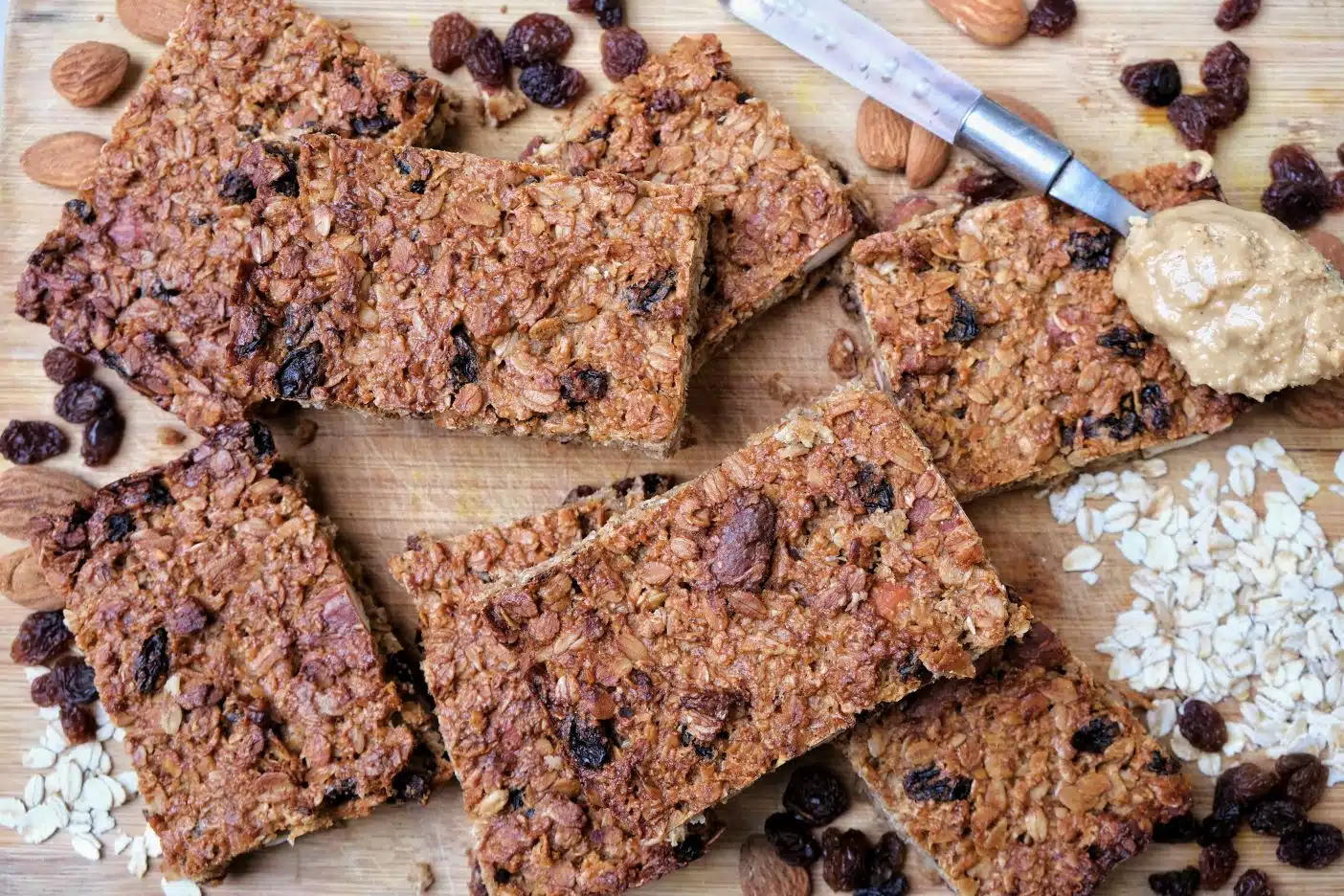 Protein Bars
6 – 19 grams of protein per 100 grams (depending on the brand)
An easy and surefire way to get protein is to opt for protein bars. As veganism grows, finding plant-based options in shops is increasingly more common. It's easy to pick up bars on the trail and this is nice for multi-day trips when you don't want to be lugging lots of food or you're in a hurry.
If you do want to make your own, they're pretty simple as you only need to mash up:
Dates
Oats
Nuts or seeds
Seasoning such as cinnamon, vanilla, or a sticky sweetener
You can then wrap them individually to have on trips or keep them at home for day hikes when you're flying out the door.
5 grams of protein per slice
Cacao is made from fermented beans so you get that delicious chocolatey flavour whilst being really good for you. It's the healthier version of cocoa that gets rid of the processing and sugar associated with it.
These bars combine those chocolatey notes with coconut and dates to make delicious snacks crammed with tons of good stuff and protein. They'll give you a good mix of carbs, protein and goodness so you can crack on with your adventures.
Another great recipe to have in your collection so you have protein-rich snacks at the ready for when adventure comes calling.